Bombshell | Wicked Women - P-38 Lightnings
Reviewed by Matt Gannon
Bombshell Decals is a small home/family-based company, located in Fayetteville, North Carolina. This company was formed to create decals of subject matter Michael Kloppenberg enjoys with the hopes that others will share the fun. Michael has a family history of military service and a longstanding interest in modelling and art. This appears to be his companies first foray into 1/32 LSP Decals and he´s begun it with a great couple of great sets of decals for the P38. Both sets contain decals and stencils for P38´s which featured some fairly saucy nose art. The decals are for nose art of some Wicked Women we wish we´d known when we were 18 years old. The sets for review are featured below. Hopefully we´ll see more of Mikes work in the future. I'm sure many of the LSP members would only be too happy to contribute any research info if it was ever required.
32-BS-0005
The first sheet's plane is that flown in the 9th AirForce, 402nd Fighter Sqn, 370th Fighter Group called Vivacious Virgin. It was flown by Lt Ian B Mackenzie. The second plane is that of the 80th Fighter Sqn, 8th Fighter Group called San Antonio Rose. This aircraft was flown by Lt Charles B Ray.
32-BS-0006
The second sheet's plane is that flown in the 5th AirForce, 433nd Fighter Sqn, 475th Fighter Group called Virginia Marie. It was flown by Lt Carroll Anderson. Here's an interesting link to the 475th Fighter Group (http://www.475th.org). This group clearly saw some major action in the Pacific and it also features in the Osprey book on Aces of the Pacific and CBI and the Kagero book ML16 on the 375th. The second plane is that of the 36th Fighter Sqn, 8th Fighter Group called Wicked Woman and flown by Lt Mclawson.
During my research I quelled my initial scepticism that Viginia Marie didn't have blue anitglare panels. It seems to be a very odd aircraft in this regard but they certainly were blue according to the literature. The blue is described in the Squadron Signal P-38 Walkaround book as FS15102 (http://www.colorserver.net/showcolor.asp?fs=15102 ) ( although Mike describes this as "Dope Blue"). I also found the shape of anti-glare panel in the Squad Sig books slightly different from the one in the profile. At that point I stopped as my attention was drawn to the clarity of the pilot image photo on the front of the decal sheet cover, the printing of Margaret for the starboard side of the fuselage and the description of the blue decal colour as "Dope Blue". I began to suspect Mike might have access to more images and information in general on this ship than I did as I couldn't find one single picture of the starboard side of this plane. That said, I´d certainly be trusting Mike profiles as they have withstood as much diligent scrutiny as I could muster and many things point to his much greater depth of knowledge of these planes than I acquired in an afternoons reading.
Details on the planes, FS colour call outs, full markings are provided as well as a colour port profile of each plane, a colour port profile of the cockpit itself and another colour profile from port,top and cockpit to aid stencil placement. ID bands are provided as decals but these will need to be trimmed to fit. The decals are printed by Cartograph in Italy and are about 21X15cm in dimensions. All the colours appear in perfectly register, there is minimal carrier film and the decals look lovely and glossy. While the pictures of what is in each decal package are slightly reduced I can assure you even the smallest decal has legible text. For example here is some decal text that is less than 1/2mm high it is perfectly clear and legible. Check the Curtiss logo!! Amazing printing!!

Given the LSP forums have a few decal artists as members one can´t but help pick up the odd comment on accuracy of aftermarket sets from time to time. With that in mind I hit the books to try and check on what Mikes was offering. With limited resources I´ve checked and the stars n bars are in perfect synch with the U.S.A.A.F National Insignia Details as described in Camouflage and Markings Lockheed P-38, F-4 and F-5 Lightning. I´ve screencaptured a copy of the ´formula´ as the book describes. Mikes decals are spot on to the millimetre as well as capturing the Insignia Blue colour (http://www.colorserver.net/showcolor.asp?fs=35056). Touchdown to Mike.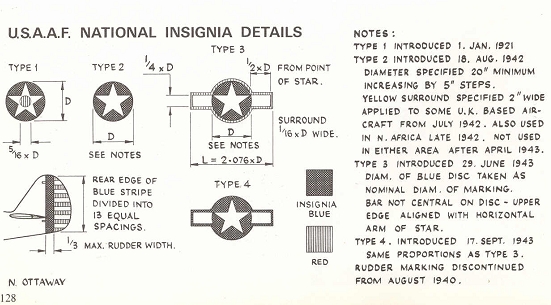 In summary the decals are great. The research behind them appears thorough and I can highly recommend them. They are available from Mikes website (http://www.bombshelldecals.com/) and with some recent changes in shipping purchases are going to be even easier on your wallet.
Many thanks to Mike for the review samples.
References
Osprey Aircraft of the Aces, P38 Lightning Aces of the Pacific and CBI, John Stanaway Osprey 1997
Camouflage and Markings Lockheed P-38, F-4 and F-5 Lightning. Ducimus Books Ltd, England
475FG 1943-45, Kagero ML 16, Andre Zbiegniewski, Kagero Publishing 2003
Squadron Signal Walkaround P38 No 30, Larry Davis et al, SSP 2003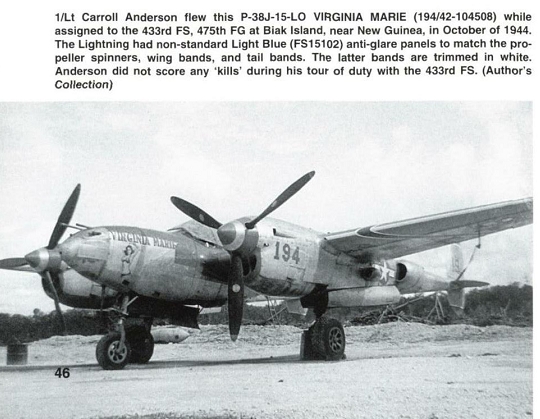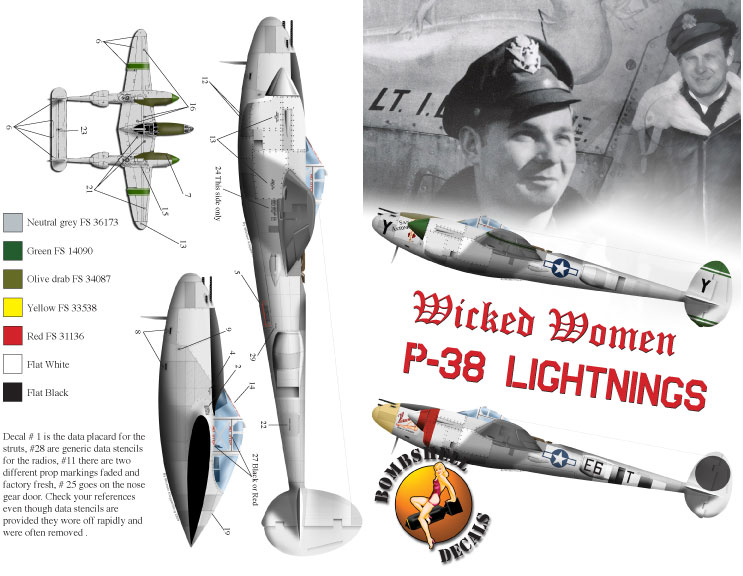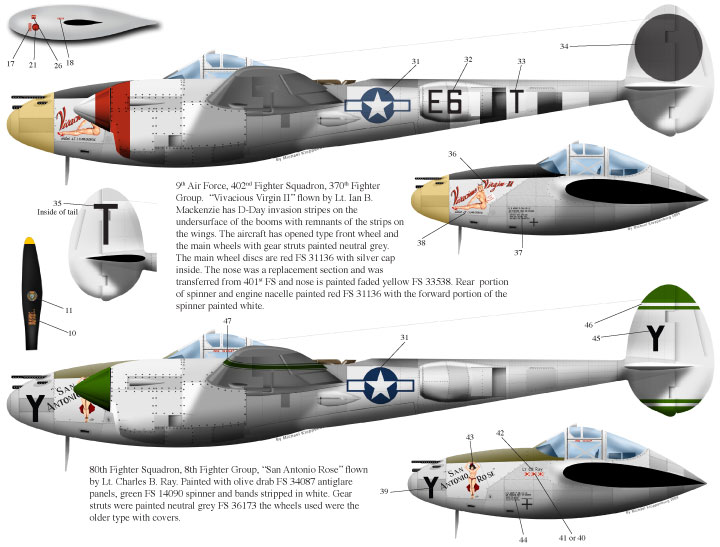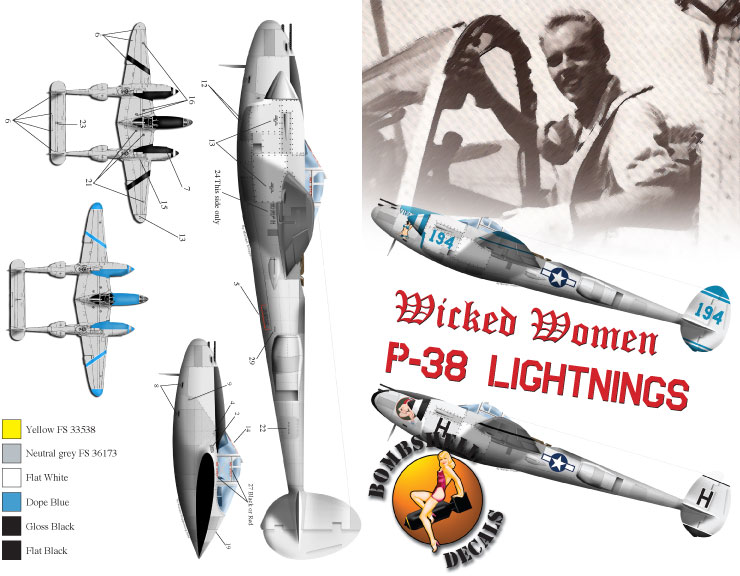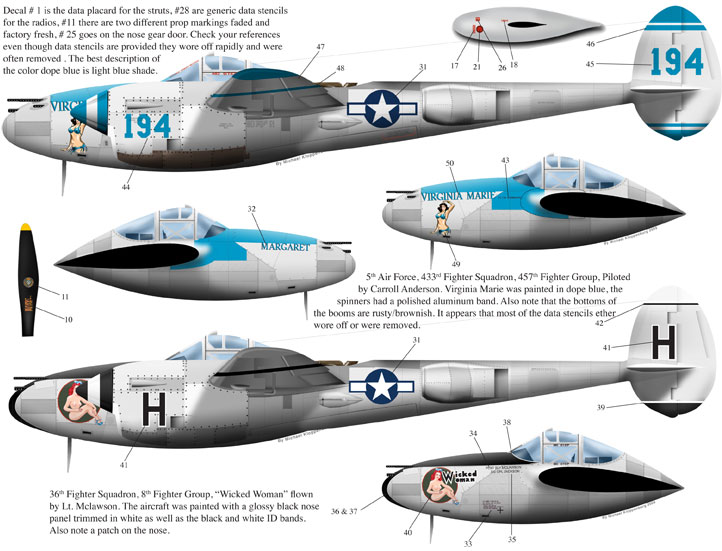 © Matt Gannon 2003
This review was published on Saturday, July 02 2011; Last modified on Wednesday, May 18 2016