Cutting Edge Decals | CED32052: P-40 B/C Part 2
Reviewed by Rato Marczak
Another sheet from Cutting Edge Modelworks. This one probably would never happen without Trumpeter´s recent P-40 release in 1/32, and it is the second in the series for early P-40s from this manufacturer.
The sheet brings decals to decorate two versions: a P-40-CU from the 8th Pursuit Group and a Hawk H-81 from the famous Flying Tigers squadron. You can make both models from this sheet,increasing the value of the sheet.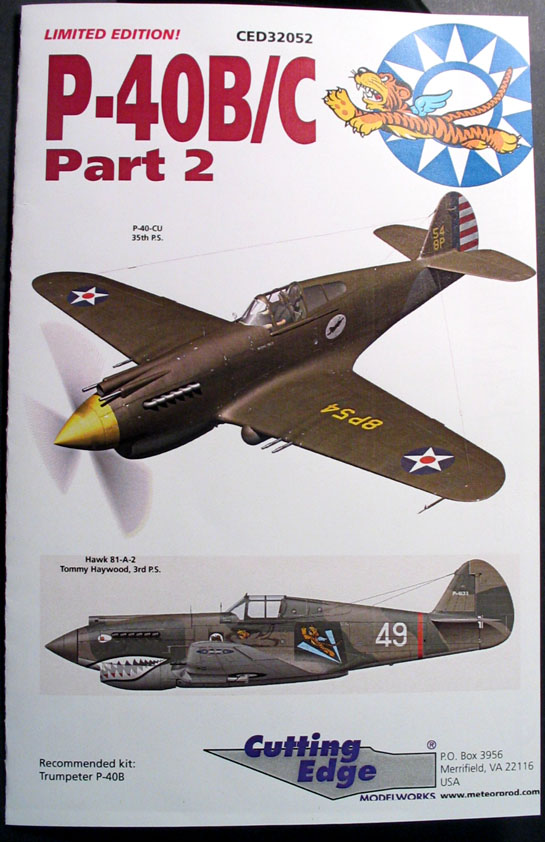 I don´t know what is the printing process being used to produce these sheets. Silkscreen or whatever, I counted 12+ different colors used in my sample! They are very well printed and in almost perfect register. The markings are thin and, as known from Cutting Edge decals, they will conform very well surface details and sustain setting solutions where needed.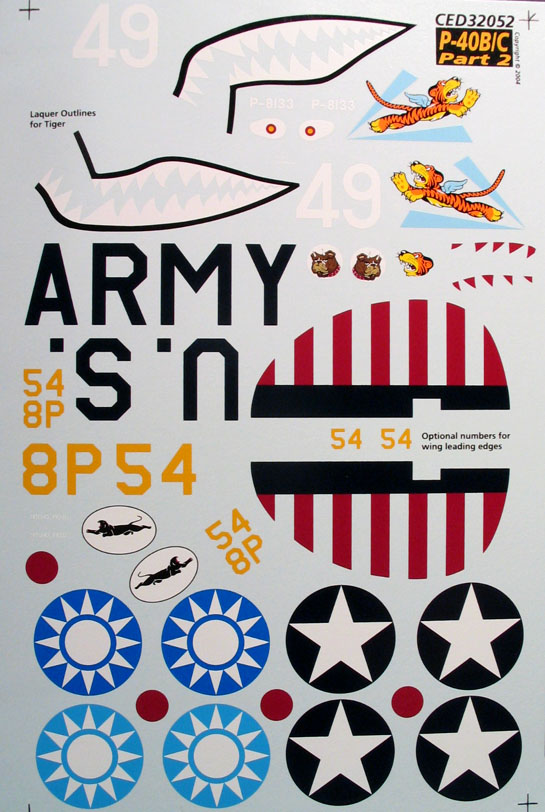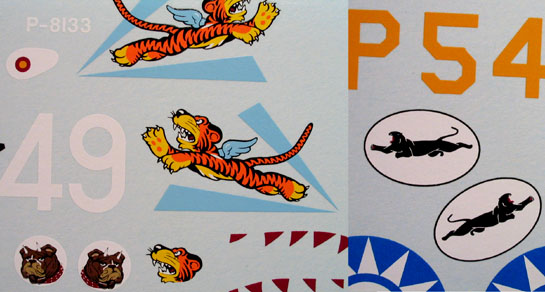 The AVG bird is a Curtiss H-81A-2 code P-8133, reportedly flown by Tommy Haywood during early 1942. As many other AVG P-40s, this one shows many repainted areas. The Flying Tiger cartoon was removed from an earlier spot just below the windscreen and repainted under the window glazed area. interestingly, the lacquered areas under the cartoons have a glossy finish, and CE wisely included a clear decal to depict this. Also, the head of the early tiger on the left side was not removed for some reason, and it is also included in the sheet. CE also provided the DuPont ´RAF equivalent´ color codes used at the time by Curtiss.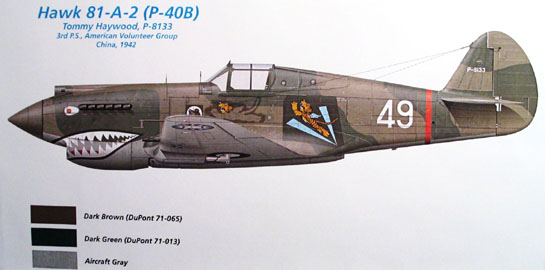 As for the other option, it is a P-40-CU from the 8th PG / 35th PS. These early Tomahawks are very interesting subjects, in spite of the simpler OD/NG camouflage scheme. At the time, the squadron codes on the rudder fin and wings were not yet under the new regulations, so the yellow color is correct (they were changed to black later in 1941, along with the elimination of the red/white stripes painted on the rudder). The instructions show four .30 machine guns on the wings, but this is not strictly correct for the P-40-CU, unless retrofitted in field (I found no photographic evidence of that, though), so check your references. The squadron codes were commonly repeated on the wings leading edges, but many photos of the period don´t show them. CE provides these codes, but as an optional item, without further information (another homework for you). Another point (a bit out of topic) is that the 35th PS was based in Selfridge Field in 1941, not in Mitchel Field, as stated in the instructions.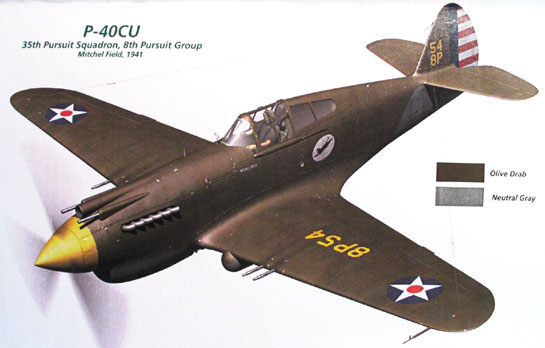 By now we are plenty of AVG decal options on the market. Another one is not too much. However, decals for early US based P-40s are still scarce, and this sheet comes to help. You can also use this decals to build a Hawk based on Panama channel area or on the Philippines just after the Pearl Harbor attack. Highly recommended.
© Rato Marczak 2004
This review was published on Saturday, July 02 2011; Last modified on Wednesday, May 18 2016