Data Decals | 32004: P-40s in USSR in 1/32nd Scale
Reviewed by Mark Proulx
Data Decals has released their second 1/32nd scale decal sheet for the Trumpeter and Revell P-40. This new sheet supplies markings for Eastern Front P-40s.
The first P-40B is "White 58" of 20 GIAP. Lt. Alexey Khlobystov flew the aircraft in April 8th, 1942. On that date he successfully made two ramming attacks in a single flight displaying his very aggressive nature. Data Decals states the aircraft paint scheme is speculative. It was finished either olive drab and neutral grey or in a British camouflage pattern. White distemper was applied over the base pattern and was heavily weathered. Alternative markings are also supplied.
Next is "AH975" as tested at TsAGI in 1941. This colorful aircraft carries a possible camouflage pattern of Dark Green/Dark Earth/Sky. The aircraft displayed remnants of the British National Insignia under the Soviet Red Star in six positions.
"AH965" was assigned to 126 IAP near Moscow in 1941 and was flown by Lt. S.G. Ridnyi. This P-40 had the camouflage pattern of Dark Green/Dark Earth/Sky painted over in white.
"White 75" was a P-40B assigned to 154 IAP near Leningrad in 1942. The speculative camouflage pattern was Dark Green/Dark Earth/Sky. A white spinner is identified by comparing to other aircraft from 154 IAP.
The final option is a P-40E and it is the sole late variant included. The 1/32nd scale Revell kit would apply for this scheme. "White 65" of 154 IAP was flown by Maj. Pokryshev. The aircraft was finished in a pattern of dark Green/Dark Earth/Sky. There were 15 kill marks added aft of the cockpit.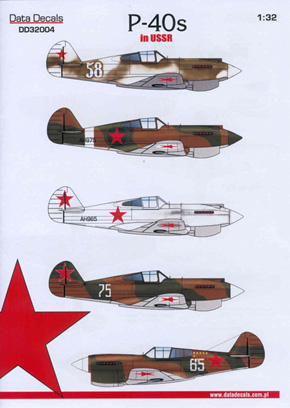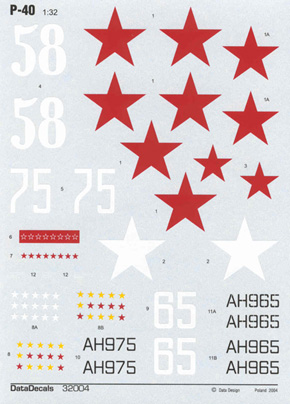 The instructions provide complete details for each aircraft. Data Decals provide a complete listing of all references used in the creation of these markings. Due to the poor quality of the original photos there has been some speculation made in the final appearances of many of the aircraft. Modelers should consult with these books so as to formulate their own opinions. Single side, upper and lower surface painting details are included. Colors are referenced to FS 595b paint chips.
The decals are printed with a minimal amount of carrier film. The color registration and density is very good. The markings appear to be very thin and I would anticipate little difficulty with them, although I have not had an opportunity to try them.
Data Decals is to be commended for bringing these markings to the marketplace as they offer some very unique P-40 schemes. These decals give the modeler the opportunity to apply some P-40 markings that are far from the ordinary. It is also nice to see that the early Revell kit was not overlooked. I recommend these decals to anyone without hesitation.
Review Sample Compliments of Data Decals.
© Mark Proulx 2004
This review was published on Saturday, July 02 2011; Last modified on Monday, December 19 2016