Eagle Editions | EC118: Messerschmitt Bf 110C/D
Reviewed by Randy Bumgardner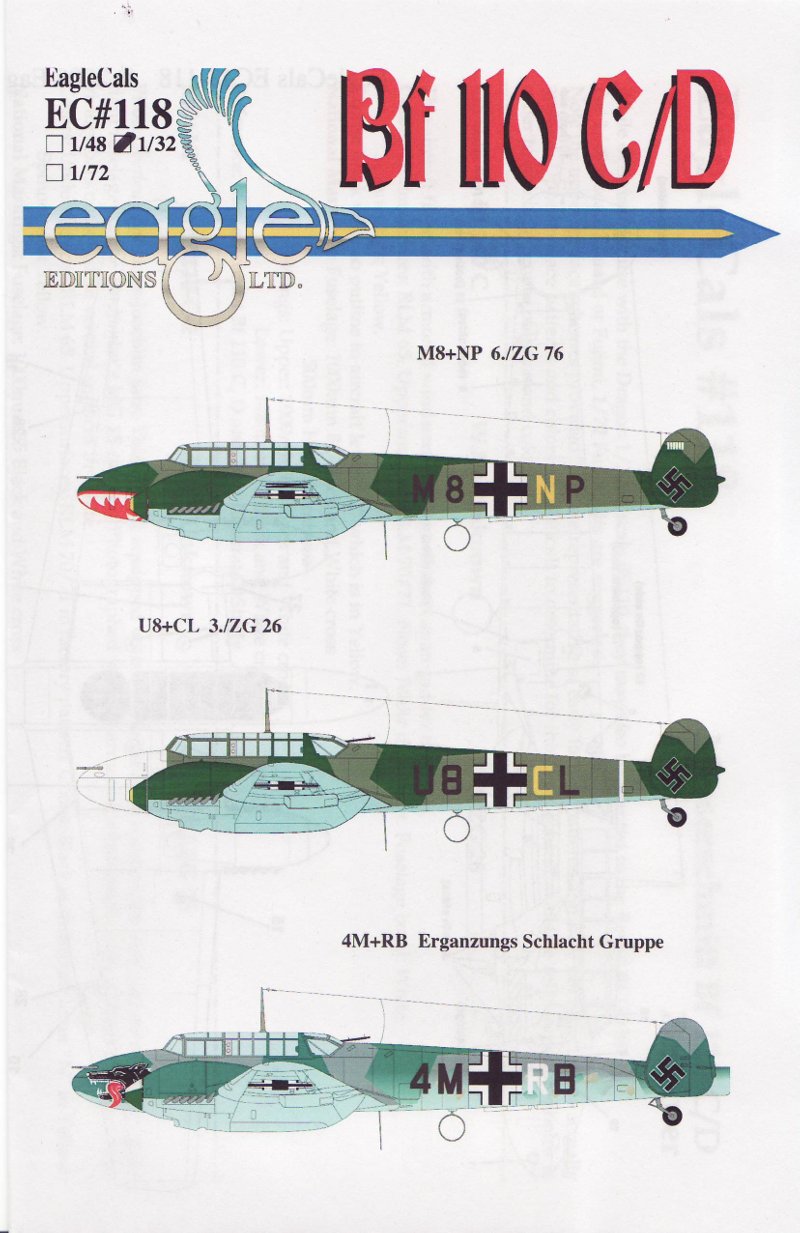 Given that Jerry Crandall was a big resource for Dragon's new Messerschmitt Bf 110C, it didn't take a rocket scientist to figure out that Eagle Editions would release some new markings in their EagleCals line for the kit. Well, here is one of the sets they have released for this kit and for the upcoming Dragon Bf 110D due out soon.
This set contains markings for three Bf 110 C/Ds, each from a different unit:
Bf 110C, W.Nr. Unknown, "U8+CL", 3./ZG 26
Bf 110C-2, W.Nr. Unknown, "M8+NP", 6./ZG 76
Bf 110D, W.Nr. Unknown, "4M+RB", Erganzungs Schlacht Gruppe
The first airframe, from 6./ZG76, contains the unique sharkmouth on the nose of the aircraft – typical to this unit. Note that this aircraft is also painted with the white distemper over the the RLM 70/71 upper surfaces and RLM 65 under surfaces.
The second aircraft is a Bf 110C-2 flown by Oberleutnant Hans-Joachim Jabs. A unique feature of this aircraft is the recess for stowage of the MG15 aft of the Bordfunker's position. Similar to the previous aircraft the camouflage is RLM 70/71 upper surfaces with RLM 65 under surfaces.
Finally, the third aircraft is a Bf 110D, soon to be released by Dragon, from Erganzungs Schlacht Gruppe. This aircraft, camouflaged in RLM 74/75 upper surfaces with RLM 76 under surfaces, does contain a very unique marking. There is an enormous wolf's head on each side of the nose of the aircraft. If the modeler chooses these markings, that should certainly draw some attention wherever this particular aircraft is displayed.
The decals are printed by Cartograph and are very thin and should not present the modeler with any problems. The colors are nicely done and have excellent registration. Full stenciling is provided for a single airframe, including stencils for the 300L drop tanks.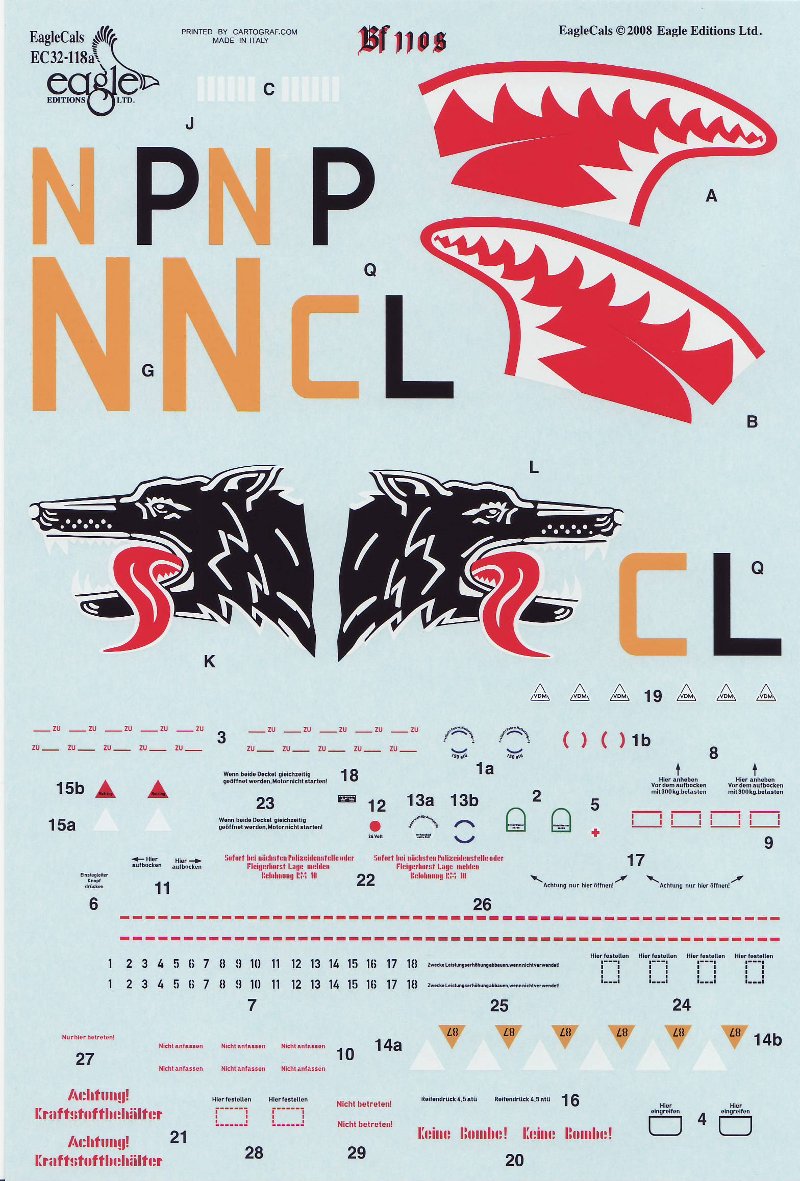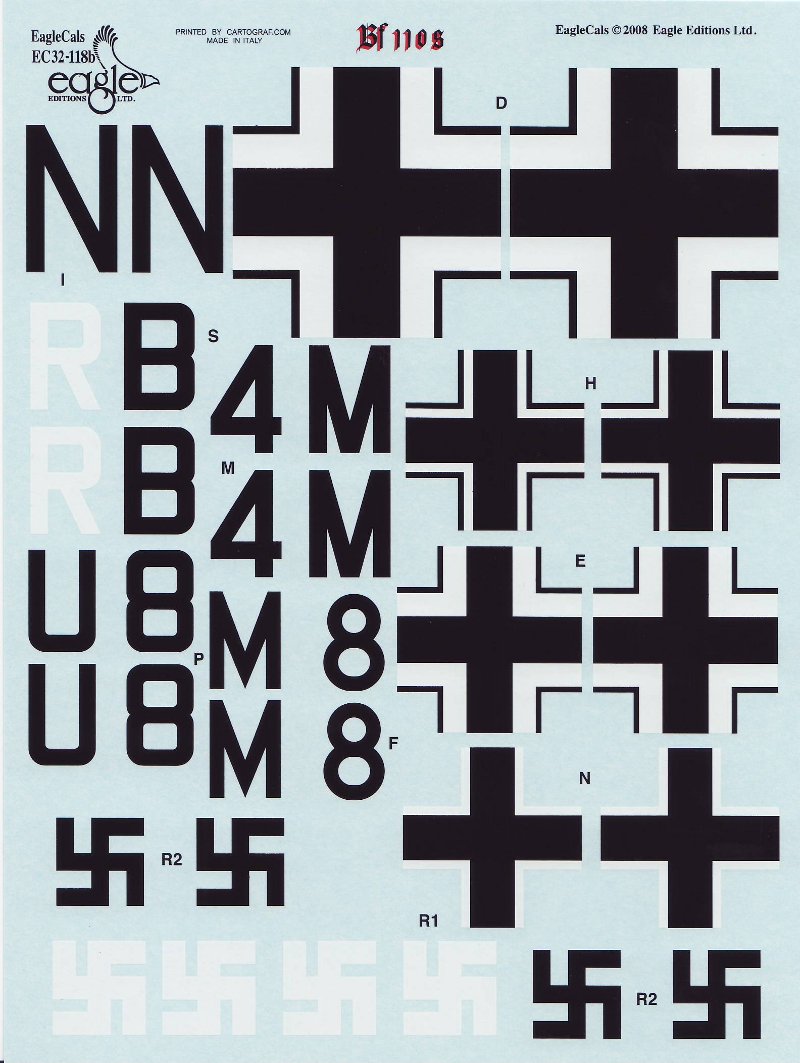 All in all, these new sets of Bf 110 decals from EagleCals are a very nice addition to Dragon's new tool Bf 110C. They will provide a modeler with many schemes to choose from when they build up the kit. A really nice touch is the inclusion of markings for the Bf 110D that Dragon will by releasing in the near future.
A big thanks to Eagle Editions for the review sample!
© Randy Bumgardner 2008
This review was published on Saturday, July 02 2011; Last modified on Wednesday, February 01 2017