Eagle Editions | EC72; P-38 Lightnings in 1/32nd Scale
Reviewed by Mark Proulx
Eagle Editions has released new 1/32nd scale decals for the P-38 Lightning. Two schemes are supplied with this decal sheet. The first is Pudgy (V), the famous P-38L of wartime ace Maj. Thomas B. McGuire. This would be the last aircraft in a series and it ultimately displayed 38 credited victories. The aircraft is finished in the standard scheme of natural metal with flat black anti-glare panels.
The second scheme represents a P-38J flown in Europe by 79th FS ace Capt. Jack Ilfrey. A very aggressive pilot, Ilfrey would actually ram a Bf 109 with this aircraft to claim a victory before successfully returning to base. This aircraft was aptly named Happy Jacks Go Buggy. It was finished in a natural metal scheme with olive drab anti-glare panels and yellow leading edges of the booms and spinners. To try and fool enemy aircraft that this was an unarmed P-38 droop snoot variant, the nose cone was highly polished and trimmed in a white band.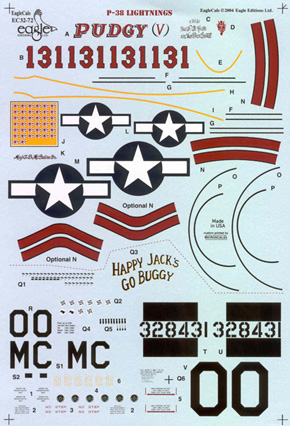 The instructions provide left side and top views of each aircraft. Scrap views are also used denoting areas such as the fuselage pod and inner surfaces of the vertical stabilizers. The Trumpeter kit currently available is a P-38L variant. This requires modifications of the model to accurately represent Ilfrey's aircraft, as it is identified as a P-38J. All the necessary changes are identified with the instructions and they should be easy for most modelers to perform. All references are listed that were used in the creation of this decal sheet enabling modelers to check the accuracy of the decals. This could prove helpful as there is some controversy about the markings on the boom of McGuire's P-38. Eagle Editions supplies alternative stripes for the modeler to choose from.
Microscale prints the decals. They are printed over a single page and include stencils and national insignia for a single aircraft. The conical spinner shape could be difficult to mask and paint so Eagle Editions addresses this problem by including spinner pinstripes. As Eagle Editions received a pre-production copy to manufacture the kit decals, I am sure these stripes will fit. The decals are printed in perfect register and they appear to be very thin.
The Trumpeter P-38 has been long awaited and early reports about the model are favorable. I believe these decals could also be adapted to fit the Revell kit of the same scale. These new markings probably will sell well given the popularity of the subject matter. It is nice to see Eagle Editions branching out into other fields of interest. I am confident they will cast the same critical eye in the creation of accurate markings in this area as they did with their Luftwaffe subjects.
Review Sample Compliments of Eagle Editions.
© Mark Proulx 2004
This review was published on Saturday, July 02 2011; Last modified on Wednesday, May 18 2016