Hobby Decal | ST32001 1/32 P-47 Thunderbolt Stencils
Reviewed by Chris Sherland
Hobby Decal is a new company out of Korea that specializes in Dry Transfer stencil sets for 1/48, 1/32, and 1/24 aircraft. Not only do they already have an impressive line of stencils available now, they are aggressively adding new titles as well as set up to take custom orders.
There is no doubt that a need for full stencil sets is present in ANY scale of aircraft modeling. However until now high quality dry transfer stencil sets were only readily available for armor modelers from companies like Archer's Fine Transfers. While the relatively simple shapes of armor lend them selves to the more complex application of burnishing dry transfers, the result on aircraft models is nothing less than exquisite.
Dry transfers are a unique product and require a specialized approach and a bit more care than water slide decals. But the advantages are pretty clear. Dry transfers use no carrier film: This can simply ruin a natural metal finish when it comes to stencils, and even on camouflage birds, the carrier file outline can be a challenge to "hide" with overcoats.
Hobbydecal has a very comprehensive tutorial on their website with tips on the application of dry transfers. I found it very helpful and a clear "must read" before attempting to use them on a build. The sets from Hobbydecal are expensive at about $6.00 to $20.00 USD per set in 1/32 and 1/24, and one needs to be sure to read the instructions and prepare before committing to a build. However, the quality of these sets is no less than stunning. And the results can be a huge improvement over water-slide, without the worry of careful overcoats. Here is an image from the Hobbydecal website's Gallery...a propeller stencil on a 1/24 Mustang.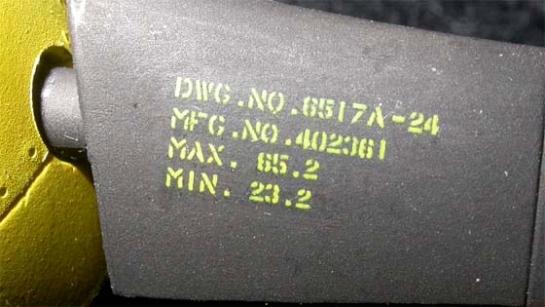 Just try that with a water slide decal!
The Thunderbolt set for 1/32 comes in a heavy ziplock bag with a stiff cardboard filler. This card contains a full primer on how to place and troubleshoot dry transfers. There are no placement guides included, and instead, Hobbydecal has a full range of very professional stencil placement guides on their website available for printing and downloading (click here to go to their placement guide page).
The P-47 dry transfer stencil set.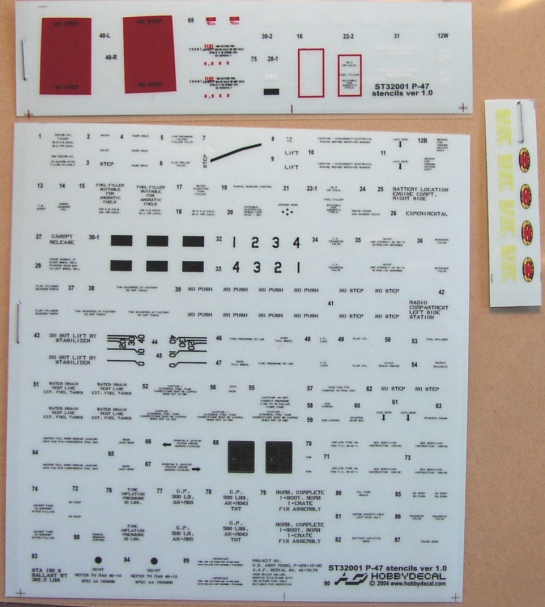 The set for 1/32 P-47 Thunderbolt is as complete a stencil set as I have ever seen for this aircraft in any scale. While not a Thunderbolt "expert" I certainly would qualify myself as a "fanatic" and my references on the Jug are fairly extensive. This set is both fully accurate and high high high quality.
The drawback of most 1/32 and 1/24 kit decal sets is that there simply is not enough room to add a proper balance of markings and stenciling. Most decal sheets in the larger scales only provide the bare minimum, or more prominent stencils to save room. In this light many stencil details are left out, and builds suffer from a "plain" look in this regard.
The Thunderbolt set from Hobbydecal offers just about every stencil that was seen on the ship. There are some nice touches in the stencils chosen, as well as a shortcoming that seems hardly avoidable.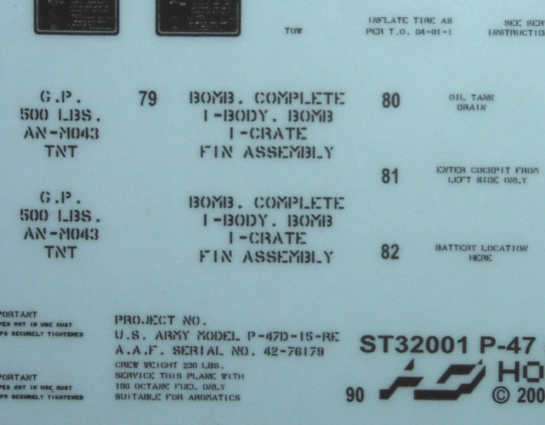 The PROJECT NO. stencil on the Thunderbolt is very prominent, the sheet offers a specific serial number (which might get some sideways looks if it doesn't match the tail code) for a D-15. Rivet counters will not be able to use this sheet for a bubbletop however as that feature didn't make the Thunderbolt until the -25.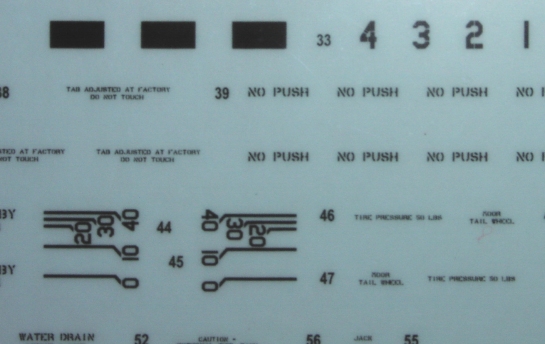 However accurate flap indicator stencils and gun numbers give real validity to a Thunderbolt build, and the Hobbydecal sheet reproduces them more faithfully than any decal sheet I've seen in any scale for the P-47.
Without a doubt Hobbydecal is the best source for dry transfer stencil sets for aircraft...in ANY scale. This Thunderbolt set will put a clean and accurate final touch on your Revell or Rutman Thunderbolt.
Highly recommended.
Thanks to Hobbydecal for the review sample.
© Chris Sherland 2004
This review was published on Saturday, July 02 2011; Last modified on Wednesday, May 18 2016