MDC | 32009: German WWII Duralumin Manufacturers Stamps
Reviewed by Rato Marczak
This is a somewhat odd, although very important (and rare) decal subject. During WWII, the German aircraft industry used various metal sheet suppliers. Each of these suppliers was required to print its name/logo and metal grade on one side of the metal sheet. This printed side was usually placed on the inside of the parts produced with the sheet and hidden from sight. However, as the war went on, internal aircraft parts were not painted and these manufacturer stamps were often left exposed in places such as wheel wells, hatches, cowls and wing structures.
Later in the war, when aircraft undersides were no longer painted (Bf 109K, Fw 190D-9), entire panels were seen bearing these stamps. The problem was: how to depict such stamps on the model...
This MDC decal sheet comes to help here. It is an entire sheet containing three types of manufacturer stamps.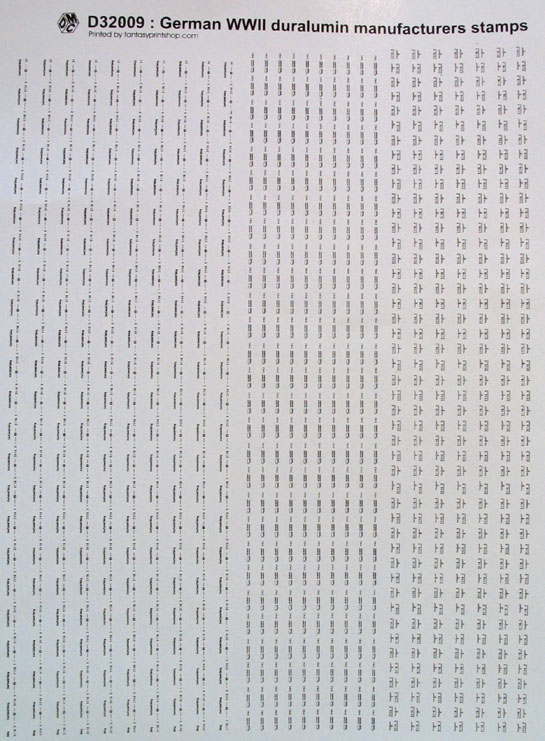 You get enough rows of stamps to decorate at least a couple of 1/32 models with each manufacturer.
The sheet is printed in black by Fantasy PrintShop, and I´m quite impressed with the quality of the printing, as all stamps are readable under a magnifying glass. The photo below shows the images of the stamps largely magnified.



Enlarged view of the stamps. Interestingly, the Krupp stamps (middle) will probably find its way in armor models, too.
Besides the aforementioned Bf 109K and Fw 190-D, many other German aircraft showed these stamps late in the war, particularly on internal areas, where the priming was abandoned to speed up the production.The photo below illustrates one of such cases, the firewall of the Me 262. During the final months of the war, the RLM 66 interior color was applied only on heavy-traffic areas, and therefore the manufacturer stamps became quite visible in some places.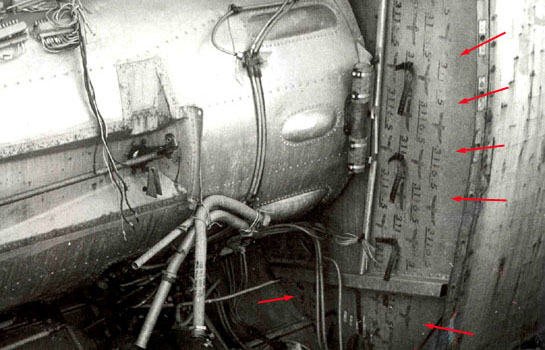 Of course many modelers may think this sort of thing is a bit too much. But if you are looking for the ultimate authenticity, no doubt this sheet will help to enhance your model.
Recommended.
Review sample courtesy of MDC. Thanks for your support.
© Rato Marczak
This product is available from the following LSP sponsors

This review was published on Saturday, July 02 2011; Last modified on Wednesday, May 18 2016