Montex | 32174: KAM Series 32174 Spitfire IXc (Tamiya)
Reviewed by Ray Peterson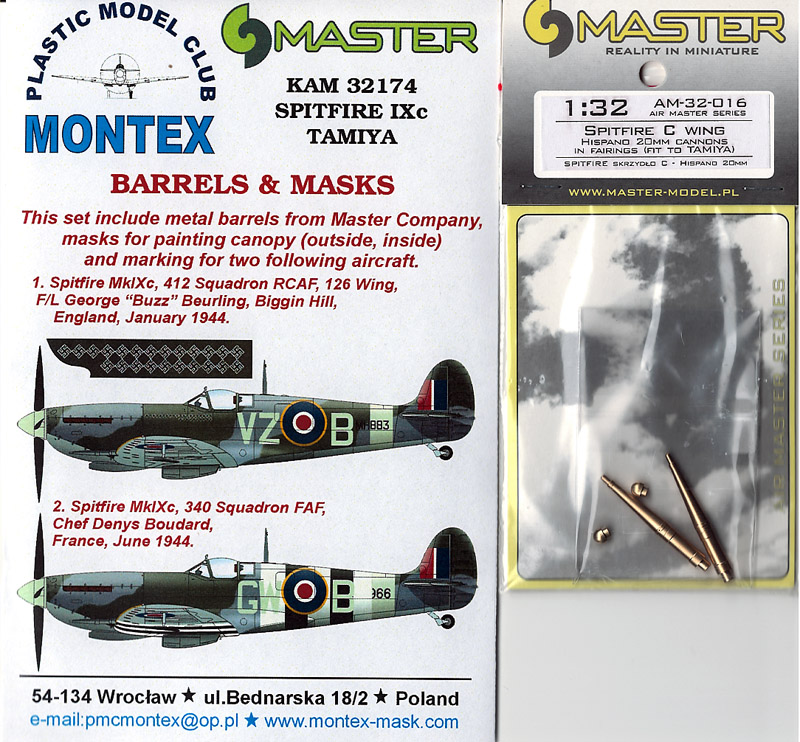 The Montex vinyl masks have been around a few years now, but recently they have added a special series which combines the Montex Super Mask series (the 'K' series) with Master's Air Master line of barrels, matching the specific barrels for the aircraft the masks represent. The combo offering gives a discount over buying the individual items. For example, if you were to purchase this Super Mask set, MSRP would be $19.04. The Spitfire C-wing barrel set would be about $13.70, for a total of $32.74 for the set. By buying the KAM set, it would cost $30.95, so you would save $1.79, or about a 5.5% savings. (If you participated in the LSP group buy, you would have got the set for $22.32, over a $10 savings from buying the sets separately; the power of group buying!!!). So if you are going to buy both items anyway, it makes sense to see if there is a KAM set available.
Let's look at what you get in this set!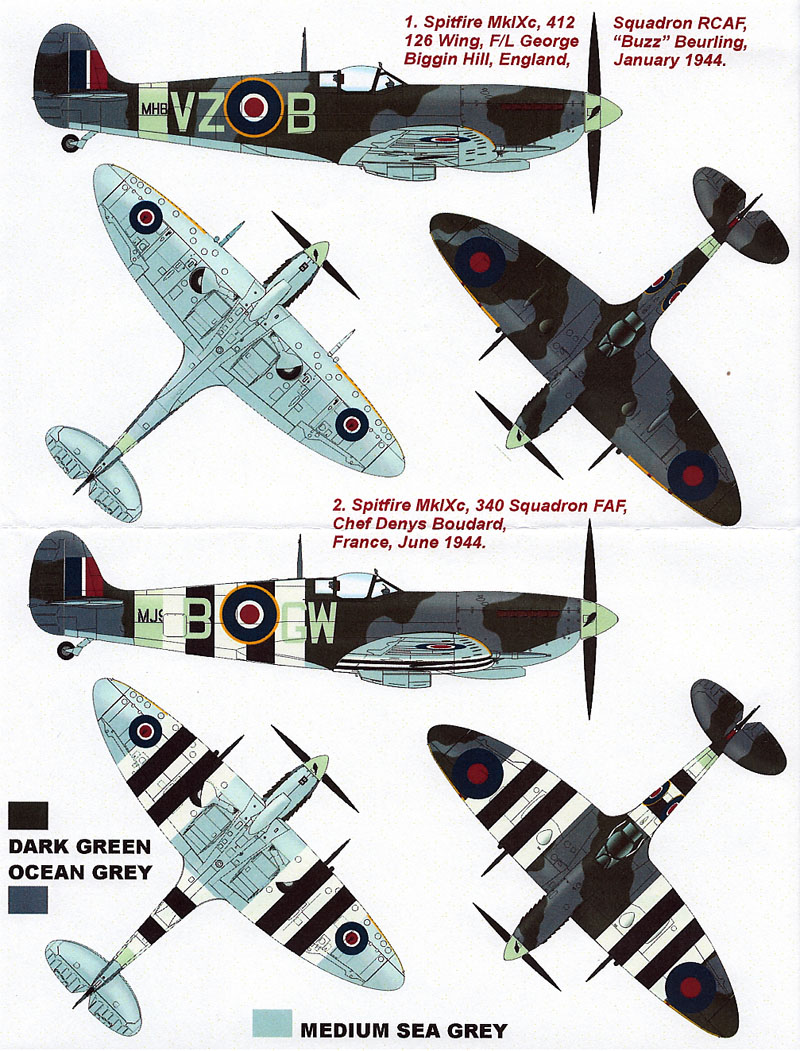 This set has markings for 2 Spitfires Mk IXc's; the first being Spitfire MkIXc, 412 Squadron RCAF, 126 Wing, F/L George "Buzz" Beurling, Biggin Hill, England, January 1944.
The second is Spitfire MkIXc, 340 Squadron FAF, Chef Denys Boudard, France, June 1944.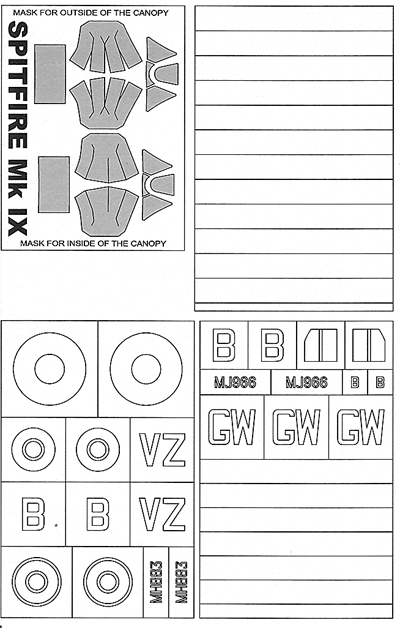 These markings are provided in Montex's typical plastic Ziploc pouch. We have 4 small sheets of vinyl masks, including a set of inner and outer canopy masks, a full set (6 roundels) of national markings, at least two sets of codes for two different aircraft, and a sheet of masks for D Day stripes. Added to this is a very small decal sheet with kill markings. I did not scan the vinyl masks as it is very hard to see anything. I have included a scan of the mask layout sheets. Also included is the full color markings sheet (above).

Last but not least are the Master gun barrels. They are beautifully turned brass parts, direct replacements for the Tamiya parts. My pic shows them along side the Tamiya items. While the Tamiya parts are nice, the Master barrels need no clean up of seams or sprue cut off nubs. The barrels have been bored out enough so that no other drilling is needed. One curiosity: the tips of the two barrels have a machined, flattened spot each side of the barrel. I have not been able to find a picture to verify these flat spots, although it does appear the Mk. II cannon barrel tips may not be round. I would appreciate anyone speaking up about that detail. Anyway, all other details are clean and sharp.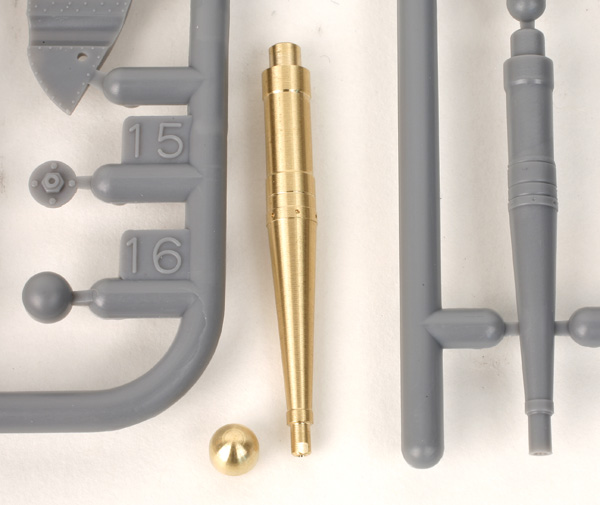 In conclusion, if anyone is planning on using masks and aftermarket barrels on their kits, it makes sense to save a little and pick them up in a KAM combination set.
Highly recommended!!!
© Ray Peterson
This product is available from the following LSP sponsors
This review was published on Saturday, July 02 2011; Last modified on Wednesday, May 18 2016