Montex | K 32018: TBF/TBM-1 Avenger Masks Set
Reviewed by Mark Proulx
Montex has just released a set of masks to be used with the Trumpeter TBF/TBM-1 Avenger in 1/32nd scale.
Masks are provided for two aircraft. The first aircraft, a TBF-1, comes from an unidentified training squadron finished in a North Atlantic scheme. The second is a TBM-1 from USS Mission Bay circa June 1945. The aircraft is finished two tone blue over white.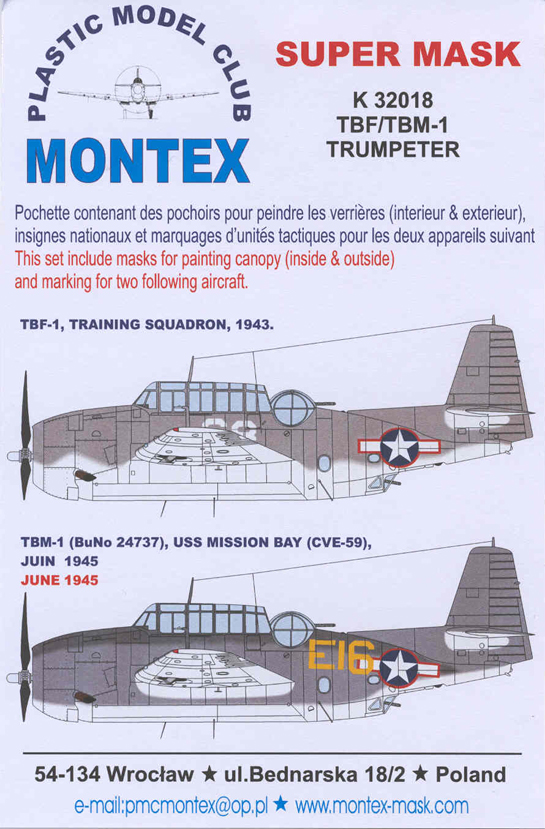 The instructions provide detailed painting schematics for both schemes. No FS 595b color choices are provided with the instructions though each color is identified. They should be easy to cross reference to existing paint lines. A template identifying each mask and its location is also included. Left, right, upper and lower views are depicted for each aircraft. Unfortunately, references used for the creation of these masks are not stated.
The masks are extensive. They are provided over seven pages with each mask individually perforated. Montex also includes masks for spraying the inner and outer canopy framing. I am sure modelers will find this helpful due to the extensive framing that the Avenger canopy was equipped with.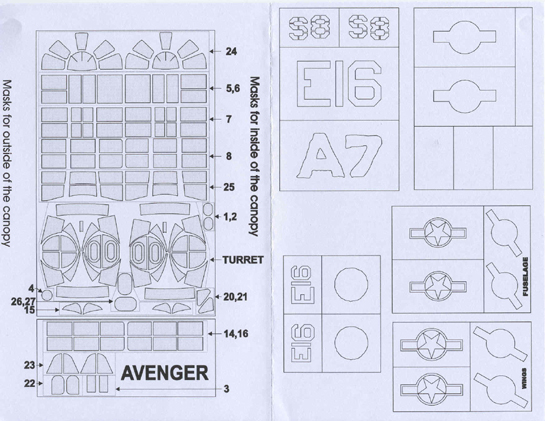 Montex masks provide a viable alternative to water slide decals. They allow the modeler to weather and fade markings to suit their individual needs. This option is great, especially when trying to duplicate heavily weathered paint schemes. However, patience is required placing the masks and much more spray-painting is needed for the finished result.
For a detailed review of Montex masks and how they are used, please refer to Chris Sherland's excellent review here.
This review sample compliments of Design & Marketing Int'l, the North American distributor for Montex.
© Mark Proulx 2005
This product is available from the following LSP sponsors
This review was published on Saturday, July 02 2011; Last modified on Wednesday, May 18 2016