Montex | K24047: Super Mask – VFS 1/24th P-47D Thunderbolt
Reviewed by Randy Bumgardner
Montex is known for their line of masks for painting models. From their most basic insignia and canopy masks to their Super Mask series of paint masks for a complete markings scheme, including decals, Montex has get it covered. No pun intended. In addition, Montex offers masks for schemes that are a bit off the beaten path. Usually, painted markings also look more "realistic" than their decal counterparts. So, it's only a matter of course that Montex would produce a set of Super Masks for the big Jug from Vintage Fighter Series.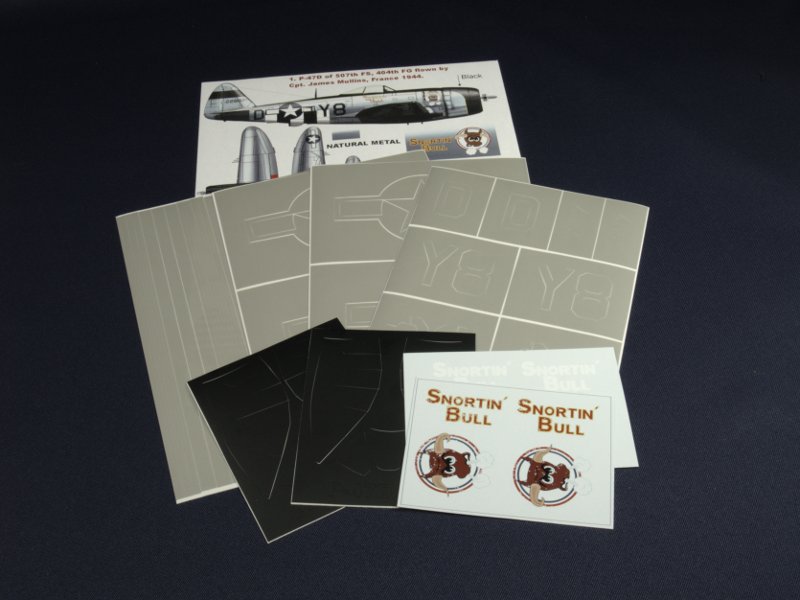 The modeler receives two schemes in this set, K24047:
P-47D, 42-28871, 507th FS, 404th FG, Capt. James Mullins, France 1944
P-47D, 42-6787, 525th FS, 86th FG, 12th AF
The first scheme, "Snortin' Bull", is an NMF aircraft. That's a lot of Alclad II for this model – it's a very big Jug. This aircraft still retains it's D-Day stripes on the lower fuselage and the black ID stripes on the empennage. Montex supplies the "Snortin' Bull" lettering and the bull's head as a separate decal. The decals are nice and thin with minimal carrier film. Mine suffered some damage as they were stuck to the plastic bag used to package the mask set. However, this is most likely the luck of the draw for me and should not reflect poorly on Montex. There are also white background decals for the lettering and the bull's head cartoon.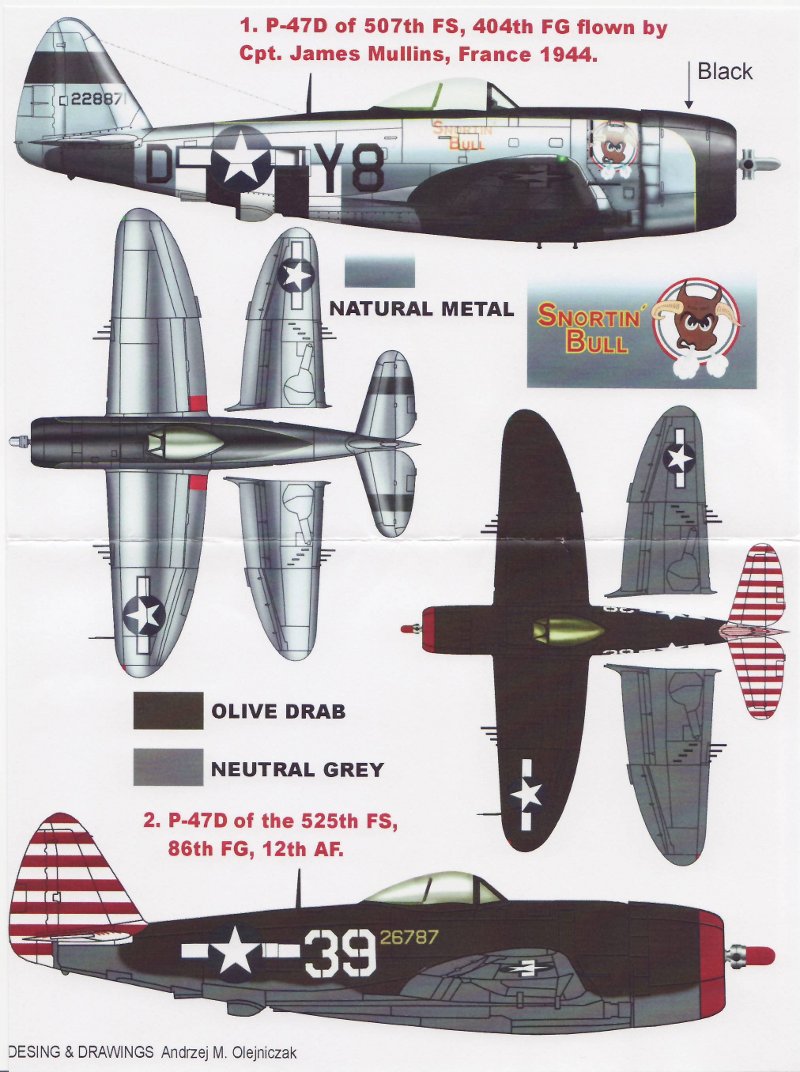 The second scheme is an OD/NG Thunderbolt from the 12th Air Force. The interesting thing about this aircraft are the red and white stripes on the vertical tail/rudder and stabilizers. Montex provides thin striping masks for the task of painting the stripes. You don't get enough masks to cover everything at once, so you will have to take your time and work in stages.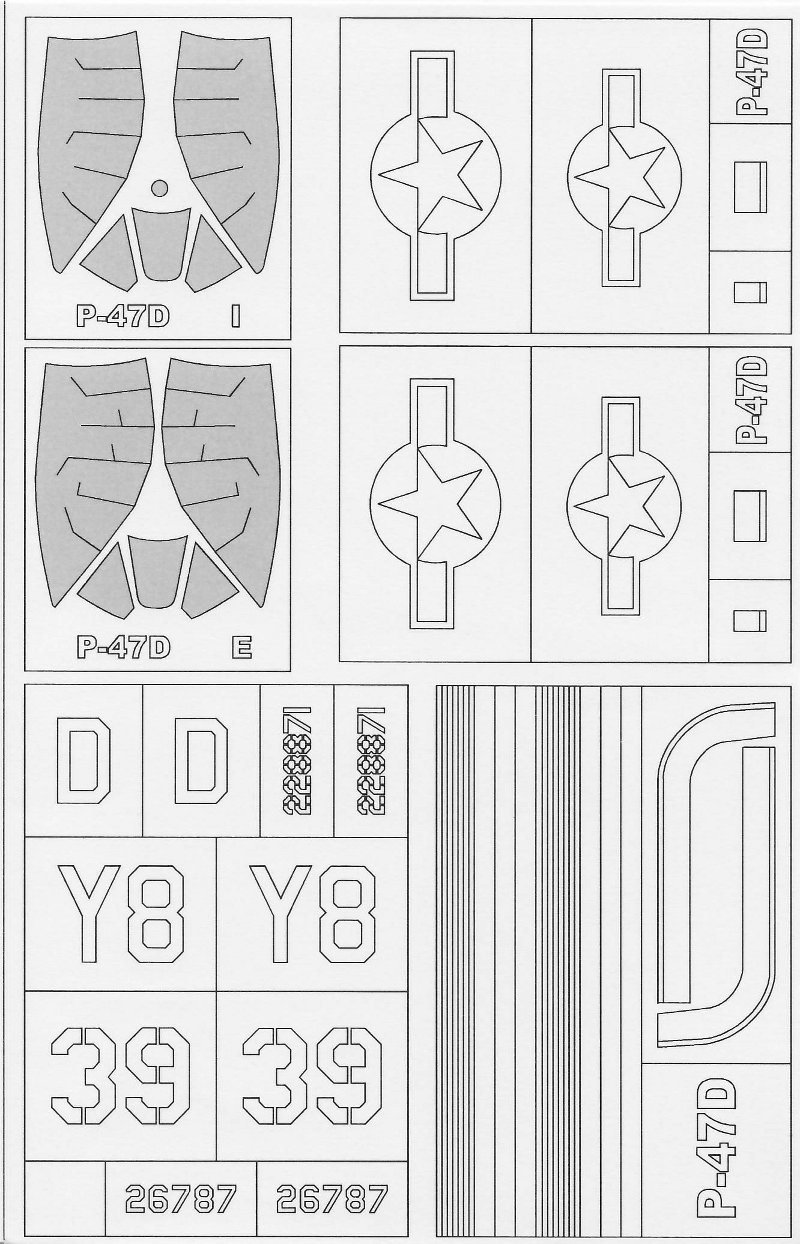 The masks themselves are made of vinyl and should provide enough "stick" to be used for both schemes – if the modeler happens to have two VFS Jugs in the Stash. This set contains masks for the interior and the exterior of the windscreen and canopy, national insignias, squadron and aircraft codes, and BuNos. In all, six sheets of masks are provided in the set. The "Snortin' Bull" scheme also includes masks for the black areas on the upper fuselage and cowling, as well as for the yellow pin-striping that frames the black areas.
No stencils are included in the set. So, the kit stencil decals or the HobbyDecal dry transfer stencils can be used.
Overall, these masks and marking will certainly look great on that very large model. The masks for "Snortin' Bull" will especially look great on the natural metal scheme.
Review sample is courtesy of Design & Marketing Int'l, "Thanks Patrick!"
© Randy Bumgardner 2009
This product is available from the following LSP sponsors
This review was published on Saturday, July 02 2011; Last modified on Wednesday, May 18 2016