Montex | K32059: 1/32 Me 262A-1a Masks Set
Reviewed by Mark Proulx
Montex has released a new set of masks designed to be used on the 1/32nd scale Me 262 from Trumpeter.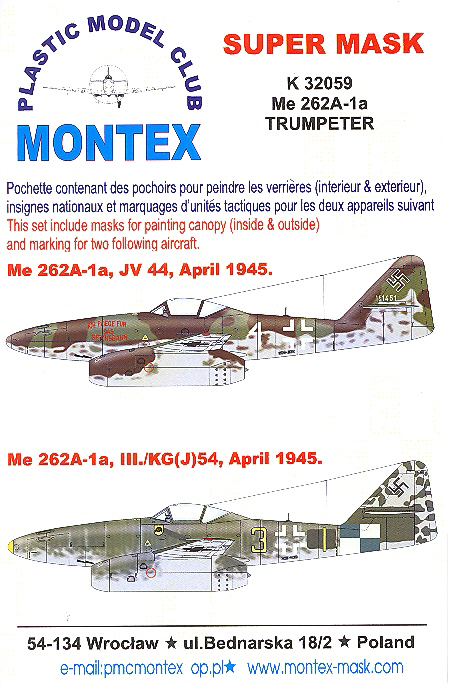 Two profiles are included with the instructions. The first is for "White 4", a Me 262 W.Nr. 111451 with JV 44, circa April 1945. These markings are based upon profiles seen in the French magazine "Ciel de Guerr" and the Polish "Monografie Lotnicze No 30", detailing this jet. The later identifies Waldemar Wubke as the pilot of this aircraft. Assigned to the JV 44 protection flight of Fw 190Ds, there is no credible evidence to support the notion that Wubke ever flew a Me 262 with JV 44. In addition this W.Nr. isn't assigned in the Me 262 production blocks. At this time, I believe it should be assumed that this scheme never existed.
The second aircraft is the well-known "Yellow 3" of III./KG(J) 54, circa April 1945. Montex identifies the colors as RLM 76/82 whereas Eagle Editions and Experten Decals both claim an upper surface color of RLM 83. Modelers will have to check their sources to reach their own conclusions.
The masks are supplied over two pages of pre-cut vinyl. All markings, including national insignias, are included. However, it is unfortunate that the unique tadpole design for the tail of "Yellow 3" isn't included as a mask. Pre-cut masks are included for the inner and outer surfaces of the canopy, which should ease painting for the modeler.
To those modelers that want accuracy in their builds and an easy means to spray the tail of "Yellow 3", this release comes as a bit of a disappointment. As two other companies supply water slide decals for "Yellow 3", I believe Montex could have provided more interesting and well researched subjects.
Review Sample Compliments of Design and Marketing Int'l.
© Mark Proulx 2006
This review was published on Saturday, July 02 2011; Last modified on Wednesday, May 18 2016