Siam Scale | #32018 F-8F Bearcat Decals: 1/32nd Sheet Royal Thai Air Force
Reviewed by Ray Peterson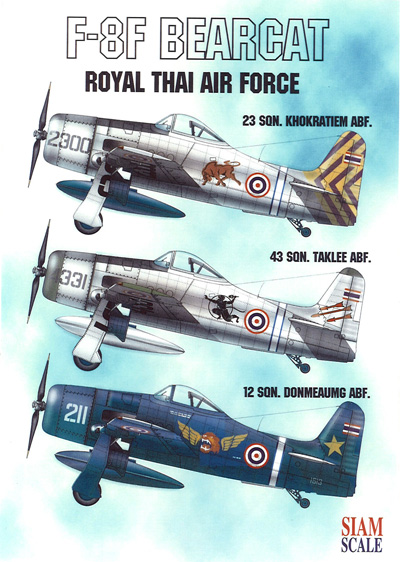 A while ago some mentioned these decals in the forums and I couldn't resist getting a set. The decals are for 3 different Bearcats of the Royal Thai Air Force, two in natural metal finish. Included in the package is two 5"x7.5" sheets of decals, a black and white decal layout sheet with color call-outs, plus a 4"x6" photo card with profiles in full color.
The layout sheet has "Black 2300" of 2 Sqn. @ Kohkratiem AFB, "Black 4331" of 4 Sqn. @ Taklee AFB, and "White 211" of 1 Sqn @ Donmeang AFB. What is a little strange is the color card lists the squadrons as 23 Sqn, 43 Sqn, and 12 Sqn respectively. Hmmm... As my resources are severely light on Royal Thai AF craft, I couldn't tell you which one is correct! Also odd about the sheet is that while the star is shown as yellow or gold on the color profile, the stars on the decal sheets are blue. Another oddity is the yellow and black striped tail of "Black 2300." Instead of having the modeler paint the tail yellow and supplying black stripes, they have you paint the tail black and add yellow stripes. Very odd as besides the coverage issues over black paint I think it would have been an easier masking job for painting the yellow. One last note: the color call outs are all in Humbrol numbers with no color names so if you don't use Humbrol you will have to look up the color equivalents if you don't use Humbrol. A minor but annoying nit.
Looking at the decals themselves, they are in good register and are definitely interesting. They carrier film is a little on the thick side, similar to what you get in a Hasegawa or Tamiya kit. No name of a printer is on the sheets. I did try a decal and it went down ok and did not look as thick on the model as on the sheet. I used Gunze's Mr. Setter and Mr. Softener on the decals as that combination seems to work best with Tamiya decals. It seemed to work ok though the decals did seem a little impervious to Mr. Softener. So some experimentation with other decal solutions may be warranted for best results.
In summary, despite the few oddities, this decal sheet definitely will give you a different looking Bearcat from all the US and French Glossy Sea Blue ones.
Recommended.
The decal sheet can be found at http://www.modelivery.com , here.
© Ray Peterson 2011
This review was published on Saturday, July 02 2011; Last modified on Wednesday, May 18 2016