Spada Decals | SD-ll-h75-001: 1/32 Curtiss H-75
Reviewed by Chris Sherland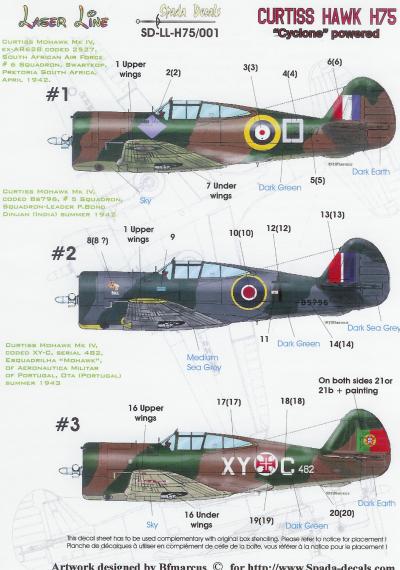 Spada Decals out of France has released a unique set of their Laser Line decals for the Wright Cyclone powered Curtiss Hawk 75. The sheet covers two RAF and one rarely portrayed Portuguese Hawk.
The Laser Line decal series are finely detailed but require a bit of careful attention to the instructions as they are printed with no carrier film. While not for beginners, the series is a more advanced decal solution and should be used with extra attention.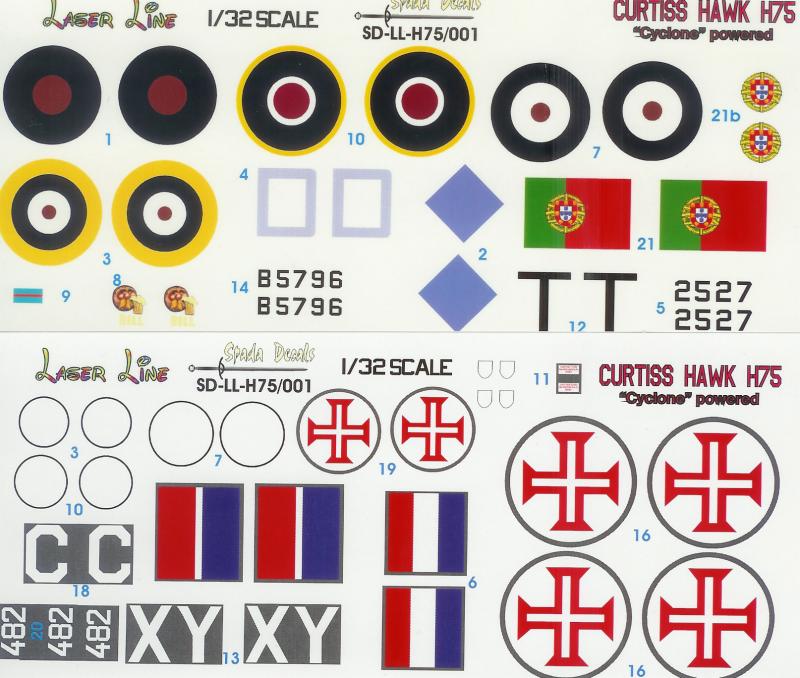 These schemes are some of the most colorful Curtiss Hawks that can be found, while all wearing some variation of the RAF day fighter camouflage, the markings will bring real vibrance to a build.
The short nosed Hawk can only be made at the time of this review by combining either the Special Hobby 1/32 H-75 kit, or the 1/32 Trumpeter P-40B along with the Cutting Edge Model Works Hawk 75 conversion (# CEC32151 ).
The decals are nicely printed on two sheets, very colorful, and represent a real break from the norm in 1/32. If you have a Hawk project sitting idle waiting for inspiration, this may be the sheet that spurs you to action!
Thanks to Spada Decals for the review sample.
© Chris Sherland
This review was published on Saturday, July 02 2011; Last modified on Wednesday, May 18 2016