Techmod | 32021: Hawker Typhoon Mk Ib
Reviewed by Rato Marczak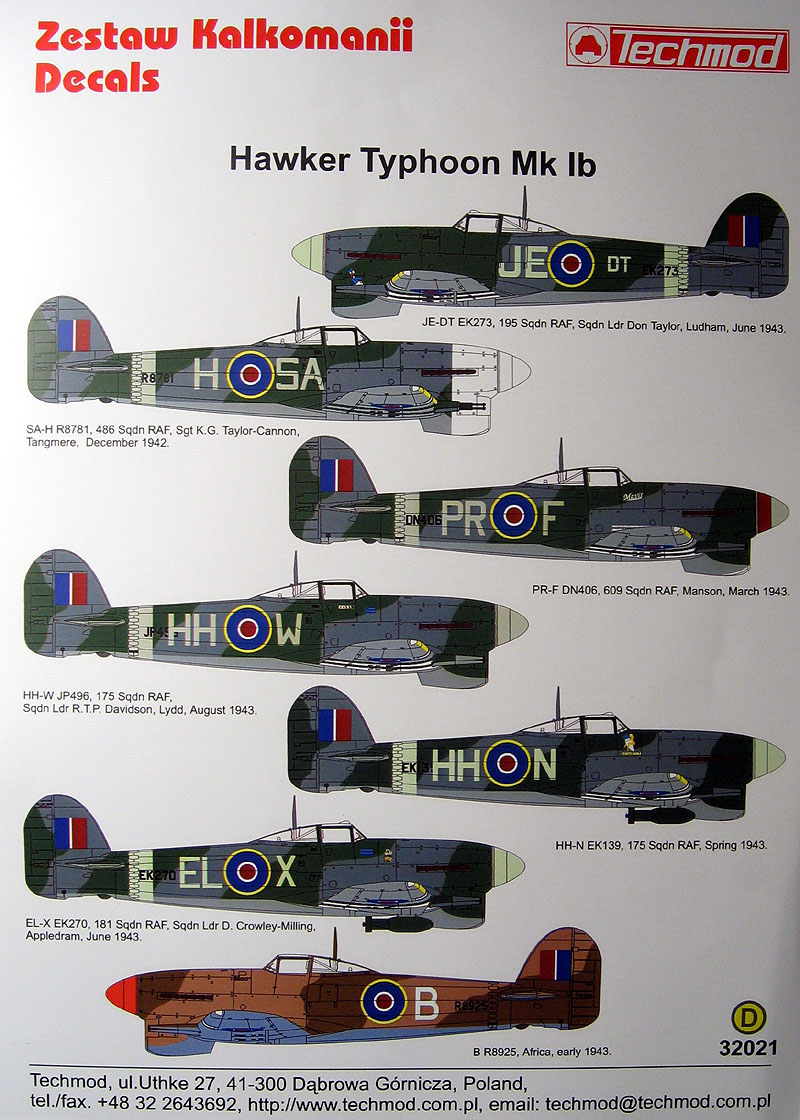 Techmod's come to help 1/32 Typhoon lovers with this huge decal sheet. For the time being, your only choice is the venerable Revell offering, and this sheet is a very welcome addition to decorate your Typhoon.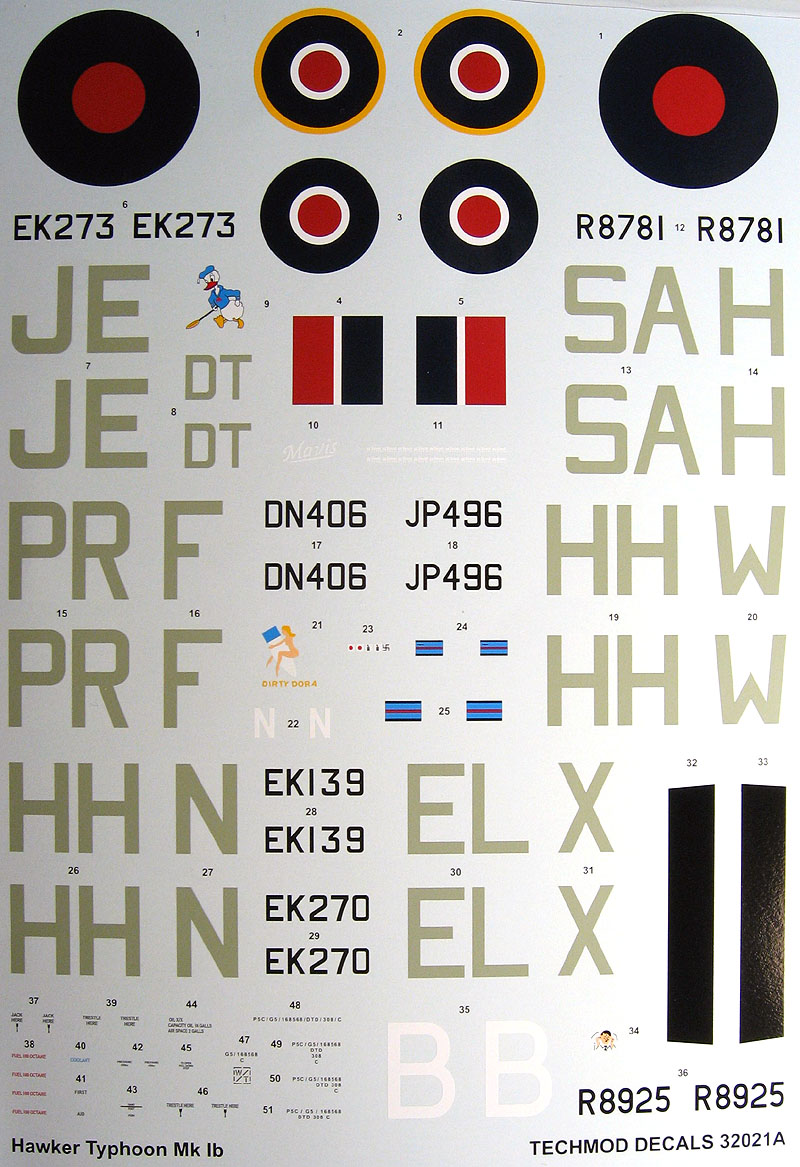 This Techmod sheet brings nothing less than seven (!) aircraft to choose from, so I won't comment on the value of this sheet. Be aware, though, that there are insignias and stencils for only one aircraft – not a major problem, I guess, as we are plenty of British insignias in this scale.
Two sheets of decals and a big four-pages instruction sheet are supplied in the set. The overall quality is very high, and register was perfect on my sample. The second decal sheet is in fact a small supplement with two small serials correcting mistakes on decals #40 and #52 of the main sheet (nice touch Techmod). All the stencils are included, they are perfectly readable, and the directions for the placement them all are included in a separated diagram.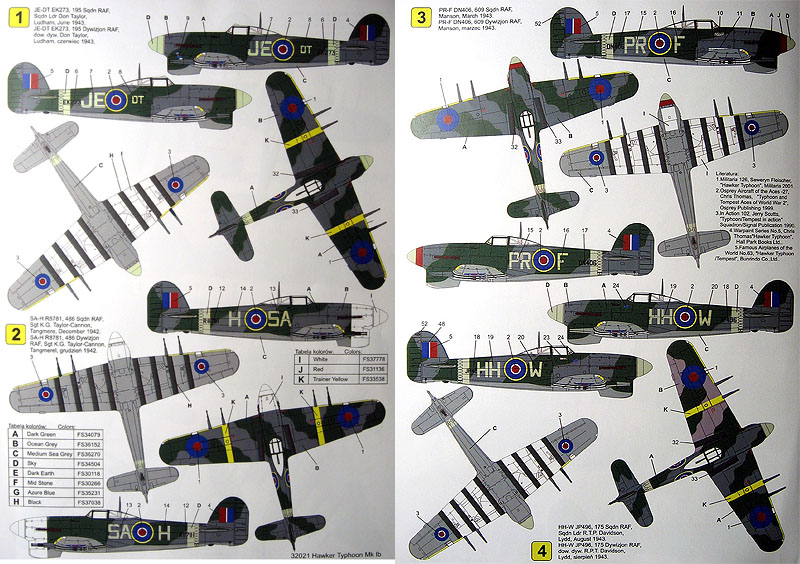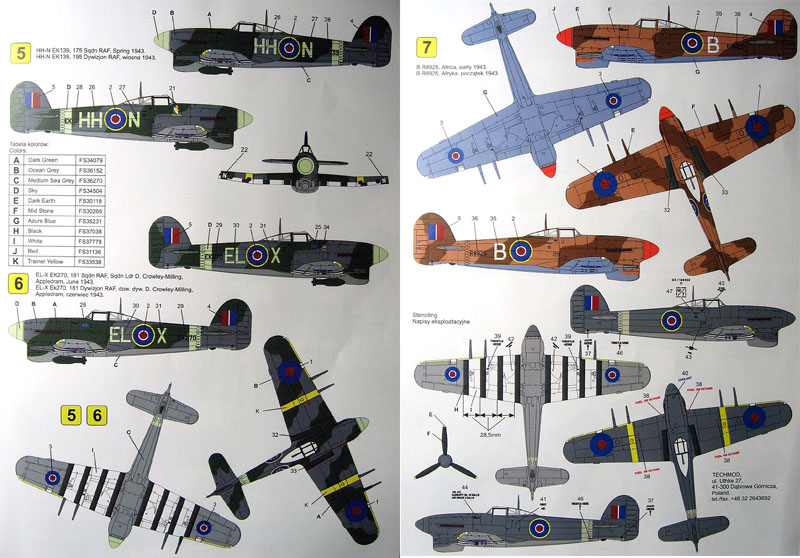 Four of the aircraft have some type of personal markings: HH-N 'Dirty Dora' from 175th Sqdn., PR-F 'Mavis' from 609th Sqdn., JE-DT with a Donald the duck nose art of 195th Sqdn., and the EL-X from 181 Sqdn., sporting a Hitler cartoon. All four are multi-colored and perfectly printed. The other planes are R-8925 from the North Africa campaign, HH-W also from the 175th Sqdn. and the SA-H from the 486th Sqdn.
The set then allow you to model several machines from the 1942-43 period, all Mk.Ib, car door Typhoons, all dark green/ocean grey/medium sea grey (except for R-8925, in typical Africa dark earth/mid stone/azure blue cammo).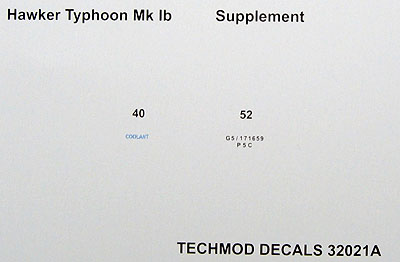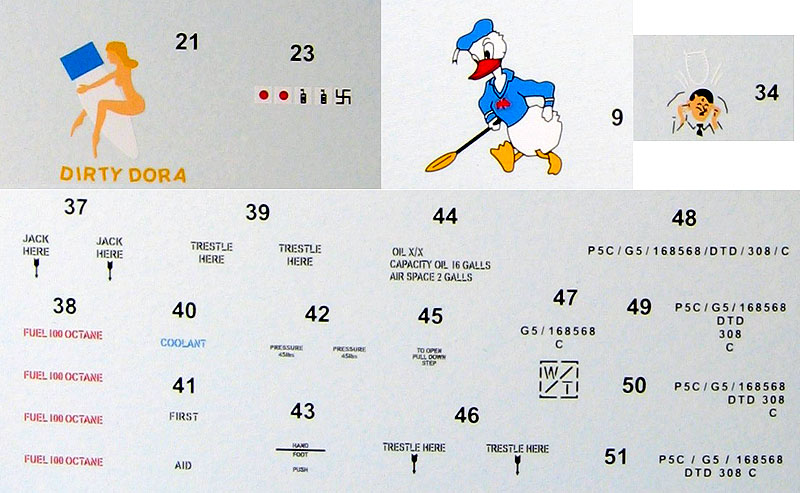 I haven't checked the accuracy as yet, but the whole set looks well researched and as accurate as they come, fonts and markings are all accurate in size and color. Color specs are tabulated with their FS matches. On the sheet, the decals are quite thin and have great register.
I highly recommend this set for anyone doing a Revell Typhoon, and if some new offering of this bird is released in the future, they will surely remain useful. And if you are bold enough to backdate the MDC to a Mk.Ib configuration, at least the decals won't be a problem.
Review sample courtesy of Techmod (via Peter "Mikolaj" Mikolajski at Polish modellers site).
© Rato Marczak 2007
This review was published on Saturday, July 02 2011; Last modified on Wednesday, May 18 2016