Techmod | 32012: Republic P-47 D/M Thunderbolt
Reviewed by Chris Sherland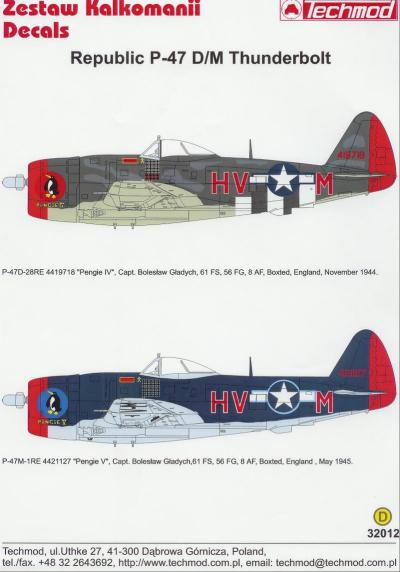 Techmod has a great line of 1/32 decals that cover subjects that are "just off" the beaten track. As a known Thunderbolt junkie I've picked up all of their sheets on 1/32 Thunderbolts, and they are all excellent.
This sheet covers two of Capt. Boleslaw Gladych's Thunderbolts (both feature his "Pengie" moniker) from the 61st FS, 56th FG, 8th AF. Gladych was a Polish pilot who first flew with the RAF, and then (along with a few other ex-Polish Air Force pilots) found his way to the 56th FG through the help of Francis "Gabby" Gabreski. Gladych made a very good run with the 56th eventually scoring 26 victories in the Thunderbolt.
The sheet is very nicely printed and features highly accurate and detailed artwork from clearly exhaustive research. A generous (read almost complete) set of maintenance stencils is included along with all the markings you'll need to do both planes including almost two full sets of national insignia (one wing insignia short).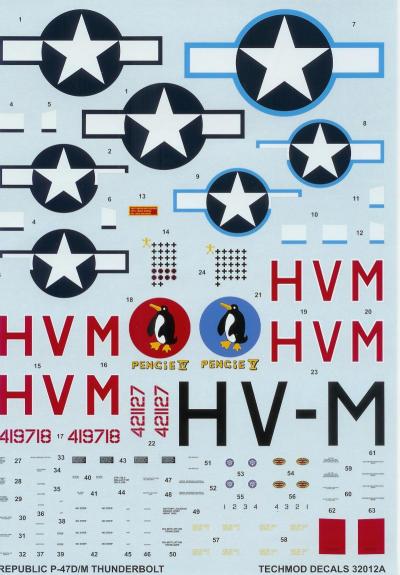 The instructions are two page full color and include a full stenciling guide. Both the D and M models shipped from the Republic factories with Curtiss propellers, but some M models were retrofitted with Hamilton props by the 56th in-theater. Techmod includes decals for both prop types.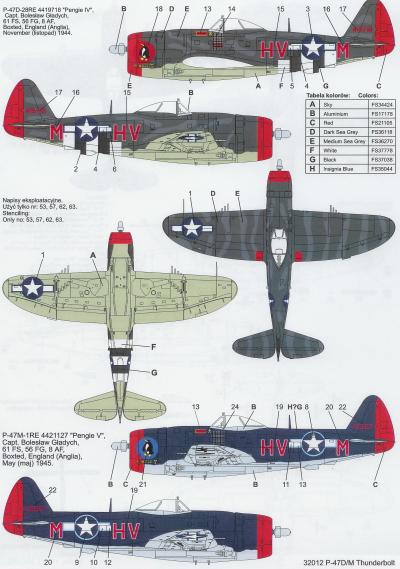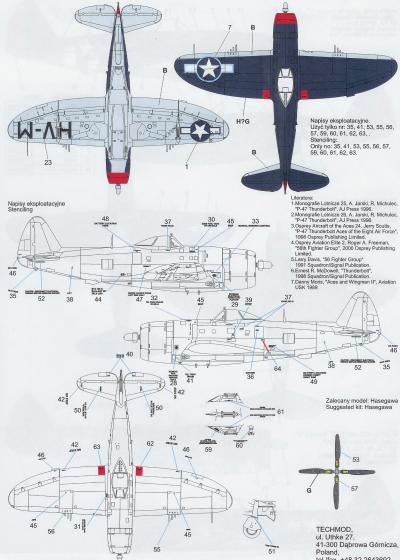 While there is currently no 1/32 P-47M kit available the conversion from a D-25 or D-28 consists of a new reduction housing on the engine, the K4 gunsight, the Curtiss prop, and a fin strake (some Ms did not have the strake installed).
This sheet is well done and I highly recommend it.
© Chris Sherland 2006
This review was published on Saturday, July 02 2011; Last modified on Wednesday, May 18 2016