Victory Productions | VPD 32003 Spitfire - Aces of the Empire
Reviewed by Ray Peterson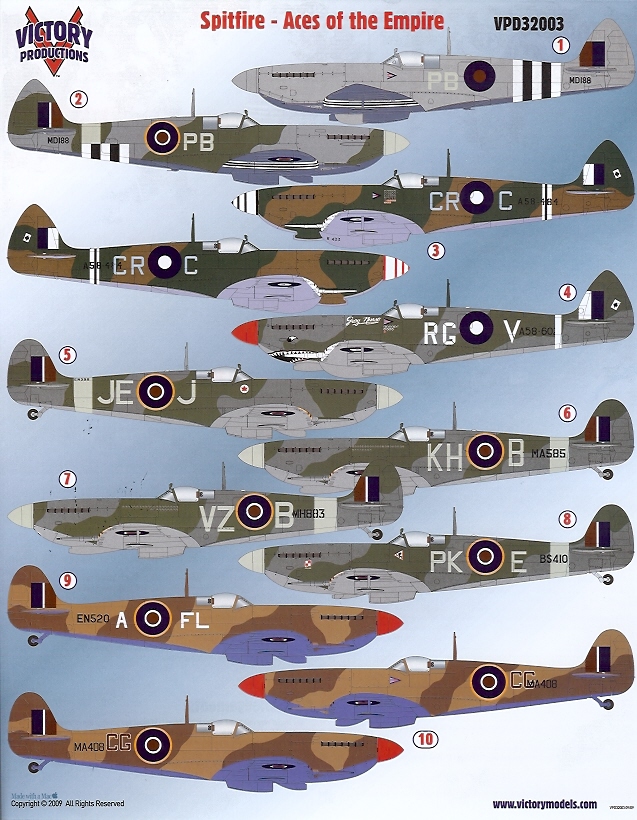 Victory Productions has released a new decal sheet intended for the new Tamiya 1/32nd scale Spitfire IX (or of course, they could be used on the PCM Spitfire). It is a sheet based on an earlier release in 1/48. Included on the sheet are decals for 14 different aircraft, including 3 types of roundels. Therefore, it is possible to build 3 different models from the sheet without using any decals from the scrap heap, if you pick your schemes right!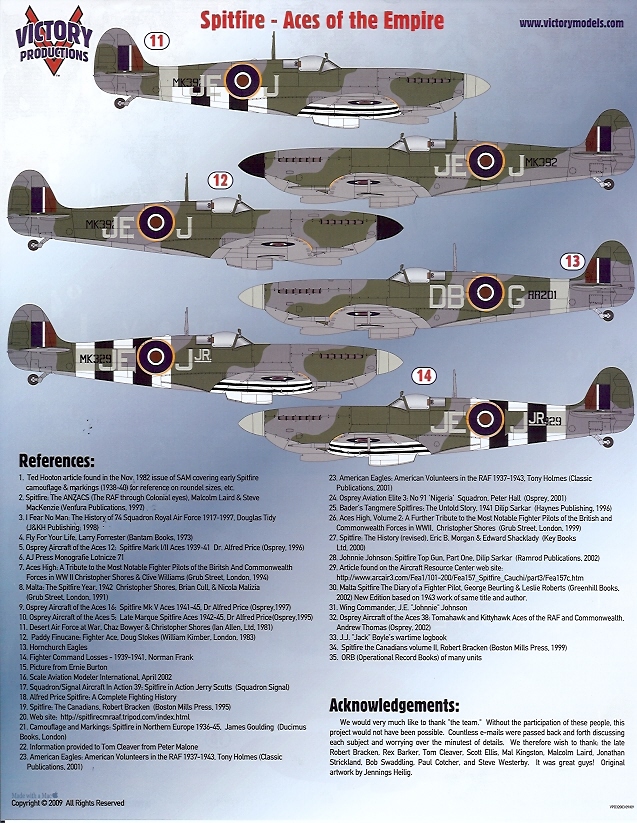 Looking at the specific aircraft, Victory Productions offers two different markings for Wing Commander Peter Brothers Spit Mk VII MD188; Group Captain Clive Caldwell's Spit Mk VIII; Wing Commander Robert Gibbes' Spit Mk VIII of the Grey Nurse squadron; two different Spit Mk IXc's flown by Flt Lt Buzz Beurling; the Spit IXc Capt Gabby Gabreski flew before making history flying P-47s with the 56th; two different Spit Mk IXc's flown by Wing Commander Colin Gray; a Spitfire LF. Mk IXe flown by Flt. Lt. Richard Audet, possibly the only 'ace in a day' Spitfire pilot; and finally four different Spitfires flown by Wing Commander J.E. 'Johnnie' Johnson, including markings for the infamous beer running Spitfire.
Included in the marking descriptions is a listing of each aircraft's details; i.e. wingtips, carb intake, wheel hub type, etc. While most of the parts are included in the Tamiya kit, it is expected there will be many aftermarket choices to come.
The decals themselves look very good, printed by Cartograph, with good color saturation, good registration, and as little extra decal film as possible. The decal film appears thin and glossy. The colors look quite accurate by my eye. I tried a scrap decal which I applied by soaking in warm water and placing over a Tamiya Gloss coat from a spray can. After positioning I used a thin layer of Solvaset. Once dry, virtually no trace of decal film could be seen.
These decals can be purchased directly from Victory Models, their website is at http://www.victorymodels.com.
Highly recommended!
© Ray Peterson 2003
This product is available from the following LSP sponsors

This review was published on Saturday, July 02 2011; Last modified on Wednesday, May 18 2016