Warpigs | Paint Masks Luftwaffe 910mm
Reviewed by Kevin Futter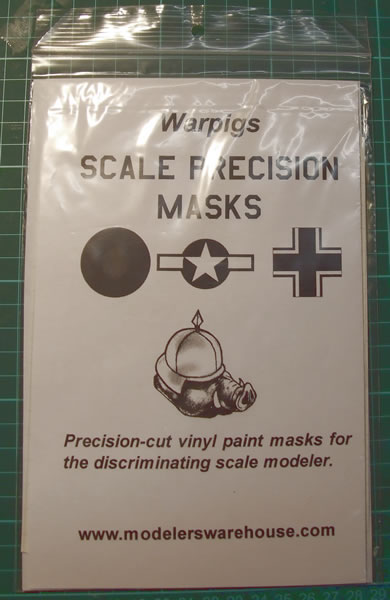 Traditionally, markings have been applied to scale models using waterslide decals, and these have served us well for decades. In recent years, however, we have seen the growth in popularity of painting markings on with the aid of paint masks. It has always been possible, of course, to break out the masking tape and set about cutting out your own paint masks, but in the enjoyment stakes, that's right up there with masking canopies or picking your nose with a backhoe.
The moral of this story, obviously, is that if you wish to mask and paint your markings, pre-cut commercial masks can save your sanity. Enter into the fray Warpigs, with their new range of Warpigs Scale Precision Masks. The range so far is exclusively for 1/32 subjects, and consists of a combination of generic national markings sets, as well as sets for specific aircaft.
The subject of this review is a set of Luftwaffe balkenkreuz scaled from the original 910mm. The masks themselves are listed as being 28.5mm.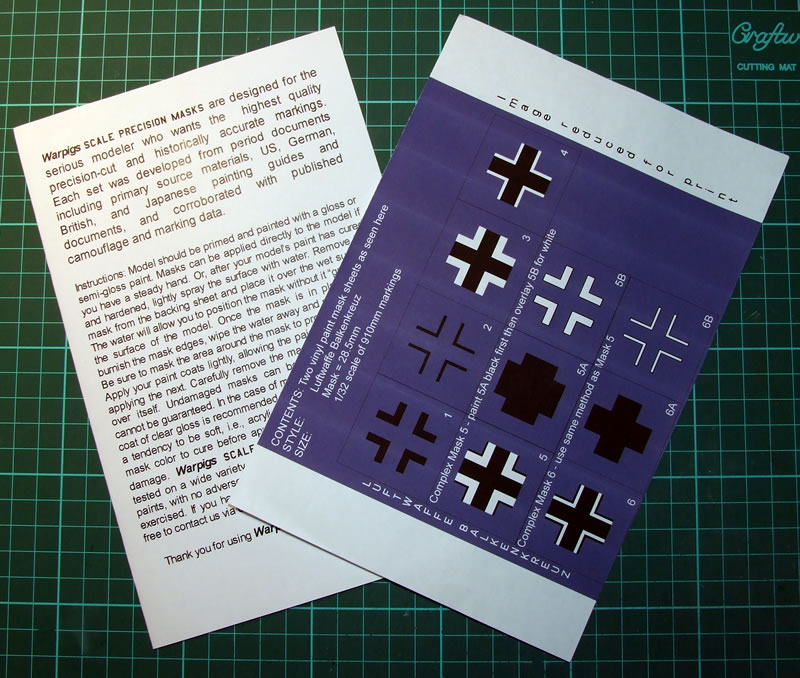 The masks are pre-cut in a very thin self-adhesive vinyl. The vinyl is noticeably thinner than standard masking materials. They do have a tendency to stretch, however, so careful handling is required once they're free from their backing sheet.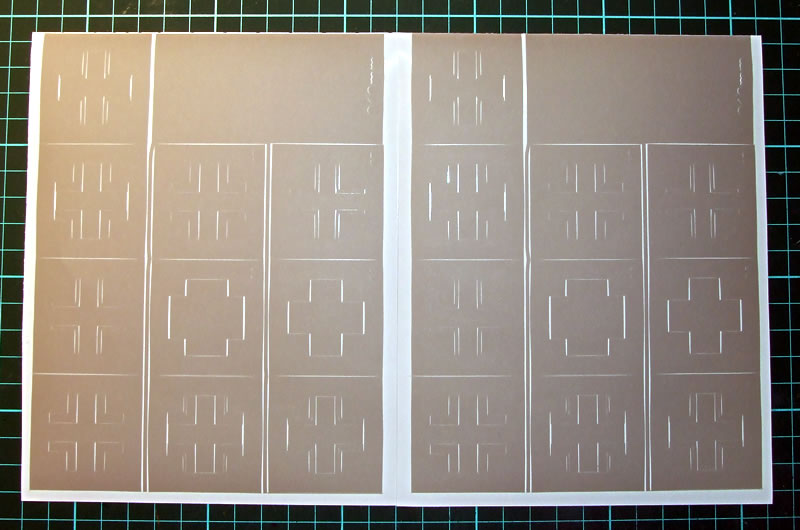 One addition to the documentation that I would like to have seen is a list of aircraft types and positions that this size of balkenkreuz is applicable to. While this information probably isn't difficult to discover on your own, having it right there on the instructions could potentially save a lot of leg-work. As you can see from the following photos, the example I used is clearly too big for my test subject!
The masks are relatively simple to remove and apply. Great care needs to be exercised during placement, however, as they're not as forgiving as waterslide decals: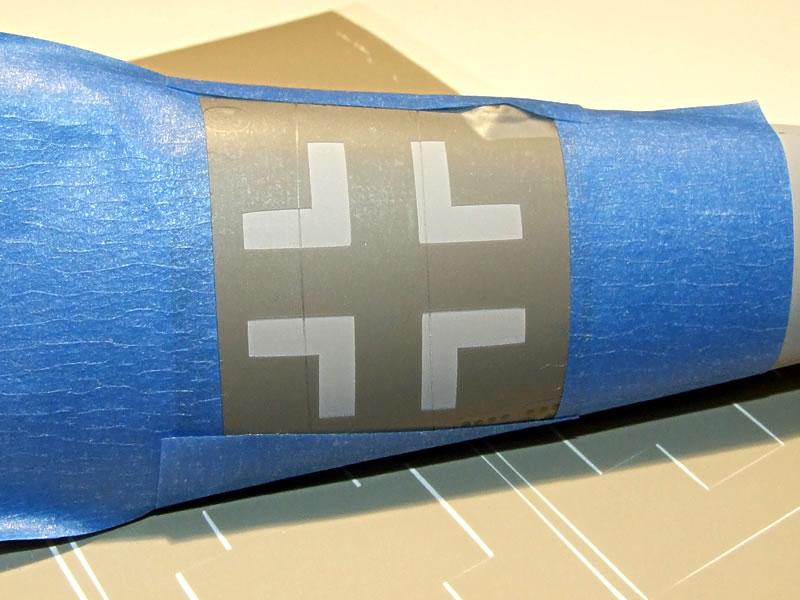 The instructions recommend spraying the model lightly with water, allowing you to slide the mask into position, rather than having it simply 'grab' the model. For this reason, application over gloss or semi-gloss paints is recommended. For my test, I primed the surface with Mr Surfacer 1200, and then gave it a light polish with some worn wet'n'dry. I didn't try the water method, however, since position wasn't critical, but I may do so next time.
A very light spray with some Tamiya XF-2 Flat White: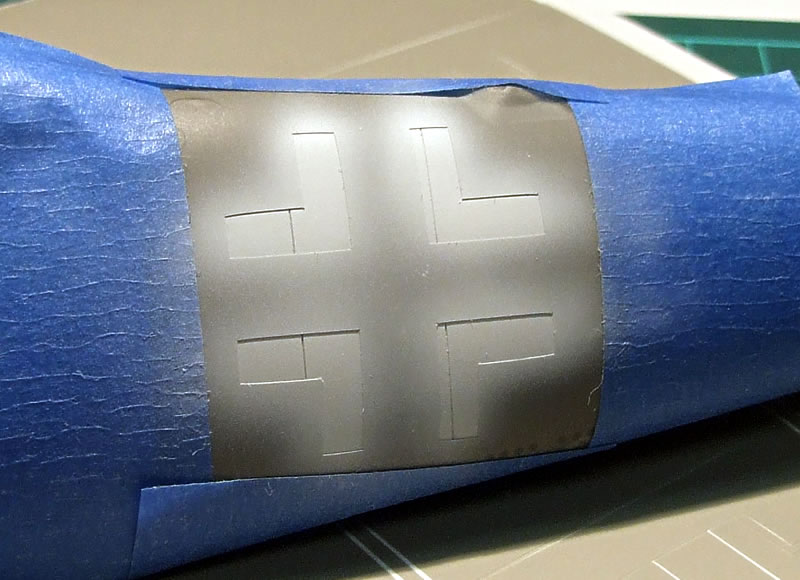 Masks gently removed: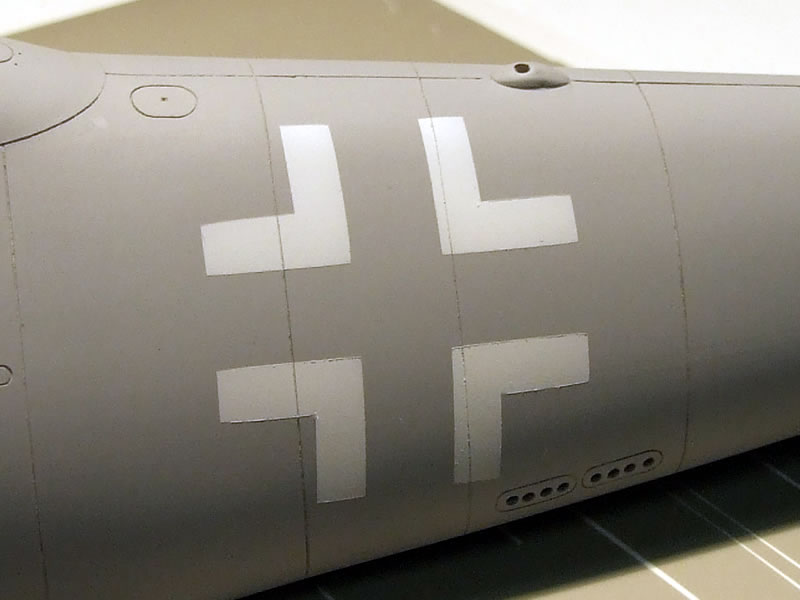 Mask adhesion is adequate to ensure a good seal, but shouldn't worry properly-cured paint of any description. Removal was a simple matter of gently pulling the masks back over themselves.
While there are some noticeable ridges around the lower horizontals, they're more a symptom of overzealous airbrushing than any fault with the masks themselves. Besides, those ridges will polish out nicely, and after clear coats and weathering, should be way less noticeable than decal edges. Here's a shot at something closer to normal viewing distance: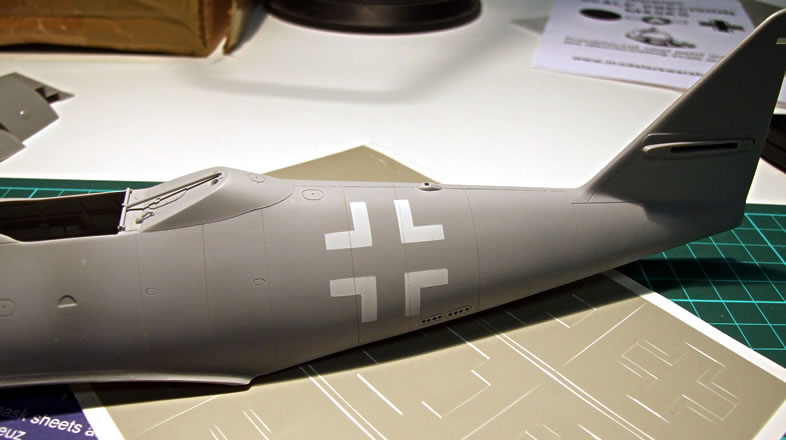 I think the result is excellent, and am happy to recommend these masks if you want that painted-on look. I have several more sets for review, and will look to test those in a compound masking situation, which is more typical for most styles of national marking.
Warpigs Scale Precision Masks are available from Modelers Warehouse. Thanks to Modelers Warehouse for the review samples.
© Kevin Futter
This review was published on Saturday, July 02 2011; Last modified on Wednesday, May 18 2016