Zotz Decals | 32036: Vital Storm - Hurricane Mk Is During the Battle of Britain and Beyond
Reviewed by Mark Proulx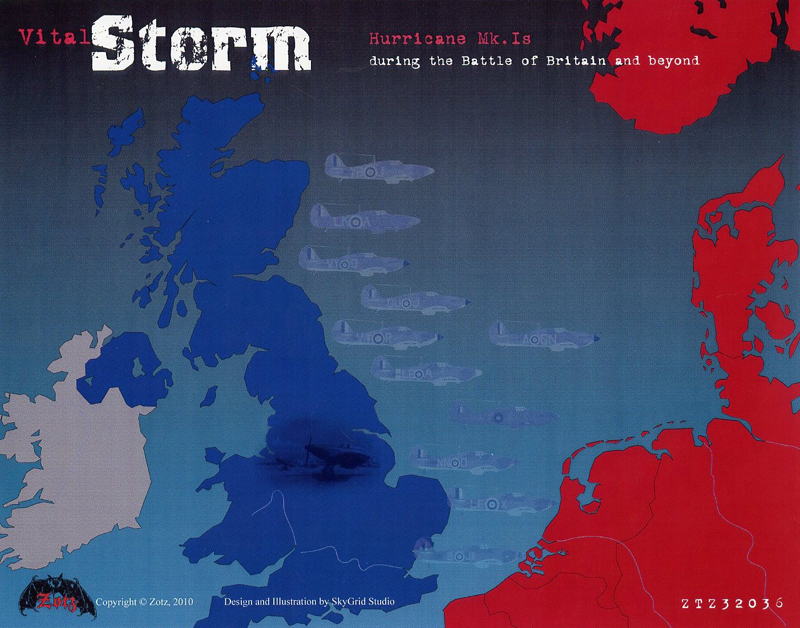 Zotz Decals has just released an exciting and expansive new decal sheet for the 1/32nd scale Hurricane.
This new decal set will enable the large scale builder an incredible option of sixteen different Hurricanes:
Hurricane I P3395 as JX * B of 1 Squadron (F/L Clowes).
Hurricane I N2359 as YB * J of 17 Squadron (P/Stevens).
Hurricane I P3854 as VY * Q of 85 Squadron (S/L Townsend).
Hurricane I P3119 as VY * X of 85 Squadron (pilot not known).
Hurricane I P2961 as LE * A of 242 Squadron (F/McKnight).
Hurricane I N2381 as LE * X of 242 Squadron (pilot not known).
Hurricane I (Trop) P3731 as "J" of 261 Squadron (Sqt. Robertson).
Hurricane I L1926 (fabric wing?) as DU * J of 312 Squadron (P/Vasatko).
Hurricane I (Trop) P3729 of 33 Squadron (F/Woodward).
Hurricane I P2923 as VY * R of 85 Squadron (P/Lewis).
Hurricane I P2798 as LK * A of 87 Squadron (F/L Gleed, later S/L Gleed). 3 variations, including a nightfighter, of this aircraft's paint and markings are explored.
Hurricane I P3576 as GN * A of 249 Squadron (F/L Nicolson VC). 2 possible paint and markings variations are provided for.
Hurricane I (Trop) V7474 as "A" of 261 Squadron (F/L MacLachlan).
Hurricane I P3143 as NN * D of 312 Squadron (P/Bergman, F/L Sinclair, Sgt. Furst and others).
The instructions are lavishly detailed with research and design lay out by SkyGrid Studios. I honestly can't remember seeing instructions more extensive than those provided by Zotz for their Hurricane set. They span four pages and are printed on heavy gloss paper. Complete painting, stencil and decal placement details are included. Information pertaining to individual paint schemes, propeller variations and detail notes, are provided. Proper painting information is color illustrated using left and right side profiles of each aircraft. The side profiles are further enhanced by color upper views of the Temperate "A" and "B" pattern schemes. Given the broad range of information provided, I am sure further reference material won't be necessary.
The decals are printed over two large and one small inset page. For the purpose of this review, only the two large sheets are shown. Carrier film is at a minimum and I anticipate no problem with their application. Alternate red colors are provided for the national insignia and fin flashes. Stencils are also included. The markings appear in good register with proper colors and more then adequate density.
These markings are sure to be popular given the recent release of the 1/32nd scale PCM Hurricane Mk I. They should also be suitable for the older Revell kit. With such a huge selection of markings, I doubt that modelers will need to look any further for aftermarket decals for their Hurricane!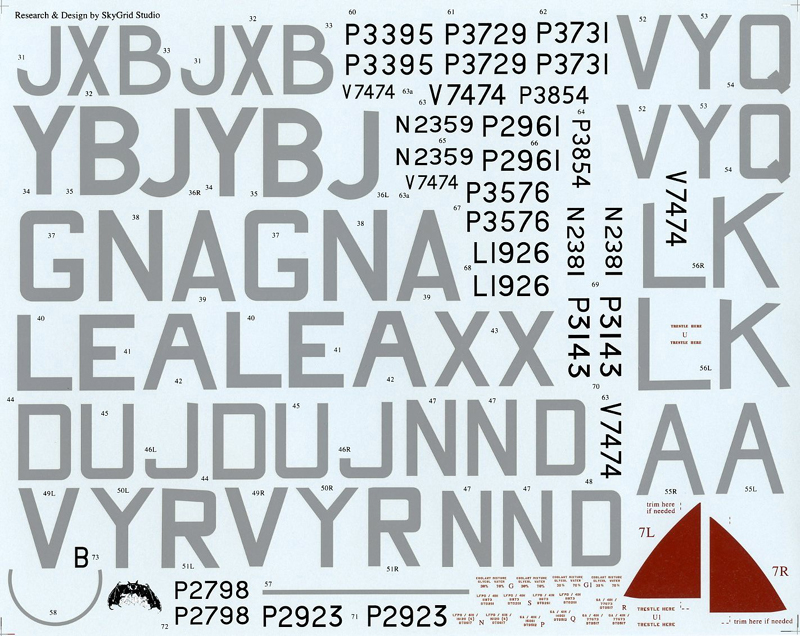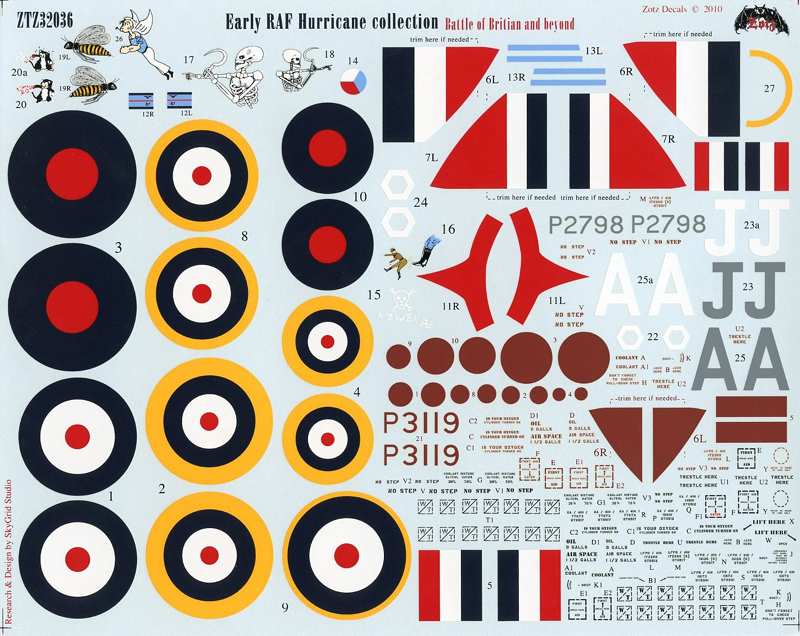 Review sample compliments of Zotz Decals.
© Mark Proulx
This product is available from the following LSP sponsors
This review was published on Saturday, July 02 2011; Last modified on Wednesday, May 18 2016