Zotz Decals | 24001 Silver Screen Jugs: 1/24 P-47 Thunderbolts
Reviewed by Chris Sherland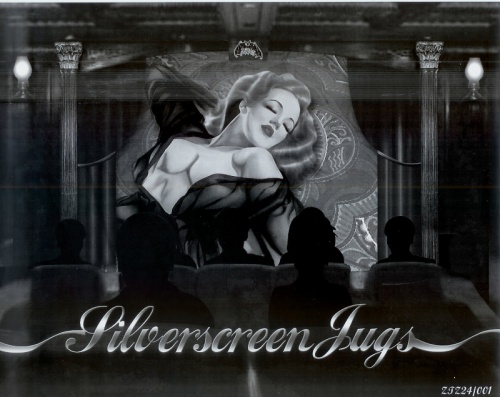 Zotz Decals have released a decal sheet for the Vintage Fighter Series 1/24 P-47 (D-25 D-26 release).
This sheet features no less than 6 aircraft to choose from and includes a single set of national insignia, as well as specific markings for the six aircraft including project placards, nose art, crew placards, mission ticks, aircraft serial numbers, and where appropriate squadron insignia. The decals are in perfect register, accurate, and with incredibly tight carrier film. The decals are provided on 2 sheets. The set also includes a single painting template to use for two of the aircraft's squadron-color chevrons on the cowling.
Also provided are 2 color instruction/placement guides that cover decal placement, a historical brief on the aircraft/pilot, and other details such as which prop to use on the specific aircraft as well as port/starboard bottom/top views were appropriate.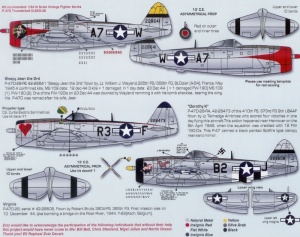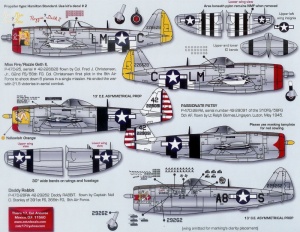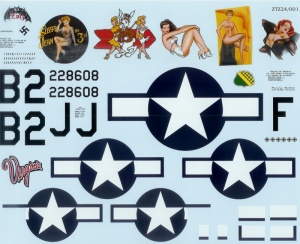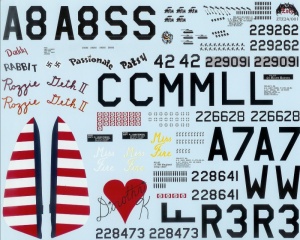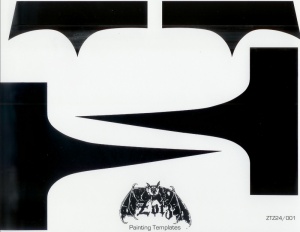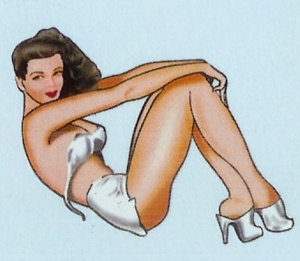 There are a lot of great points about the set, but the real stars of the sheet are the pinup girl nose art decals. The master art, print, and color quality of these elements is fantastic. Second to these great looking nose art decals is the fact that the modeler is provided with 6 aircraft to choose from. If you happen to have 6 of the VFS giants in your stash, you are set with this sheet as you can use the kits stencils and national insignia to support the markings provided in the set.
One aircraft in particular that has been the source of much disagreement over the years is Capt. Fred Christensen's "Miss Fire/Rozzie Geth" from the 56th FG. Zots has given the modeler no less than 5 different decals representing the various interpretations of the script portion of this aircraft's decorations. No matter who you believe, you'll be able to portray the aircraft "correctly" with this sheet. Personally I feel that were it is affordable by the decal company, this is the best approach when dealing with subjects that have multiple interpretations.
Of the 6 aircraft; 1 is from the 8th AAF, another from the 5th AAF (PTO), and the remaining 4 are 9th AAF birds. Without a doubt this is an extensive sheet for modeling combat bubbletops with colorful markings in 1/24. In fact, given the size of the VFS P-47, this may be the ONLY aftermarket sheet you'll ever need for 1/24 Thunderbolts!
Highly recommended
Thanks to Zotz Decals for the review sample!
Full disclosure: The reviewer helped research this sheet.
© Chris Sherland
This product is available from the following LSP sponsors
This review was published on Saturday, July 02 2011; Last modified on Wednesday, May 18 2016