Eagle Editions | EC45: Bf 110s of Wolfgang Falck,
Reviewed by Dave Wadman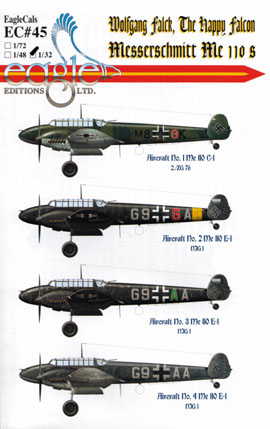 This new issue of 1/32nd decals from EagleCals has been released in conjunction with the release of Jerry Crandall's new book from Eagle Editions, "Wolfgang Falck, The Happy Falcon". Complete decals for four Bf 110C and E models flown by Falck during his times with the 2./ZG 76 and NJG 1 between 1939 and 1943 are included on two separate and well-printed sheets.
In keeping with the format presented in previous EagleCal releases, the double-sided 11 x 17 inch sheet of instructions include both colour profiles and full information on each of the featured aircraft, printed on good quality gloss paper. However, as with the 1/32nd releases for the aircraft of Major 'Assi' Hahn, no photographic reference for the aircraft is included. Instead, should the modeller require additional photographic or other information on a particular aircraft they are referred to the previously mentioned autobiography of Falck. Nevertheless, the well-organised instructions supply more than adequate information for the modeller to create an accurate representation of the subject aircraft.
Following the format of other EagleCal releases, the instructions contain brief historical notes for each of the four aircraft and are accompanied by well-presented colour three-view profiles of each subject by noted aviation artist Tom Tullis. Also included are complete painting and stencil details for each aircraft with the recommendation that additional references should be consulted for stencil locations as these occasionally varied between aircraft.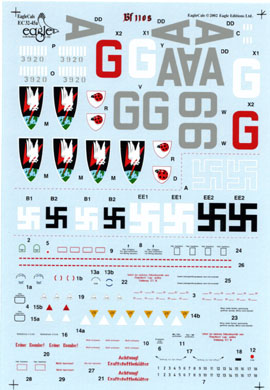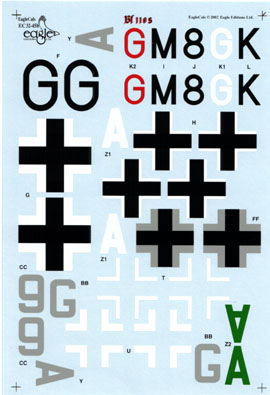 The decals themselves are printed in perfect register and are commendably thin with a minimum of carrier film, the definition of the numerous decals is clear and crisp and, although I have yet to apply the decals, they should present no problems to the modeller applying them to a finished model.
All in all this release is a welcome addition to the expanding range of top-quality 1/32nd Luftwaffe decals from EagleCals who have gained a well-deserved reputation for supplying well-researched Luftwaffe material. I would recommend this decal release to any modeller wishing to build a Bf 110 flown by Oberst. Falck.
My thanks to EagleCals for supplying the review samples.
© Dave Wadman 2003
This review was published on Saturday, July 02 2011; Last modified on Wednesday, February 01 2017