Eagle Editions | EC47: Bf 109G-6 Trops JG 27, JG 51
Reviewed by Mark Proulx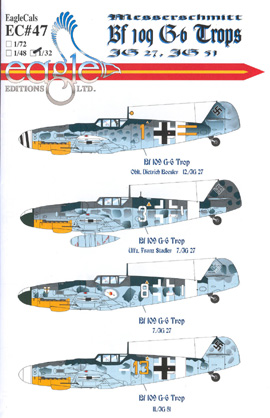 Jerry Crandall of Eagle Editions has just released three new decal sheets for use with the Hasegawa Bf 109G. This is a review of the second sheet from EagleCals. It is decal sheet EC#47 for the popular Bf 109G-6 trop variant. These variants are easily distinguished due to a tropical filter being fitted for use in sandy, wind blown environments.
Modelers should take note that a Bf 109G-6 Trop is not available from Hasegawa at the time of this review. However, this shouldn't pose much of a problem, as this is a very simple conversion to perform with aftermarket products that are currently available. Each aircraft is shown carrying the 20 mm underwing cannon gondolas, which Hasegawa includes.
As with other EagleCals decals in 1/32nd scale, four schemes are included. Jerry's instructions are always extensive, including black and white photographs, color profiles and complete stencil locations. EC#47 uses that same popular format. Any minor changes that are required of the Hasegawa kit are included in the smallest detail and references are supplied.
"Yellow 1" is a Bf 109G-6 Trop from 12./JG 27 operating in the summer of 1943 at Tanagra, Greece. This aircraft was flown by Oblt. Dietrich Boesler. The instructions show that a Staffelkapitan's pennant is fitted to the antenna mast. Templates are included to assist the modeler in scratchbuilding this item. The aircraft also appears to have an extra shield over the exhaust to keep exhaust gases out of the tropical filter as shown in the side profile.
Next, we have a Bf 109G-6 Trop from 7./JG 27. "White 3" was flown by Uffz. Franz Stadler in Crete, April 1944. This aircraft carries a very unusual scheme with its large spots on the fuselage of RLM 74/75. Jerry has included four photos of this aircraft to assist modelers in their painting and detailing efforts.
Also from 7./JG 27, is "White 8". This aircraft operated in Crete, December 1943. This aircraft is finished in the standard RLM 74/75/76 colors, with a very unusual upper wing pattern as depicted in the top views, which are included.
Finally, we have "Yellow 13", a Bf 109G-6 Trop from II./JG 51. The aircraft operated in Tunisia, April 1943. Jerry clearly shows his attention to detail with this scheme. The aircraft carries a replacement fin tip and consequently carries two different sizes of Hakenkreuz on the tail. This is clearly shown in the black and white photos of this aircraft, which are included in the instructions. EagleCals captures this correctly in the markings that are supplied.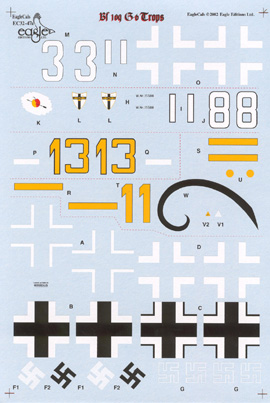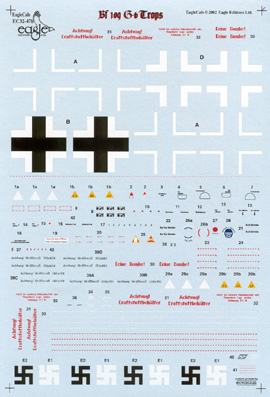 As with other decals from EagleCals, these are printed on two sheets of paper by Micro Scale. The decals appear to be very thin and I expect no difficulty in applying them. They are printed in perfect register. Modelers should take note that the Hakenkreuz is printed correctly for "Yellow 13" and it is not a printing error. Stencils are included.
A very extensive line of decals is available for the Bf 109G in 1/32nd scale from EagleCals. This is in no doubt due to the popularity of the subject matter. For those modelers demanding accurate markings, I would recommend that they give EagleCals a try. I am sure you will not be disappointed.
Review Samples Compliments of Eagle Editions Ltd.
© Mark Proulx 2003
This review was published on Saturday, July 02 2011; Last modified on Wednesday, May 18 2016