Eagle Editions | Bf 109 G-6, G-10, G-14 Battery Box
Reviewed by Mark Proulx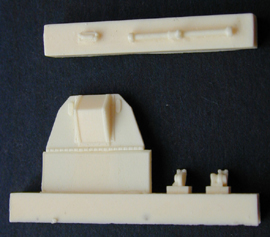 Eagle Editions offers an increasing variety of resin aftermarket products for Hasegawa's popular 1/32nd scale Bf 109G. In this review we will examine their Bf 109G Battery Box installation. Unfortunately, Hasegawa overlooked this option when they released their kit. Eagle Editions addresses this oversight assisting modelers looking for complete accuracy in their scale models.
The Bf 109G went through a number of changes in operational service. Among them was the installation of a system whereby a short duration power boost was supplied to the engine. This was known as MW 50. A combination of methanol and water was injected directly into the supercharger from a tank mounted inside the fuselage, aft of the cockpit. Due to the fact that this was not an original option in the aircraft, the battery had to be moved to make room for the tank. It was mounted in a box on the rear bulkhead of the cockpit.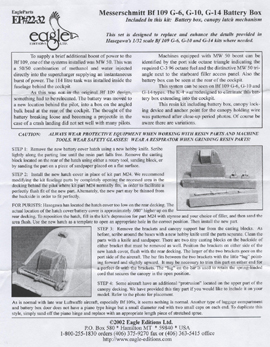 A single page of instructions is included with the resin set. The installation appears to be quite simple, replacing kit parts. However, the instructions do state that the rear hatch cover, as supplied by Hasegawa, is mounted too low. More extensive modifications are required for those modelers wishing to place this battery box in the correct location.
The items are cast in tan resin with small details clearly visible. There are no casting flaws, flash or air bubbles visible in my review sample. The set is made up of the rear hatch, canopy locking device and optional "protrusion" for the upper part of the rear deck. As some of the resin hinge items are "handed", modelers would be well advised to pay careful attention to the instructions.
I am sure that modelers will appreciate having this option available for their kit, and I do recommend it. It is a very prominent feature on many Bf 109Gs. I would strongly urge that references are consulted to ensure that this feature is applicable to the aircraft that is being represented.
Review Sample Compliments of Eagle Editions.
© Mark Proulx 2003
This product is available from the following LSP sponsors

This review was published on Saturday, July 02 2011; Last modified on Wednesday, May 18 2016