Eagle Editions | EP#21-32: Luftwaffe 300L Drop Tank
Reviewed by Mark Proulx
Eagle Editions has released a 1/32nd drop tank from their expanding EagleParts line of resin items. This tank was released shortly after Hasegawa released their Bf 109 G-6.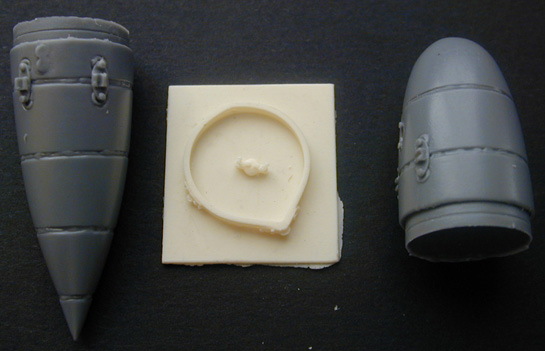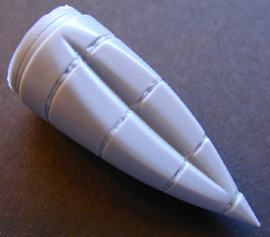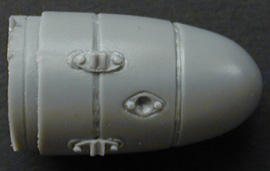 This 1/32nd scale drop tank is accurately reproduced from an actual 300l drop tank in Jerry Crandall's private collection. Gregg Cooper of ScaleQuest created the masters exclusively for Eagle Editions. The pieces and instructions are shipped in a sturdy plastic container ensuring little or no damage during shipping. The resin tank consists of forward and aft halves, hanging strap and a separate filler cap. The tank is cast with a superb rendition of welding on the correct number of seams as seen in the review photographs. The mounting brackets are nicely cast onto the surface of the drop tank. The hanging strap is well detailed and cast separately with the intent to "sandwich" it between the two halves of the tank during assembly. Modelers should take care to ensure that the top of the strap is properly located. The fuel filler cap will have to be attached by the modeler or you have the option of leaving it off if you wish to use the tank in dioramas.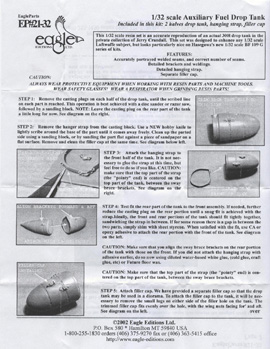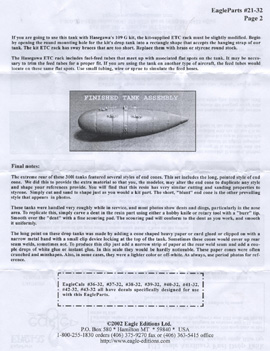 A comprehensive set of instructions is included with the drop tank. The construction sequence is detailed over two pages using text and photocopied photographs. Eagle advises that the extreme rear of their drop tank can be modified to match one of many different styles of end cones seen in service. The resin used has similar properties as styrene, so it is easily cut and sanded to shape. The instructions do not elaborate further with drawings, so additional references will be required if you wish to undertake such a task. They also state that these tanks were handled roughly in service so some modelers may wish to "dent" their tanks as elaborated upon in the instructions.
The drop tank appears to be easy to construct and I am sure that it will give modelers little difficulty. Note: If you wish to attach this tank to the Hasegawa Bf 109 the kits ETC rack needs to be slightly modified as detailed in the instructions. The EagleParts drop tank is far more detailed than the item supplied in the 1/32nd scale Hasegawa Bf 109. I recommend it to anyone wishing to add superior details to Willi Messerschmitt's popular front line fighter.
© Mark Proulx 2003
This product is available from the following LSP sponsors

This review was published on Saturday, July 02 2011; Last modified on Wednesday, May 18 2016