Eagle Editions | Messerschmitt Bf 109 Spinner
Reviewed by Mark Proulx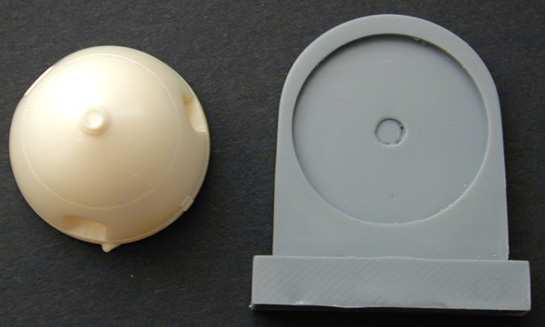 The 1/32nd scale Hasegawa Bf 109 G series of kits builds up into a relatively accurate representation of the aircraft out of the box. However, the aftermarket community quickly pointed out that the spinner as supplied was poorly shaped. Eagle Editions were the first to announce a replacement 1/32nd scale resin spinner being made available in their EagleParts line of resin products.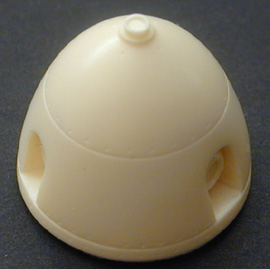 Gregg Cooper of ScaleQuest created the masters for this project exclusively for Eagle Editions. Using an actual spinner in the private collection of Jerry Crandall should assure complete accuracy of this new spinner. The set is shipped in a sturdy plastic container. The spinner is cast in a cream colored resin with a very small casting block and it is likely easily removed. As an added bonus, a nice drilling tool is also supplied, cast in resin. This assists the modeler in easily drilling out the center of the spinner. It should make the task of centering the hole in the backplate very easy, thus assuring proper alignment. Rivet detail and seams are finely scribed into the surface of the spinner. A 3-dimensional data plate area has also been cast onto the spinner. Markings for the data are provided by EagleCals in their extensive line of 1/32nd scale Bf 109 decals.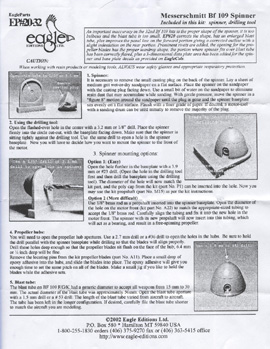 Instructions are included with the resin parts encompassing a single page. They are made up of text and photocopied photographs. On my instructions the photos are not of the best quality as they are rather bright and some of the white lettering is difficult to discern. Extensive text should alleviate some of the difficulty trying to understand the photos. All of these concerns should still not pose too much of a problem to the average modeler due to the simplicity of this installation.
As mentioned in the instructions some drilling work will have to be performed. The center axle, blast tube and prop hubs all need to be opened up. Correct drill bit sizes are specified. In addition references will need to be consulted to determine the length of the blast tube as this varied from aircraft to aircraft. EagleParts left it in the longer configuration allowing the modeler to sand is shorter if required.
I am sure that your Hasegawa Bf 109 will benefit from the use of this replacement spinner. I recommend this and other products from Eagle Editions, without hesitation. They offer an extensive line of resin pieces and decals that I am sure you will find very interesting.
© Mark Proulx 2003
This product is available from the following LSP sponsors

This review was published on Saturday, July 02 2011; Last modified on Wednesday, May 18 2016