Eduard | #32-008 USAF Buckles Set
Reviewed by Rato Marczak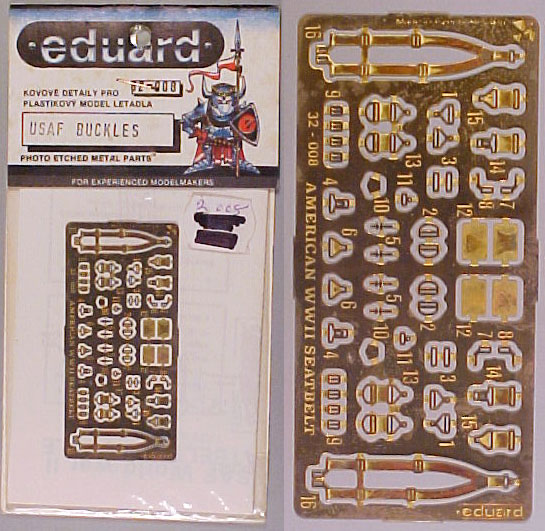 Eduard photo etched accessory sets are very well known by most modelers. They have already released a number of details sets for 1/32 subjects and a few generic sets as well. This is one of these. Released in 1992, it's a single fret containing 50 parts that may be used to detail most US aircraft cockpits. Six of them are to be used to make 'complete' seat belts: just paint the belts, pick the buckles details in silver and that's it. The remaining parts are separated buckles, clamps and other details to be used along with a scratchbuilt belt. Use lead foil, fax paper, plain tape or whatever you prefer provided it is 0.15 mm thick at most. Then paint everything and insert your belts in the apertures of the buckles just like the real thing. You can enhance up to four seats using this set.
The quality of the etching is quite good, typical of Eduard. Unfortunately this set is manufactured in brass unlike other Eduard recent sets in stainless steel. This makes this set prone to some oxidation. To eliminate this, dip you set about an hour in a cup of vinegar (acetic acid, remember?) and then clean it with water.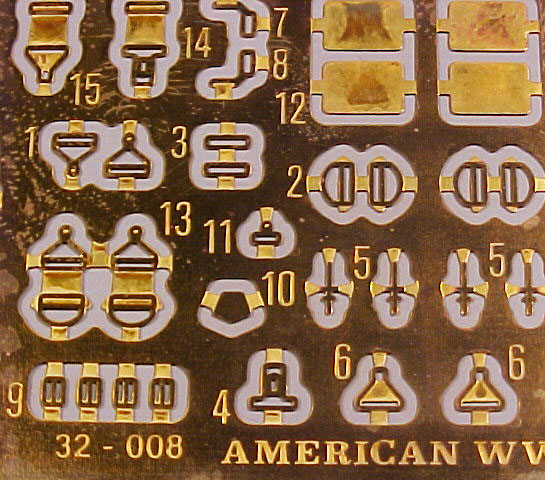 In spite of the label, this set can be used not only in USAF aircraft, but most US aircraft of WW2 and Korea, including US Navy. On the other hand, some aircraft manufactured before early 1942 had different types of seat belts than the one represented by this set. Check your references.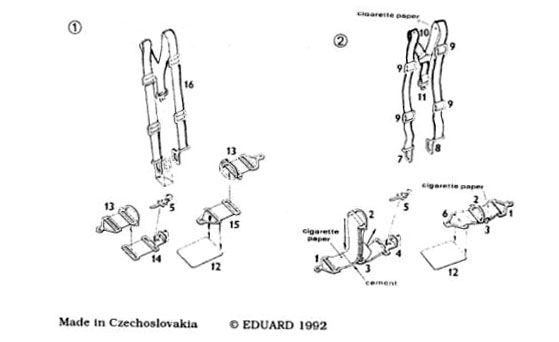 Overall, this is a nice touch to any cockpit project that needs some enhancement. Although currently out of production, this set can be easily found in most hobby shops. Thoroughly recommended.
© Rato Marczak
This review was published on Saturday, July 02 2011; Last modified on Wednesday, May 18 2016