Fighter Decals | 32-001: F-15E Desert Storm Strike Eagles
Reviewed by Mark Proulx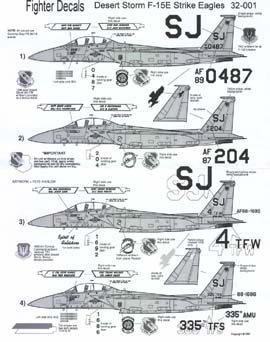 The first 1/32nd scale decal produced by Fighter Decals was in 1997, when they supplied markings for F-15E Strike Eagles of Desert Storm. They are designed to fit the Tamiya or Revell F-15E, however they recommend using the superb Tamiya kit. This is a review of their initial sheet of decals.
Fighter Decals provide markings for four different F-15E Strike Eagles. They are:
89-0487 335th TFS. This aircraft has 54 mission markings as it appeared at the end of Desert Storm. This Strike Eagle scored the first air to air kill with a laser-guided bomb.
87-204 336th TFS. Markings depict the aircraft at the beginning of Desert Storm.
88-1692 4th TFW. This aircraft was downed over Iraq on the second night of Desert Storm. Both pilots were captured and remained POW's until war's end.
88-1686 335th TFS. The aircraft is depicted with 52 mission markings.
The instruction sheet supplied by Fighter Decals extends over three pages. On page one of the instructions, the decal placement locations are clearly defined for left and right fuselage sides, as well as the inside of both tails. No decal placement instructions are supplied for the top or bottom of these aircraft.
Page two consists of a listing of many aftermarket add-ons from Flightpath, Waldron and Tac Scale, just to name a few. Partial stenciling instructions are included for the aircraft, LANTIRN Pods and AIM 9M Sidewinders. Painting details are elaborately explained. Fighter Decals specifies the different hues to be found on the radome, EWWS antennas, ordnance and external fuel tanks. This should prove helpful in breaking up the overall gunship gray schemes that is found on the F-15E Strike Eagles at that time. Specific details about each aircraft completes this page.
The final page of the instructions includes a listing of available references. Weapons loadout for various time periods during Desert Storm is specified. The armament for such missions as 'Scud' hunting and 'Tank Plinking' is fully explained. This enables the modeler to accurately portray their Strike Eagle for any mission during any point in time during the war. A detailed description of all weapons mounted onto the aircraft completes this page.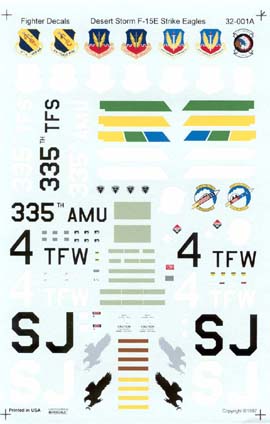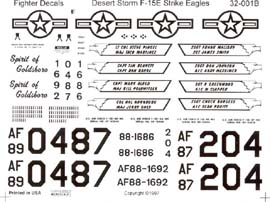 Unfortunately, Desert Storm Strike Eagles usually carried more than the single drop tank included in Tamiya's F-15E. Fighter Decals explains the different kinds of drop tanks used and their configurations for various mission types. It was only later in the Kuwaiti Theater of Operations, as the air to air threat subsided, that a single fuel tank was mounted. Consequently, additional tanks are probably required if this decal sheet is to be used to accurately portray a Strike Eagle from this era.
Microscale prints the decals over three sheets of paper. They appear to be thin with a minimum of carrier film. Where applicable, multiple decals are required to complete a marking, ensuring proper registration. As a bonus, Fighter Decals includes an extra set of Air Combat Command and 4th Fighter Wing decals for those modelers wishing to make 1998 versions. Only minimal stenciling is supplied, but can be found within the Tamiya kit or on Super Scale sheet 32-127.
The overabundance of data makes these decals invaluable to any modeler with an interest in Desert Storm or the F-15E Strike Eagle. Unfortunately, I believe this decal sheet is now out of production. For those eager to find these decals I would suggest placing an ad on some of the Internet modeling sites.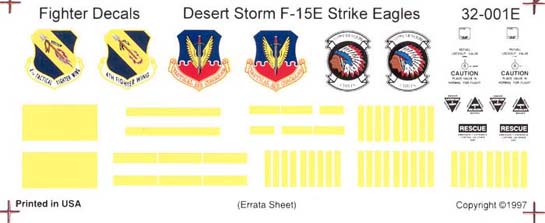 © Mark Proulx 2002
This review was published on Saturday, July 02 2011; Last modified on Wednesday, May 18 2016