Fred Yarema | Francis S Gabreski's P-47D Decals
Reviewed by Mark Proulx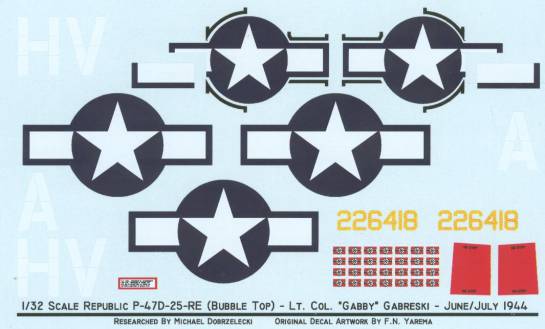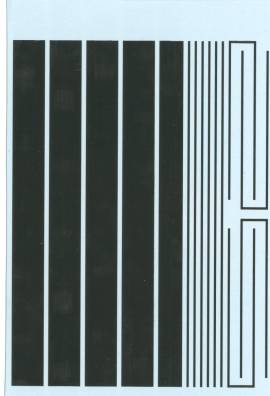 Lt Col. Francis S. "Gabby" Gabreski was the top-scoring ace of the European theater during WW II. He flew the massive, Republic P-47 Thunderbolt with the 61st Fighter Squadron of the 56th Fighter Group. On July 20 1944, while strafing ground targets, "Gabby's" prop struck the ground and he was forced to crash land in Germany. Five days later he would be taken prisoner and end his wartime career as a POW with 28 kills to his credit.
Fred N. Yarema has released a 1/32nd scale decal sheet for "Gabby" Gabreski's colorful P-47D-25-RE. This is the aircraft that was flown on that fateful day in 1944.
The decal sheet is printed with an Alps printer. The markings appear to be very thin and are printed in sharp detail with the type of aircraft identified by each victory flag being visible on the decal sheet. A complete set of national insignias are included.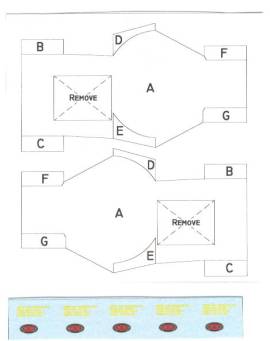 The decal sheet I purchased has the victory flags printed very slightly out of register on the right side of the flags. This should be easy to fix with some careful trimming. The yellow serial numbers on the tail are covered with a myriad of small white dots. I'm not sure, but I think this is a byproduct of the Alps printing process. I would replace the serial numbers with items from other manufacturers. Stencils are not included, as they were probably overpainted in the field with the unique colors applied to this aircraft. Very nice logos for the Hamilton Standard Propeller are included.
Fred includes a template to assist the modeler with the application of the invasion stripes to the wings and fuselage on the Revell kit. The fuselage template has an adhesive backing, enabling it to be applied directly to the fuselage. This should ensure the exact position of the national insignia with relation to the invasion stripes. I am sure that this will prove to be extremely helpful to the modeler as the stripes on the fuselage of "Gabby's" aircraft are non-standard. The white stripes on the fuselage are outlined in black and the black stripes were not applied at this time.
Complete decaling and painting instructions are included as pencil sketches. They are researched by Mike Dobrzelecki. The painting instructions state that the scheme as shown is speculative only, as photos don't exist of the starboard fuselage side or wing upper surface. The exact colors matches are up to the modeler to decide.
With all the aftermarket resin sets available from Jerry Rutman, this variant of the P-47 can now be built. The decals are very nicely done, and to date, are the only 1/32nd scale decals available for this aircraft. I recommend Fred Yarema's decals to anyone wishing to build the Revell Bubbletop P-47 as a testament to one of the aviation greats of WW II.
© Mark Proulx
This review was published on Saturday, July 02 2011; Last modified on Wednesday, May 18 2016