Kagero | Mini Top Colors 21 - Messerschmitt Bf 109 in North Africa
Reviewed by Erik Lind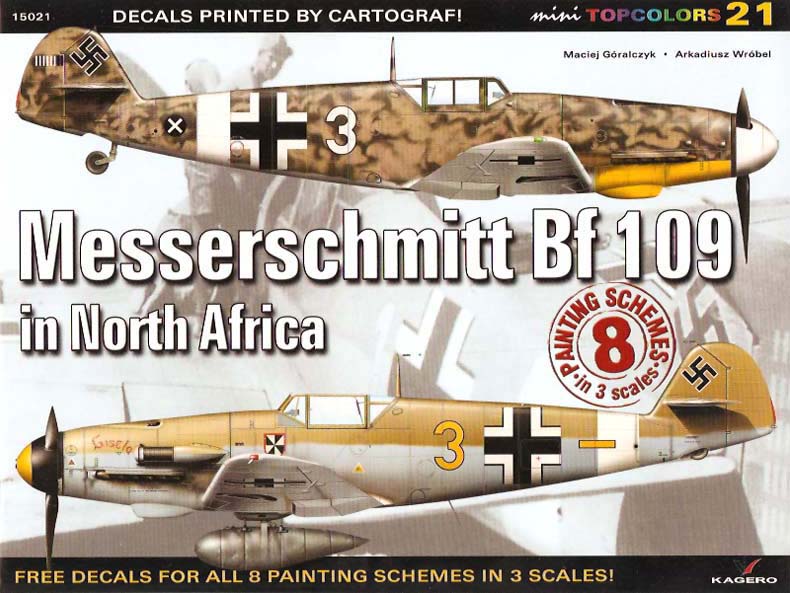 The latest release from Kagero Publishing in the series of Mini TopColors is issue 21, Messerschmitt Bf 109 in North Africa. The booklet covers 8 aircraft flown in the North African theater of operations. Aircraft covered in this booklet range from 109E to 109G. The booklet shows each of the 8 aircraft in both left and right side views as well as a top/bottom view. The artwork is of excellent quality and each aircraft's particular paint scheme is covered in the text.
Included are the following aircraft.
Bf 109F-4 Trop - Red 2 of 2./JG 27, flown by Lt Friederich Koerner, Martuba, February 1942
Bf 109F-4 Trop - Yellow 1 of 3./JG 27, flown by Hptm Gerhard Homuth, Martuba, April 1942
Bf 109F-4 Trop - Yellow 3 of 6./JG 3, "Gisela" flown by Uffz Frans Schwaiger, Martuba, April 1942
Bf 109F-4 Trop - Yellow 1 of 6./JG 27, flown by Oblt Rudolf Sinner, Tmimi, June 1942
Bf 109F-4 Trop - Black 3 of 5./JG 27, flown by Oblt Ernst Boerngen, El Alamein, 11 June 1942
Bf 109E-7 Trop - Coded S9+CS of 8./ZG 1, Libya, Autumn 1942
Bf 109G-2 Trop - White 3 of 1./JG 77, flown by Uffz Horst Schlick, Bir-el-Abd, November 1942
Bf 109G-2/R2 Trop - Black 6 of 2.(H)/14, flown by Lt Herbert Prior, Qued-Zarga, April 1943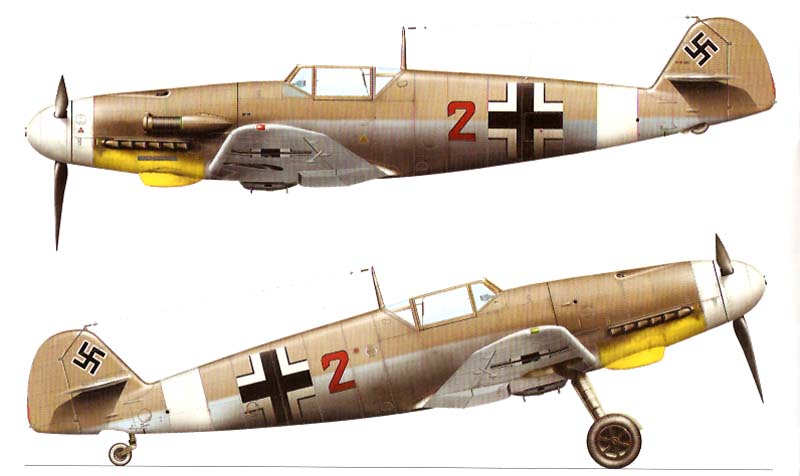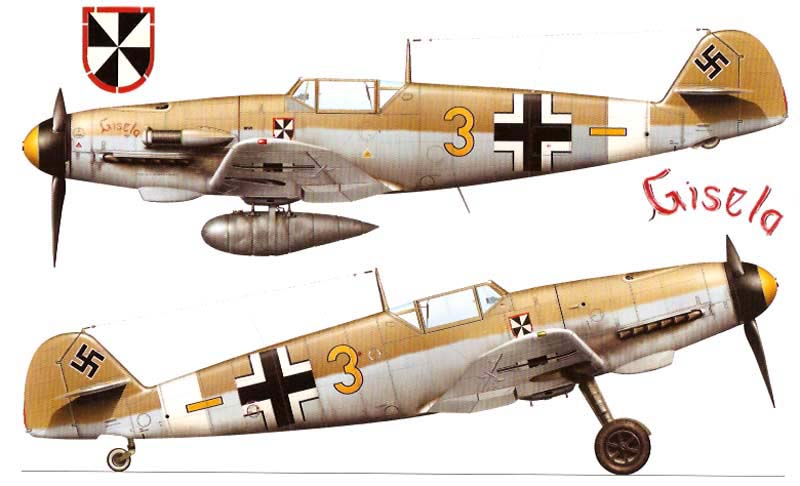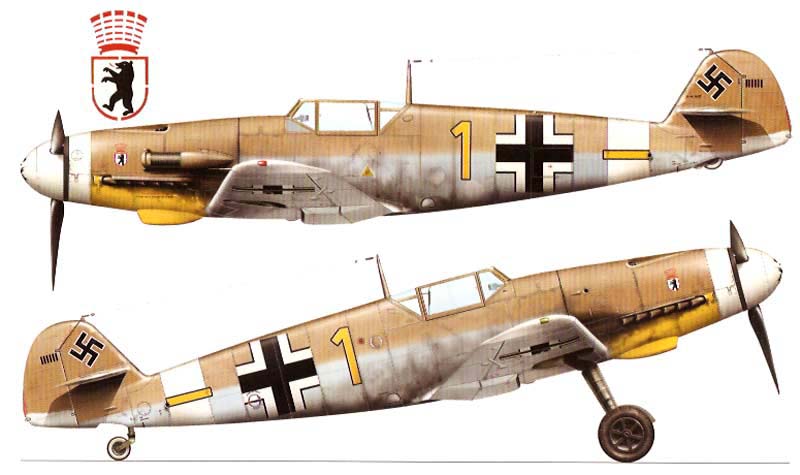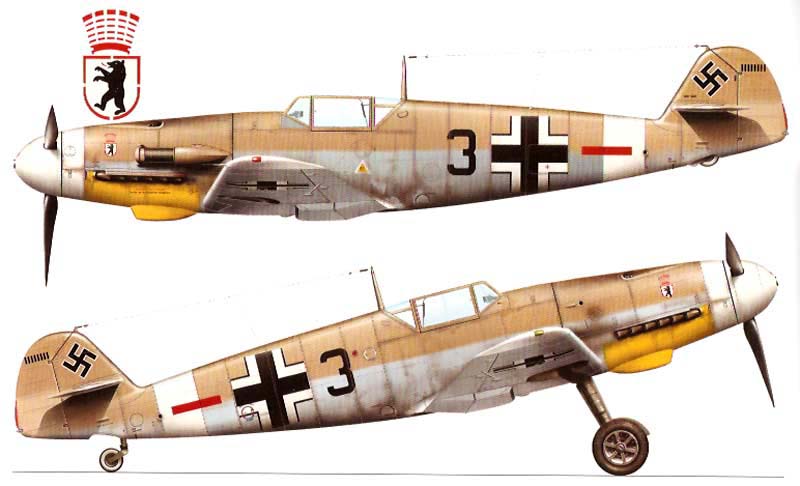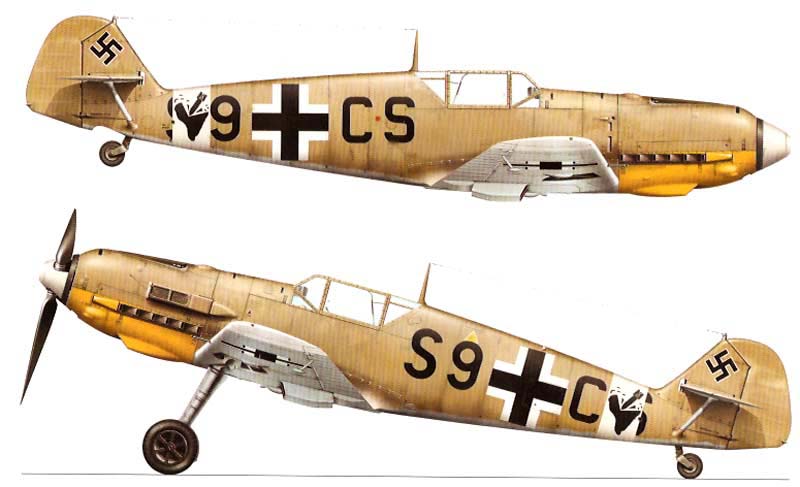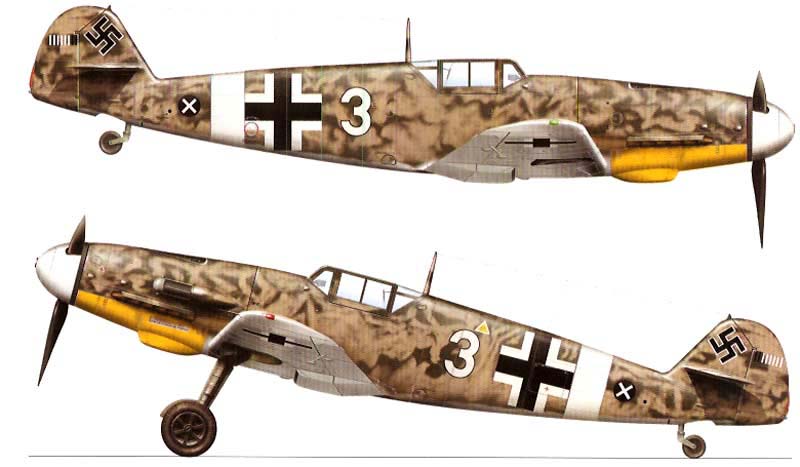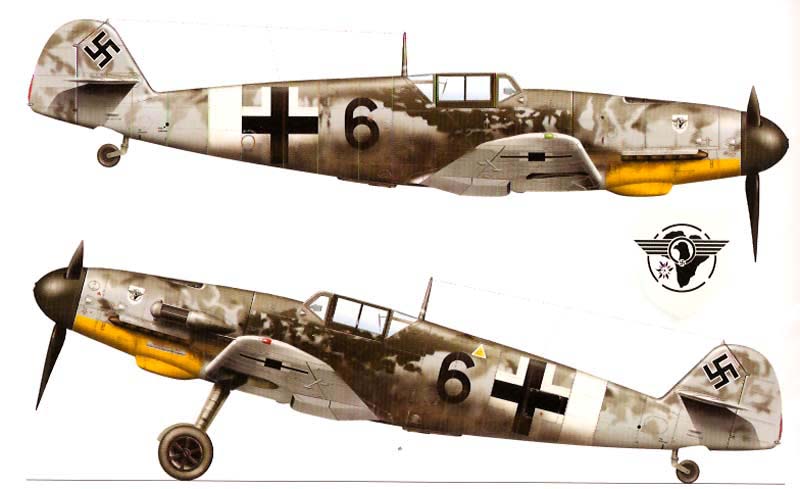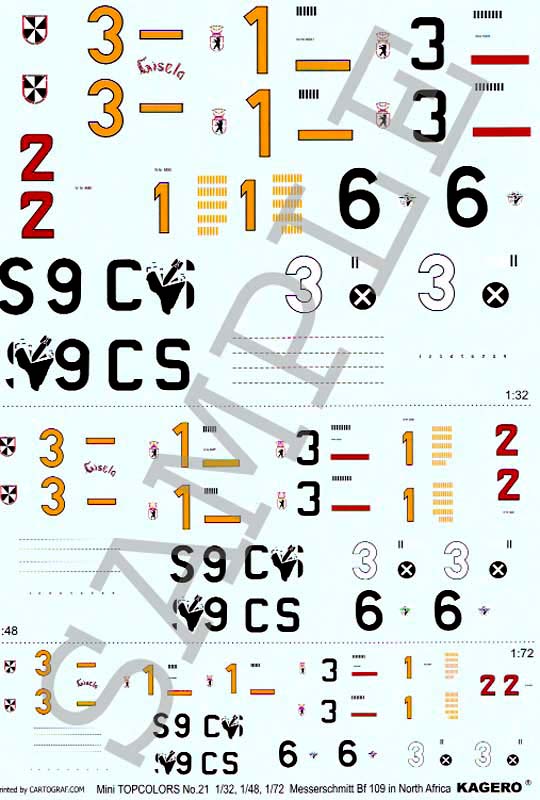 Decals provided are printed by Cartograf and are very thin and in excellent register. Decals provided are for all 8 aircraft in the 3 major scales (1/32, 1/48 and 1/72) which provides the potential of building 24 aircraft from one decal sheet.
The builder will need to use the stenciling and nationality markings from the original kit since those are not supplied on the decal sheet.
Highly recommended!
© Erik Lind
This review was published on Saturday, July 02 2011; Last modified on Wednesday, May 18 2016