Buffies Best | .009 Diameter Detail Solder
Reviewed by Chris Sherland
There are few things more critical to the job of detailing a 1/32 or 1/24 scale aircraft than "scale" wiring. There are few wiring solutions as easy to work with as solder. Buffie's Best has combined these two "fews" into a single product that is nothing short of a "must have" for your spares boxes.
If you've worked with solder in the past you know what to expect, its pliable, easy to manipulate and a breeze to trim. At a diameter of .009 it is perfect for wiring harnesses and brake lines in both 1/32 and 1/24. With 6 ft of this stuff you can detail project for a long time.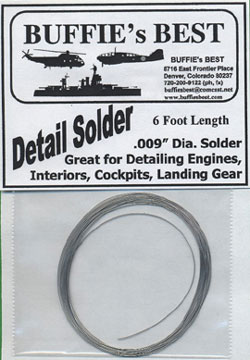 Detail Solder is available directly from Buffie's Best, and is highly recommended to have on hand.
Thanks to Buffie's Best for the review sample.
© Chris Sherland 2006
This review was published on Saturday, July 02 2011; Last modified on Wednesday, May 18 2016