MDC | E32005 1/32 Rivet Templates
Reviewed by Chris Sherland
Like pre-shading a few years ago, and re-scribing before that, "riveting" has become a modeling craze lately and in the larger scales rivet detail can be done much more subtly than in 1/48, and serves to bring the focus in tighter for the viewer.
Regardless of whether or not one "should" be adding rivets to aircraft of WWII era, it is being done, and enough so that the manufacturers are responding.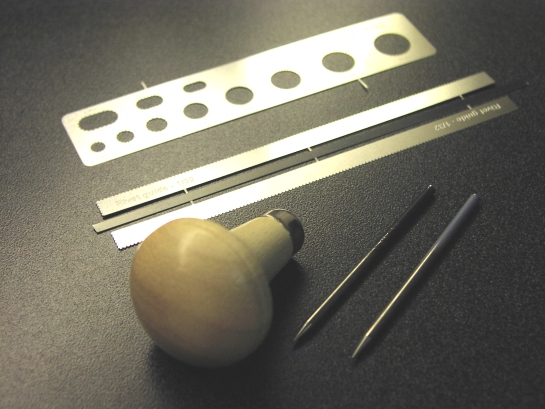 MDC out of the UK has long been a very high quality provider of after-market resin, photo-etch and decals for a huge range of subjects. This rivet template set is their first custom tool offering and is a very useful item for adding rivet detail to your model.
The set includes two sharp steel "riveting" pins, an ergonomic wooden handle, and three photo-etched template guides.
The tool itself is well made and stout. The large handle helps steady the riveting process and eases the force needed to produce rivet detail.
The templates are very useful and include two long straight-edged guides with different spacing depending on your subject, and a hatch/panel rivet guide with circle and oval guides in various sizes.
The set is well made and works perfectly. While I personally prefer the pounce wheel technique for overall rivet tasks, there are tight spots and difficult curves that the pounce wheels cannot navigate well.
For these tasks MDC's rivet set is perfect. The photo-etched guides are flexible and can be taped onto your model around fuselage curves and into wingroots etc.
If you are a riveter already, this tool will fit right in and you won't know how you did without it. If you have wanted to try adding rivet detail to your models but have been waiting for the right toolset, MDC's rivet template set can get you started and take a lot of the mystery and risk out of your first attempt.
Thanks to MDC for the review sample
© Chris Sherland 2004
This product is available from the following LSP sponsors

This review was published on Saturday, July 02 2011; Last modified on Wednesday, May 18 2016