21st Century Toys | Mc 202
Reviewed by Darin Bellis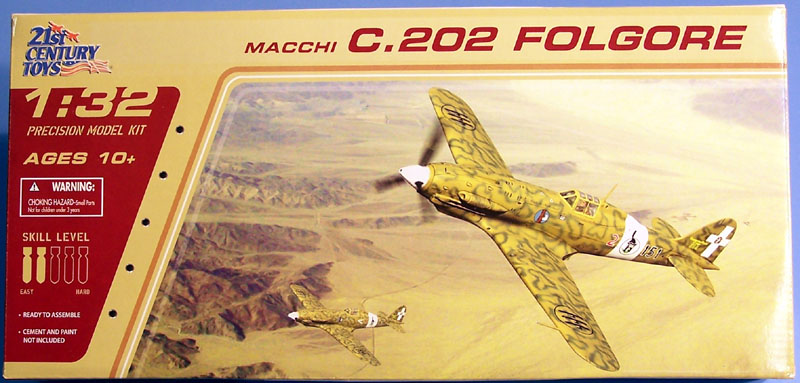 There's not much need to bore you with a history of this airplane. However, a few words on Macchi C.202 kits available in 1/32 are in order. Only one injected plastic kit of the C.202 has ever been available in 1/32, the PCM multi-media kit. That kit has a reputation for being difficult to build at a price that causes some to shy away from it. Having purchased the PCM Macchi C.200, I wasn't in a big hurry to buy their C.202 kit.
21st Century Toys has solved the problem for those of us interested in a 1/32 kit of the C.202 by releasing an affordable, mainstream kit of it that is basically their pre-finished/pre-built "die-cast" Macchi C.202 in unfinished, unpainted kit form. The retail price for this kit is shockingly low at less than $10 US! This review sample was purchased new at Wal Mart for $8.67 US. What kind of kit can you get at this price? Let's take a look...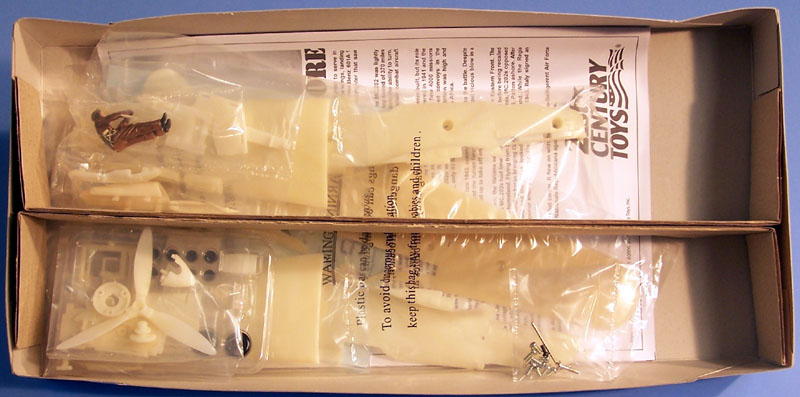 The parts bags are held steady in the box by a pair of cardboard strips that trap the bags and (supposedly) prevent things from bouncing around in the box. All 5 of these 21st Century kits that I bought had the parts shuffled to one end with the result being the box top refusing to close all the way. For a box that is not shrink-wrapped or sealed in any way, this presents a problem as the kits are exposed to the rigors of customer abuse while sitting on the shelf at Wal Mart.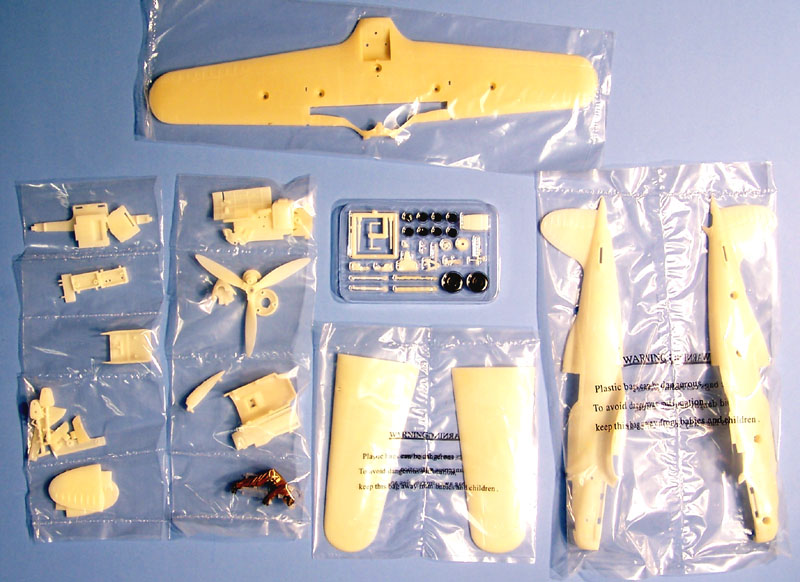 All but 2 of the parts are injection moulded in a hard, milky-white plastic and packaged by assembly step in plastic bags. There are no sprues at all. Unfortunately, the 2 clear plastic parts are bagged together with the pre-painted, articulated pilot "action figure", but in this sample do not appear to have suffered from damage or scratches as a result. There is a small plastic vac-pack holding the hardware and other small parts, including the plastic, one-piece wheels with moulded on tires.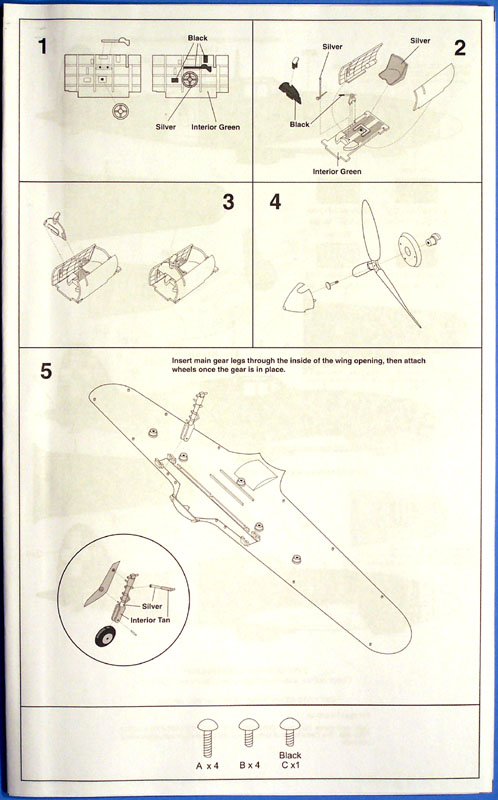 The instructions are clear and concise, but there are no part numbers to reference during assembly. Each part will have to be visually identified, but this doesn't appear to be a problem because there aren't very many parts that look even remotely alike.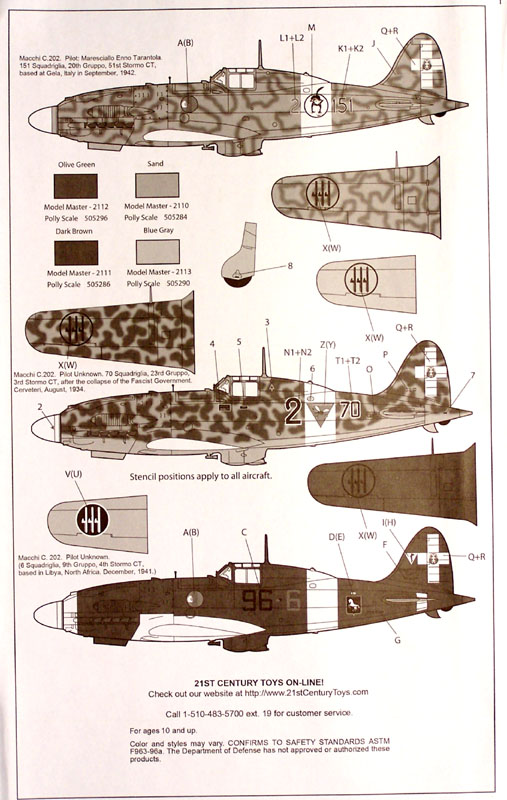 The markings shown in the instructions are for 3 different Folgores: one with green "smoke ring" camo on sand, one with green splotches on sand and one wearing plain dark green over gray. Color call outs are listed for both Model Master and Poly Scale brand paints. The decal sheet is absolutely gorgeous!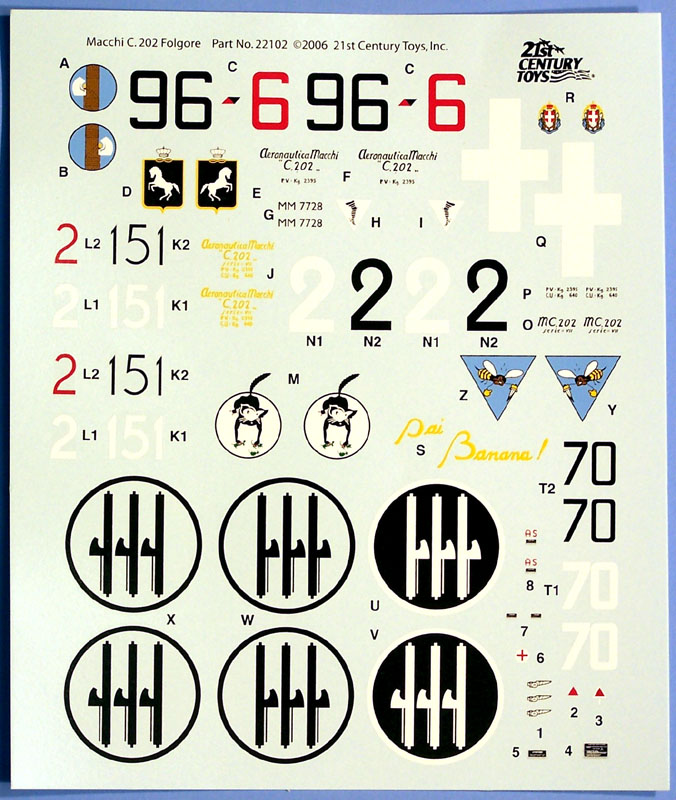 I won't comment on the accuracy of the markings because I'm no expert, and I'd rather leave that to those that can comment authoritatively. The decals themselves are beautifully printed in what appear to my eye as accurate colors and in perfect register. Stencils and prop logos are also included.

The main airframe parts were checked against my slim references for accuracy of shape and size. Everything seems to be well within 1/64" of being dead-on. Even the asymetrical wing is properly represented.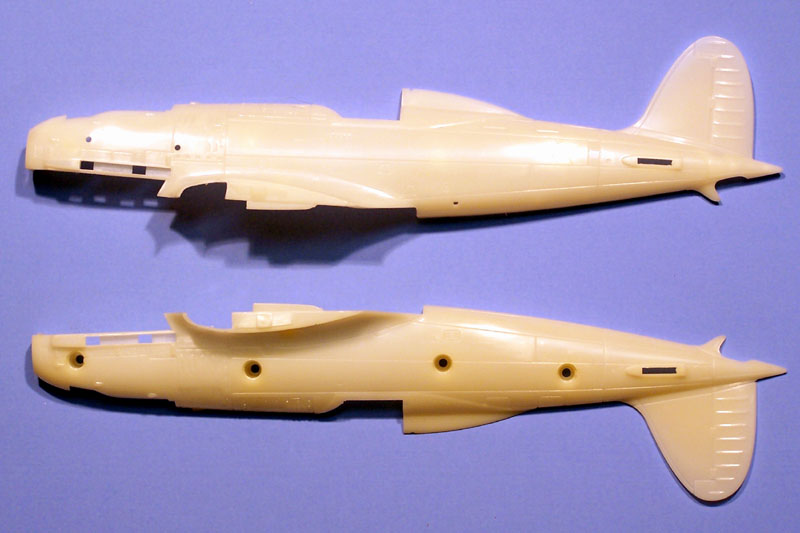 The fuselage itself looks great, except for the engine thrustline is angled up a degree or two. This isn't glaringly obvious (to me, anyway), and would be rather difficult to correct. Compared to drawings and pictures, the fin seems to be slightly mis-shapen along the curve of the leading edge. The fin shape is another nit that isn't obvious, and might just be my lack of familiarity with the type. Height, length and width measurements are all within 1/64" on the rest of the fuselage, cowl, canopy and horizontal stabilizers. These minor shape issues are not obvious or distracting enough for me to spend time trying to correct them.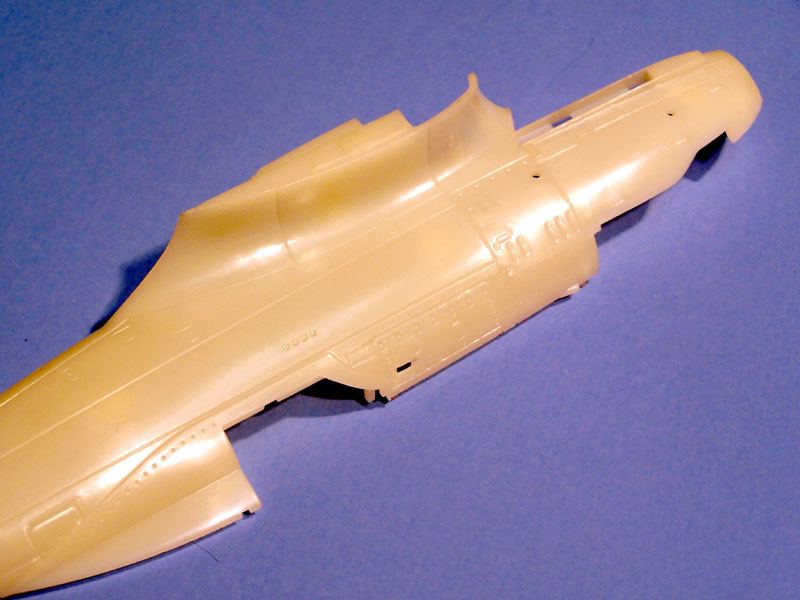 The surface detail is engraved, but a bit heavy-handed similar to the old Matchbox kits. On the upside, the panel lines and other surface details appear to be correctly located. The rudder, elevators and ailerons have fabric ribbed effect delicately moulded in, but no attempt was made to represent the fabric texture of these surfaces. As can be seen in the images, there are holes in the wing bottom and right fuselage half for screws. Some of these screw holes are located on panel lines. These holes are addressed by the inclusion of plastic caps for the holes, but some filling, sanding rescribing will almost certainly be required to erradicate the inherant blemishes completely. Another shot of the surface details: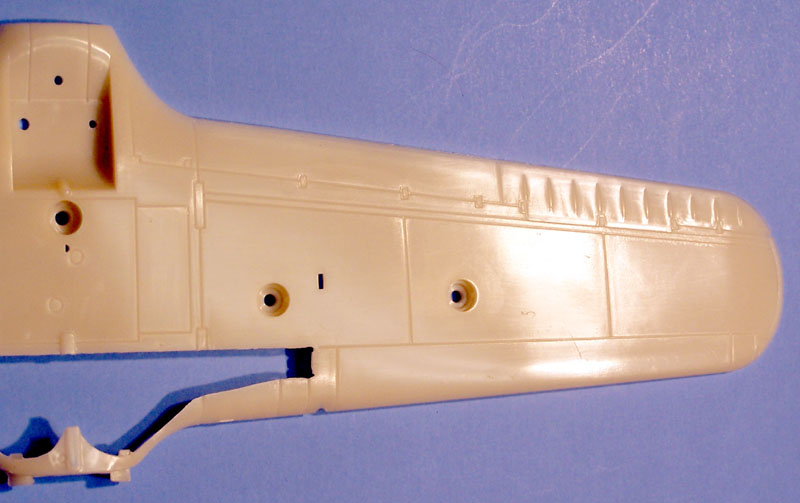 Since I have the pre-built/pre-finished version of this kit, it seems fair to include a couple shots of what the kit should look like if built "OOB":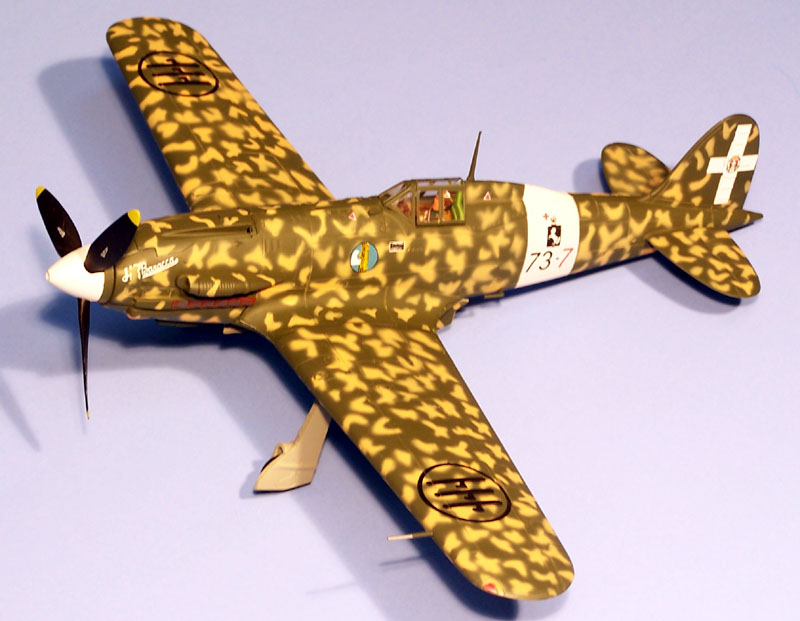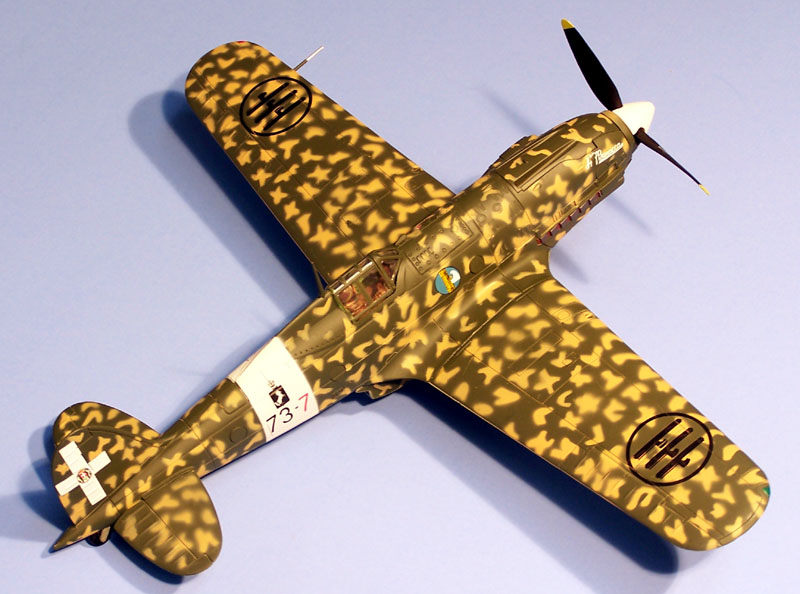 There are overly thick trailing edges on all of the flying surfaces. Again, very much like the old Matchbox kits. Some filing or sanding of the mating surfaces will be needed if the modeler intends to bring these areas to an acceptable level. The wing dihedral angle is flatter than it should be. Some careful sanding and test-fitting where the wing tops meet the fuselage fillets should cure this problem.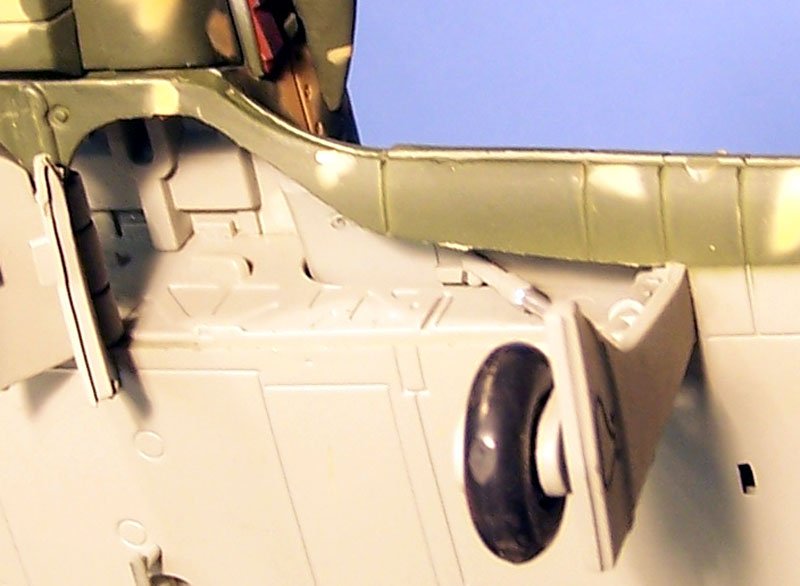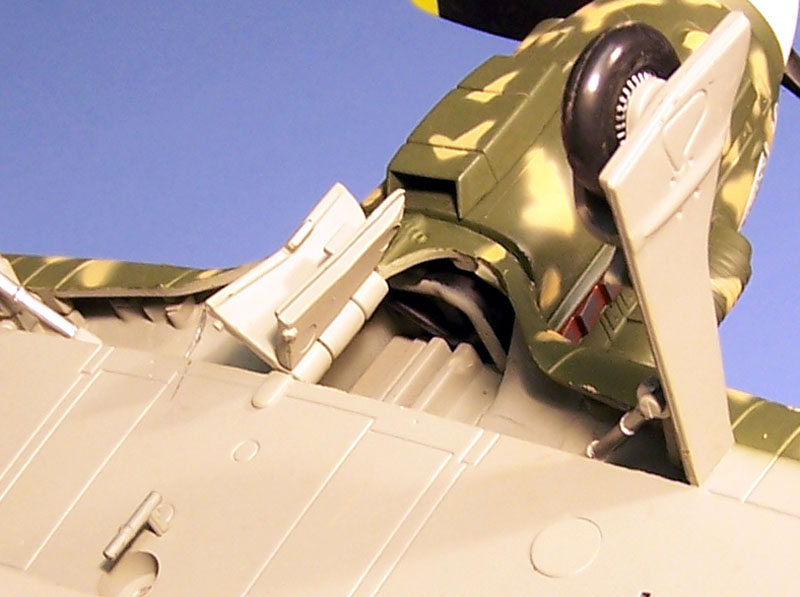 The wheel well detail is somewhat clumsy, but an excellent starting point for those that want more detail in there...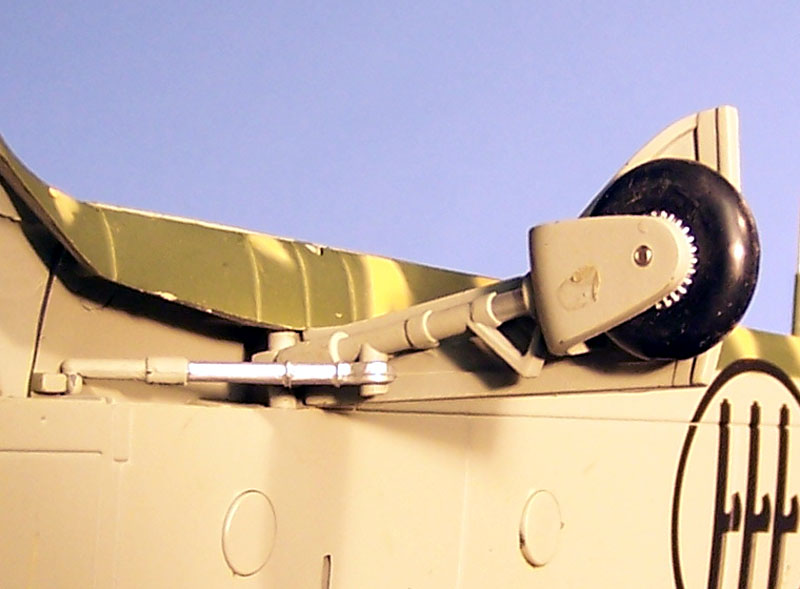 The landing gear legs are fairly well represented. However, the bracket over the wheel is too thick and too wide. Filing these areas down to a more appropriate size wouldn't be too hard. They are also provided in what appears to be the fully-extended, in-flight position, which is 1/8" too long if the model is to be displayed sitting on its wheels. This could be corrected with a little effort and would really enhance the stance and overall look of the completed model. The gear doors are moulded a bit thick, and one-piece. No attempt was made to represent the small door at the top of each landing gear leg, so you'll have to make your own if you want them on your model. All of the 'toy-like' features of the die-cast version such as retractable landing gear and opening canopy are retained in this kit version for those that want to utilize them.
In conclusion, this kit is an extremely good value at its less than $10 US retail price. If looked at from a "Matchbox-quality" kit point of view, it is still an outstanding value. While it certainly isn't Tamigawa quality, it is not priced in their league either. The very accurate shapes certainly capture the look of a Folgore to a T. Availability in the US so far seems to be restricted to Wal Mart retail stores. Hopefully these kits will become available from web-stores as well.
Very enthusiastically recommended to all those that find the accuracy and level of detail acceptable.
I know I'm happy with it!
References:
Macchi C.202 In Action, Squaron/Signal Publications
Italian Aces of World War 2, Osprey Aviation
Review sample courtesy of my wallet.
© Darin Bellis 2007
This review was published on Saturday, July 02 2011; Last modified on Wednesday, May 18 2016