Dragon | 32001: 1/32 P-51D Mustang
Reviewed by Chris Sherland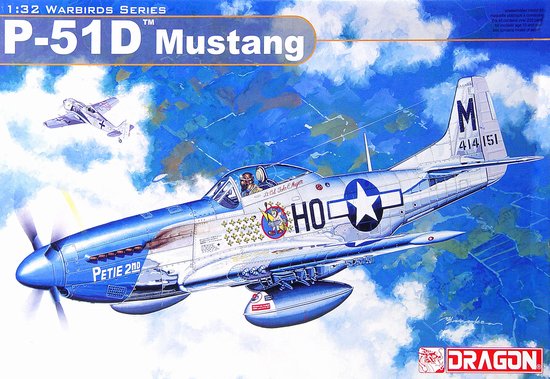 A (very) brief history of the North American Aviation P-51 Mustang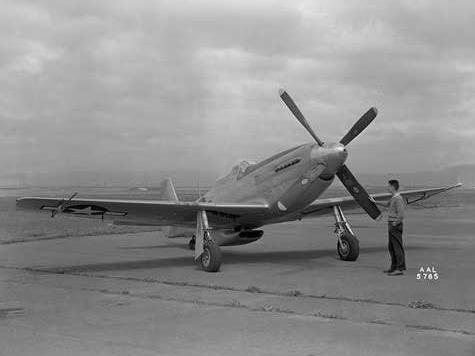 Unlike the birth-story of any other fighter aircraft, the Mustang came more from the desire of North American Aviation not to manufacture the Curtiss P-40 Warhawk under license, than it did from a requirement for a new aircraft. From design to flying prototype in a record setting 120 days, the Mustang was destined to become one of the most famous and recognizable combat aircraft in history. A very concise and much deeper study of the Mustang's history can be found here:
http://en.wikipedia.org/wiki/P-51_Mustang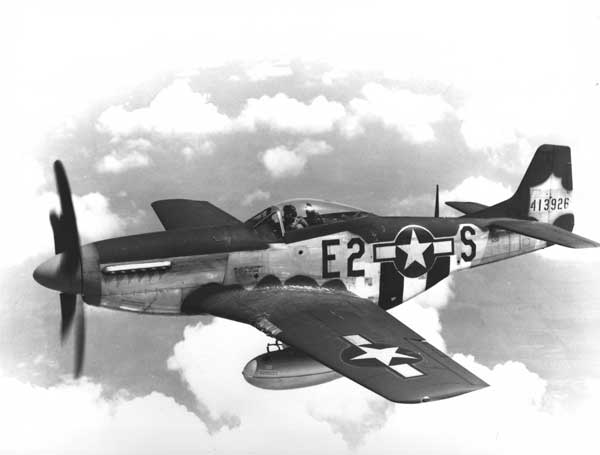 Starting with an Allison V12 inline engine the early "A-36" Apache was woefully underpowered at medium and high altitudes. However once the airframe was mated with the Packard-built Rolls Royce Merlin V12 inline (the same powerplant used on the Spitfire and Hurricane in RAF service) performance at these altitudes was not only improved, but mastered. The P-51 Mustang was born.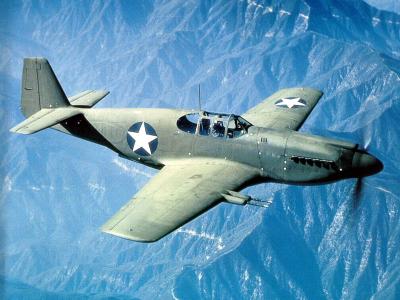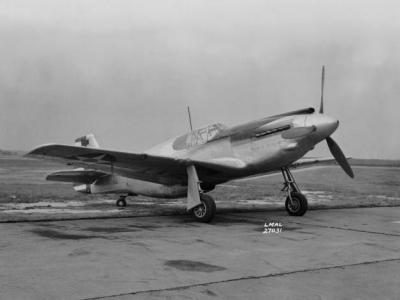 Two early Allison-powered "Apaches."
Initial delivery of B and C variants used a framed canopy with a high spine. The D model was fitted with a bubble canopy, which reduced the spine profile, and like the P-47, it suffered from lateral instability as a result. A geometric fin flash was added to reclaim some of the lost yaw stability and only the initial batch of D models were delivered without this distinctive profile.
The Mustang was the right aircraft at the right time, and in the right quantities. While many aviation historians will admit that it was the Thunderbolt that broke the Luftwaffe's back in 1943, none will argue that the Mustang dealt the final blow. The P-51's extraordinary range gave it the ability to roam anywhere over Europe, do combat, and return. It was this range advantage that made the Mustang more than just a great fighter, it was a strategic weapon.
Mustangs deployed in all theaters during WWII, and served for the USAF in Korea, and with numerous other countries as front line combat aircraft well into the 60s.
Dragon's 1/32 aircraft kit debut
While Dragon is a very well known and respected manufacturer of armor kits, the P-51 kit marks Dragon's first attempt at a 1/32 aircraft model. No one can doubt the appeal of the P-51 as an initial release, but with that appeal also comes a high level of expectation from the market. Dragon has targeted a low price point for this kit, and possibly the series in general, which is in pretty stark contrast the current 1/32 market trend. Trumpeter and Tamiya are releasing 1/32 kits that retail well over $100.00 USD; Dragon's little '51 retails at $35.00 USD.
While price point is usually not a huge issue for a review, it is telling here for the reason mentioned above, and it colors my reaction to this kit dramatically. Hasagawa's original 1/32 Mustang kit is still selling for around $30.00 USD, and their "Big Beautiful Doll" rebox of that kit is selling for about $40.00 USD. Revell's "Ghost Mustang" can be found for just under $50.00 USD. Dragon has released a completely new tool 1/32 P-51D Mustang kit for under the going rate of the old Hasagawa kit. It may strike most as something not worth pondering, however I cannot help but think that this was a very well though out move on Dragon's part.
The kit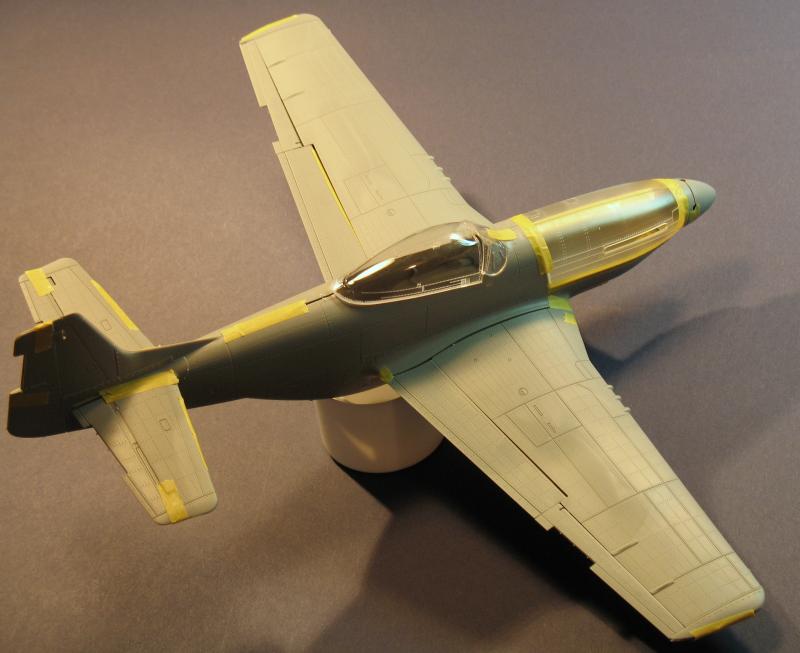 In a sturdy box with striking art, the Dragon P-51 is molded in gray plastic, a single clear sprue, three rubber tires, a single PE fret, and some small metal elements. The molds are crisp and well detailed and no flash was present at all on our review sample. Some minor sink-marking was noted in a few spots, but there were no major blemishes found and the overall molding is very high quality.
The engine has a touch over 30 parts, is adequately detailed and features a mounting brace that both helps steady the assembly and allow for open panel display. The radiator is nicely done (albeit hardly visible) with three PE, and three styrene, parts. The rear radiator airflow door can be posed open or closed.
The cockpit is well detailed and includes a very nicely laid out main instrument panel using a clear face, a PE backing plate, and individual dial decals. An accurate seat with PE bracing is included along with PE belts. The 9 piece gunsight is a highlight, and separate radios are well detailed. It would have been nice to see the main fuel tank filler tube included, as it is highly visible. Sidewalls are detailed with 16 separate pieces including the throttle quadrant, radio controls, lights, oxygen hose and auxiliary panels.
The slide molded exhausts and gun barrels are very nice features, and quite well done. Some of the pictures below are slightly out of focus, these items look much more delicate in person.
One baffling addition is a very nice set of gun and ammo bays, complete with six beautifully detailed fifty caliber guns, full ammo chutes, but no removable panels in the wing parts to show them off.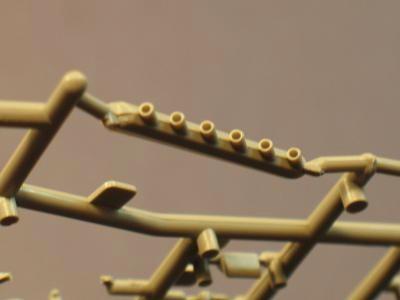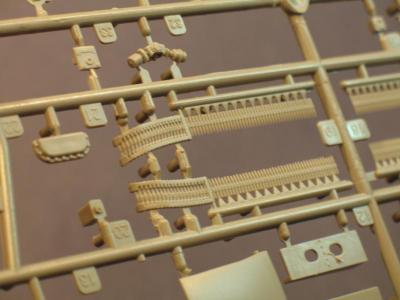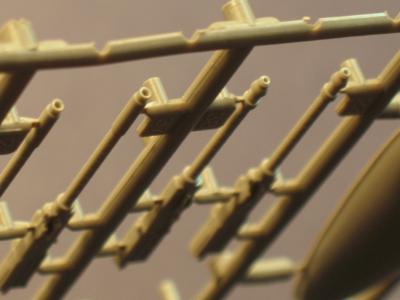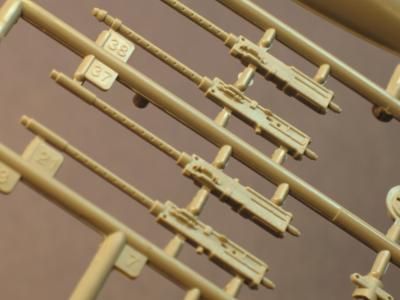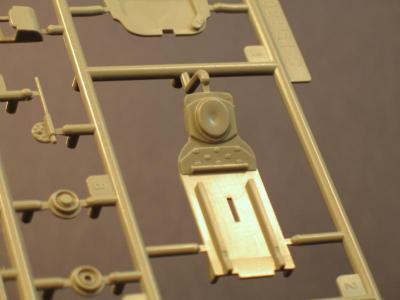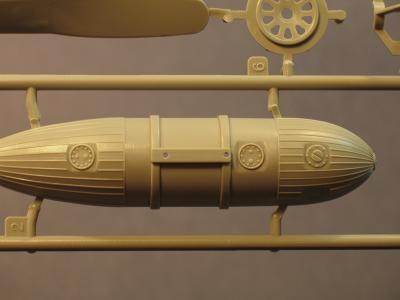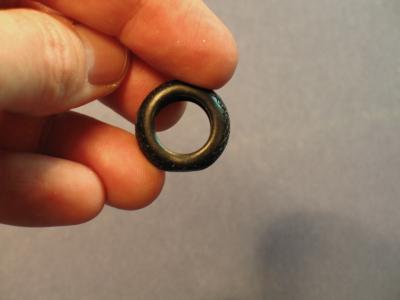 All flight surfaces are posable and very well engineered with the exception of the rudder which seems to be an awkward fit. The flaps are very nice and are possibly the best implementation in any scale that I have seen. The wheel well box (more on this item in a moment) serves as a dihedral jig along with long guide pins on the upper and lower wings. Once some slight clean up was performed this assembly nearly snapped tight.
The main gear legs are an impressive 13 part affair. They include delicately molded separate brake lines, working hinged scissor links, and sprung oleos (al la Trumpeter's 1/24 Bf109 series)! Rubber tires with a weighted effect are included as well.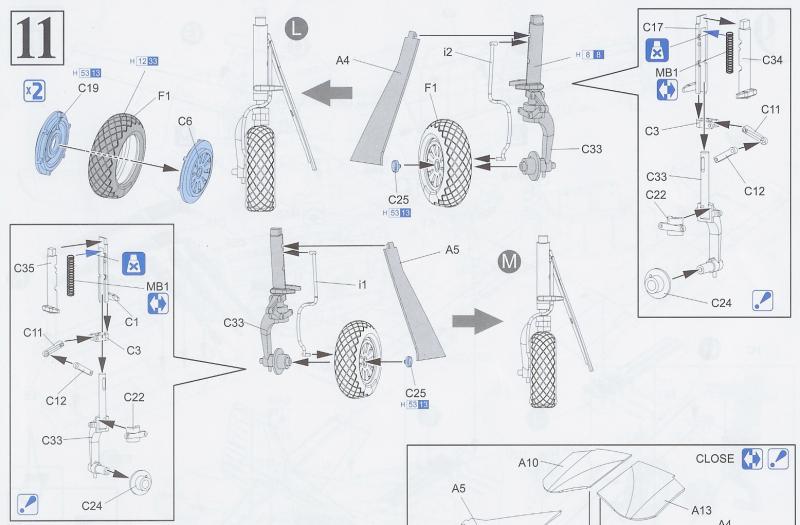 Ordnance includes two 500lb bombs, "zero length" rocket launchers with six rockets, and 4 drop tanks (2X75 gal and 2X105 gal).
The surface detail seems to be slightly heavy, and no effort has been made at modeling the wing panels "sealed" as they were at the North American Aviation factory. While the argument over the value of rivet detail for many modelers (especially those with a focus on 1/48 or smaller scales) is a heated one, Dragon has molded all rivet detail into the surface here. This practice is nothing new to 1/32 and has been the standard since the large scale boom in the late '60s and early '70s. I offer this photograph as fuel for a fire that may indeed burn throughout the centuries.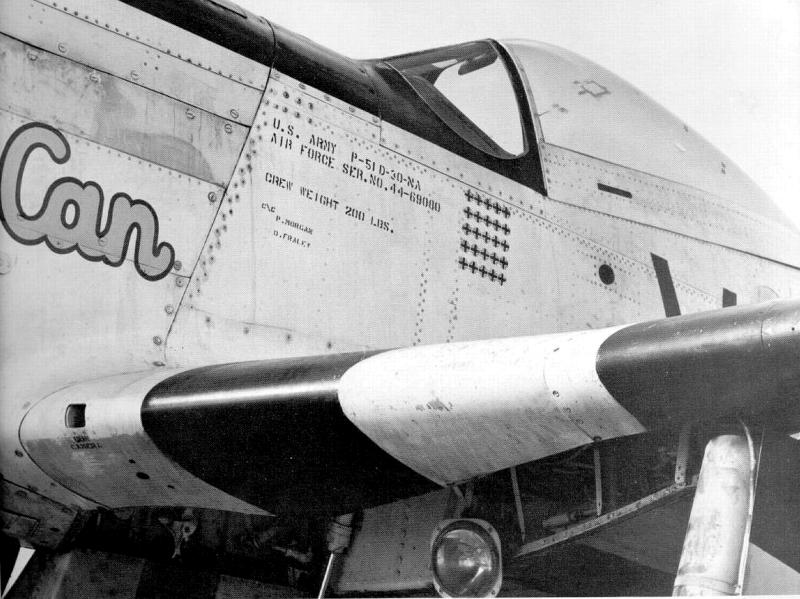 The clear sprue is well done and contains the well shaped canopy, windscreen, gunsight glass, landing light, wingtip lights, the main instrument panel front, and a very nice piece that provides the three under-wing navigation lights. The windscreen fit is extremely well thought out, but suffers a touch of sloppy engineering. It looks like it will need a bit of shaping to fit "perfectly," and once that is done, it will.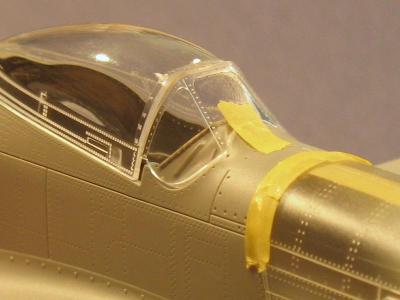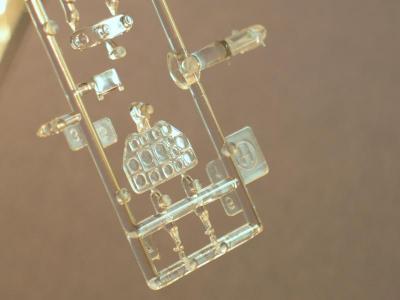 More surface detail can be seen here, and of note is the "matt" finish that the plastic has. This will need to be covered with a gloss coat and or prepped if a shiny metal finish is desired.
Shape and Accuracy
General shape and accuracy is quite high. The model lines up to plans well with only the two notable exceptions; first being that the fin flash seems a little proud/high in profile, and second being both flap and aileron cord (as well as length) seem incorrect. There are a few panel lines, most notably the gun bays on the wing upper surfaces, that seem to be "off" a touch including the line that Dragon engineers used for the wing root fuselage join. However none of these errors hurt my eyes or seem to compromise the "Mustangness" of the kit's dimensions.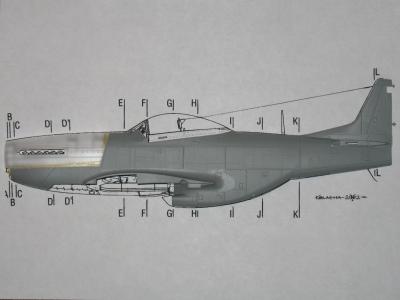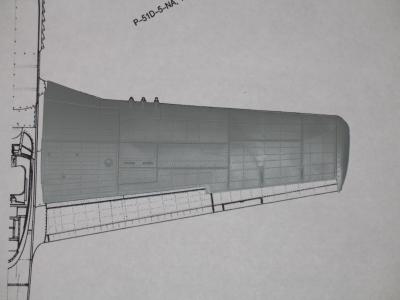 In detailed analysis the gear well structure is lacking a major characteristic. The rear and front walls of the Mustang's (as well as most other WWII fighter's) wheel wells are not flush with the well openings, rather they follow the lines of the main spar (rear) and substantial formers (front). What this does is create a "shelf" effect (visible in the picture above) from the lip of the well around the majority of the well opening. Dragon's wheel well walls extend vertically from the openings. The way the gear wells are engineered as a separate "box" that fits on top of the wing underside piece this detail could have been replicated easily.
Decals
The decals are very nice and printed on two separate sheets by Cartograph of Italy. They include markings for three ETO Mustangs and a generous selection of stenciling. Also to note are the individual instrument dial decals here, which are done quite well and in color where appropriate.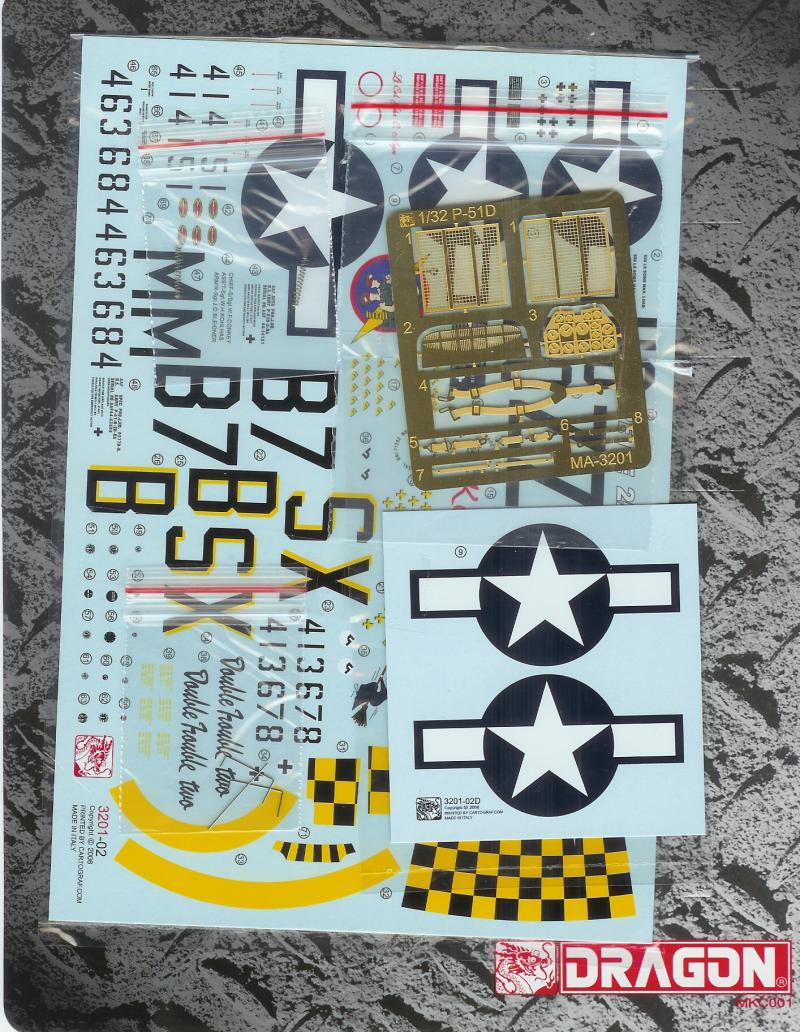 Conclusions
I am not a Mustang fanatic, and in fact I have spent some effort in shedding a love for the plane. However the beauty of the Mustang cannot be argued, and Dragon has captured it here quite well. The engineering of fit and assembly leaves the Hasagawa 1/32 Mustang far behind, and at the same price point offers higher detail and better accuracy. The engineering and detail of this kit are very nice, it goes together well and seems to promise a breeze to build.
A new 1/32 Mustang kit has been anticipated for years, and with that level of expectation this kit has been the focus of heated debates. Indeed no Mustang kit on the market in any scale (with maybe the Tamiya 1/48 kit as an exception) has survived the fires that Mustang fans can create. One only has to look at the recent Trumpeter release of the Mustang in 1/24 scale for an example of that fire. While much of the teeth gnashing is simply unavoidable, so is the evidence of basic quality, detail, and shape of this new Dragon kit.
It is not perfect, or expensive, and it beats all the large scale Mustangs currently on the market hands down. I think this kit is well worth the price, and I recommend it highly.
Review sample courtesy of Dragon Models.
© Chris Sherland 2006
This review was published on Saturday, July 02 2011; Last modified on Wednesday, May 18 2016