Aires | 1/32 Early P&W R-2800
Reviewed by Craig Quattlebaum
Ok, I know that you are already asking "What in the world is a P-51 Mustang freak doing with a P&W R-2800 radial engine set?" Well, I just happen to like round motors and after all, the 361stFG flew jugs before transitioning to P-51s. A bit of trivia here as the 361st was the last group to join the 8thAF flying P-47s.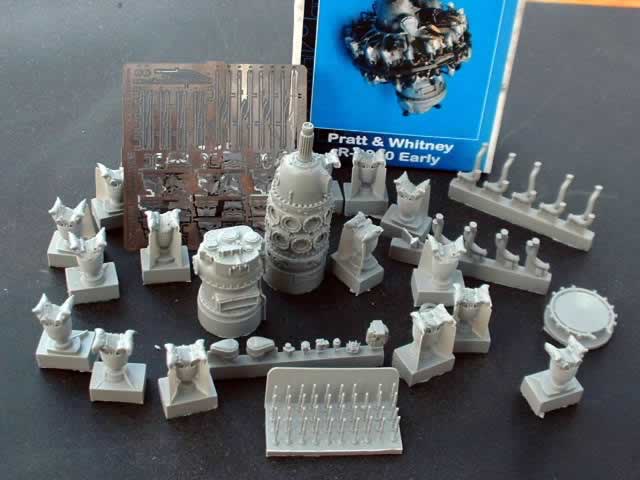 Ok, on to the review.
The Aires R-2800 is cast in gray resin and with typical Aires fine detail and sharpness. This 'kit' of an engine consists of 79 resin and 56 photo etch parts and one length of copper wire.
The engine case looks massive by its self and when the accessory housing is added, you start to wonder where you will find the room to put it. It's not hard to visual how to add some extra detail to the housing, oil & hydraulic lines along with wiring will set this one off in grand style.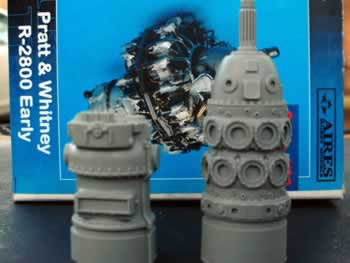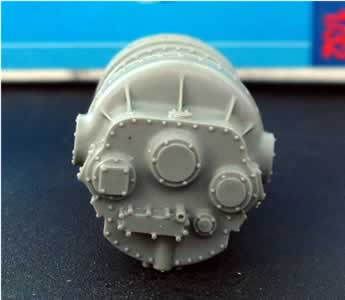 HOWEVER, it does lack the one thing other manufacturers left out, and that is the very large, hard to miss pressure carb that these things have. The top of the accessory housing looks bare without it. Aires has included a cast on mounting surface for one, but no carburetor is included. It would be great for someone to actually add this missing detail as it would be very welcome indeed.The cylinders reflect the massive cylinders of the R-2800 very well in shape and detail. Here again the fine detail is very well done and will need only a minimal amount of clean up, mostly around the area the pushrod tubes join into the rocker boxes. Aires added cast "spark plugs" to the cylinders but I have found a couple broken off and will likely replace them all with small tubing. The set includes intake manifolds but no exhaust manifolds or collector ring. Those will have to be scratch built if one wants to add them. I for sure plan on doing so.
40 pushrod tubes are included (giving 4 spares) but they have a "sleeve" in the center that I have not yet seen in any of the pictures I have looked at. Does not mean that it didn't happen, only that I have not seen this type of pushrod tube.3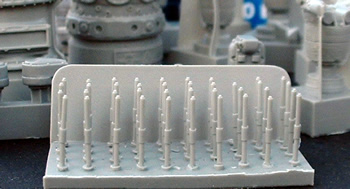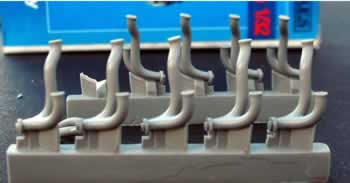 Resin parts are rounded out by the mags (one style), wire ring , high tension coil, oil pump, fuel pump and what looks to be a vac pump.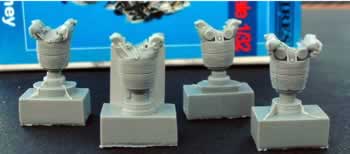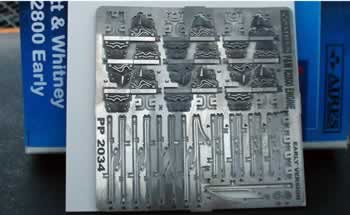 The photoetch parts consist of the plug wires, inter-rocker box oil tubes and baffles for between the cylinder banks. No individual cylinder baffles are included. While the PE wire set is nice, I have a little trouble with 'flat' wires, so I intend on making replacements for it. I'll probably use left over pieces of safety wire saved from work.
All in all this looks like a winner from Aires, it is expensive though. Coming in the $40-$50 USD price range it is higher than the other offerings available. However it is a jewel that I can hardly wait to get started on. Now all I need is a 1/32 P-47 Razorback to put it in when finished.
© Craig Quattlebaum 2006
This review was published on Saturday, July 02 2011; Last modified on Wednesday, May 18 2016