MDC | Bf 109G-6 resin cockpit set
Reviewed by Tony Oliver
The recent release of the 1/32 scale 109 from Hasegawa finally provides the large scale modeller with an accurate portrayal of the Gustav. It also opens the way for a flood of detail sets, conversions and decals that will keep the 109 guys content for a long time to come.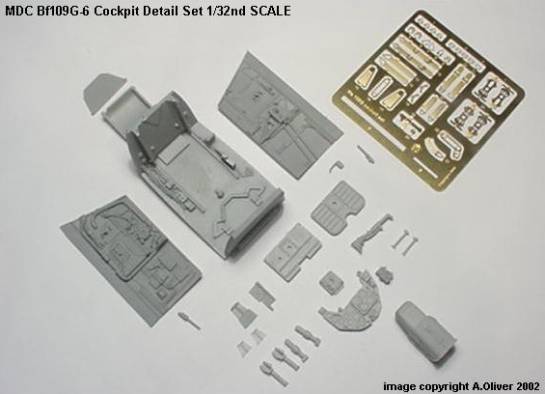 The masters are designed and produced by Vincent Kermorgant and are exquisitely cast in a crisp pale grey resin that almost looks like injection moulded plastic by MDC in darkest Derbyshire. The level of detail is superb and Vincent's obvious obsession with the subject is reflected in this. The set itself comprises of 25 resin parts and an etched fret of 35 pieces including two alternative methods for making up the harness. You can either use the supplied belts with the integrally moulded buckles and fasteners or create your own belt from your favourite material using the template supplied on the fret and the delicate buckles clips and fasteners.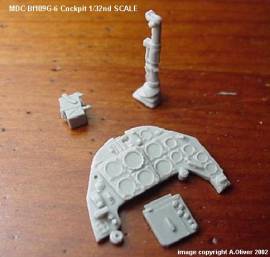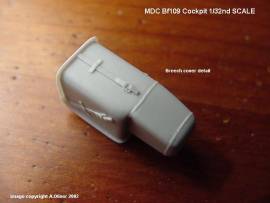 The resin parts are centred around the main cockpit tub which incorporates the floor detail and the pilots seat backrest/armour. Two alternative floor panels or heel boards are supplied and both have a positive location point for the control column which is a real jewel. Points for the resin rudder pedal assembly give a positive location and the etched pedals complement the detail of the resin rudder and brake master cylinder assembly.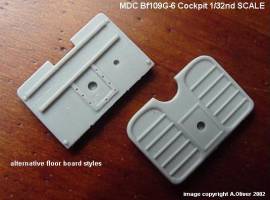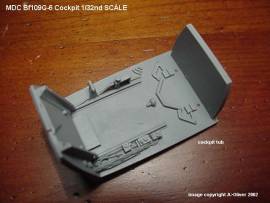 The side wall detail is superb and incorporates the pilot's oxygen system, electrical switch/ fusing box and engine controls. There is even a piece of clear rod to represent the sight glass for the fuel line which runs along the starboard cockpit wall! (its missing from the review images as it disappeared into space whilst I was arranging the shots…..). All this is complemented by a comprehensive and detailed instruction sheet.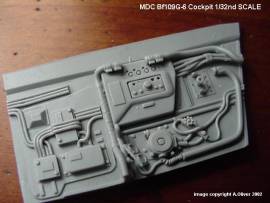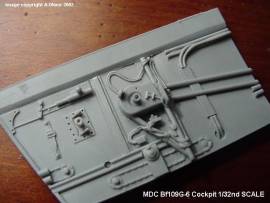 On the whole this set is a benchmark in after-market resin detail sets and one which other commercial manufacturers will look to emulate in terms of accuracy, level of detail and value for your modelling money. It truly enhances an already fine kit without gilding the lily.
With the promise of more 109 variants to come, and the release of resin detail sets such as this, large scale Luftwaffe modellers are in for a great time.
Model Design Construction are an established UK based company known for their range of high quality 1/48 and 1/72 scale resin and etched brass conversion and detail sets; check out the details and availability of their products at their web site
© Tony Oliver 2002
This product is available from the following LSP sponsors

This review was published on Saturday, July 02 2011; Last modified on Wednesday, May 18 2016