MDC | CV32028 Focke Wulf 190D-9 Wheel Set
Reviewed by Mark Proulx
Model Design Construction (MDC) has just released a 1/32nd scale wheel set for the new Hasegawa Fw 190D-9. Due to do the simplicity of the set, I am sure it can also be fitted to the Revell and earlier Hasegawa High Grade kits.
The wheel set arrives in a small plastic bag complete with instructions, four resin pieces, some wire, and two flexible resin hoses. The major resin items consists of two main wheels, a single tail wheel and its associated lower fork.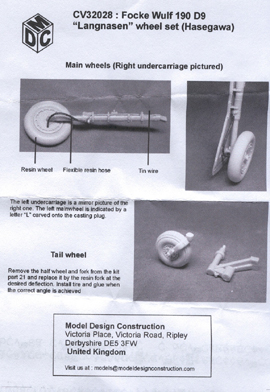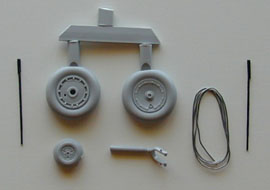 The instructions include photographs showing complete assembly details for the main wheels using the right side as a guide. The left side is a simple mirror image. Some minor text is included. Minor modifications to the kits tail wheel fork are necessary for this set as detailed.
The resin items are cast in MDC's very high standards. The wheels compare favorably to the pictures seen Aero Detail on the Dora 9. The main wheels reveal the valve stem and axle cotter pins quite clearly. The main tires do not have any tread; they are subtly flattened and not bulged. Some casting marks are visible around the circumference of the main wheels, but this will be easily cleaned up with sand paper.
The tail wheel is cast to the same quality as the mains with superb hub spoke detail being clearly evident. It is treaded, as found on early variants of the Dora, and easily slides into position on the new resin fork. The resin lower fork replaces a portion of the single piece unit found in the kit. It is much more scale like in appearance. This gives the modeler the option of setting the tail wheel at any desired angle. However, I am concerned about the ability of the resin fork to withstand the abuse it is likely to get over time; resin can be fragile.
MDC also includes flexible resin hose to represent brake lines. The lower brake line realistically captures the braided hose effect. Tin wire is used for the upper brake lines.
This replacement wheel set from MDC is a vast improvement over the items supplied by the manufacturer. It is a simple modification, which most modelers will have little difficulty with. I highly recommend this set to those wishing to achieve a higher level of detail in their models.
© Mark Proulx 2003
This review was published on Saturday, July 02 2011; Last modified on Wednesday, May 18 2016