MDC | CV32016: 1/32 Bf 109G MG 131 Ejection Chutes
Reviewed by Mark Proulx
Open ejection slots require details that are often overlooked by model manufacturers, while some slots are blanked off completely. Hasegawa continues this trend with their Bf 109 series in 1/32nd scale. In this instance, the slots are completely blanked off.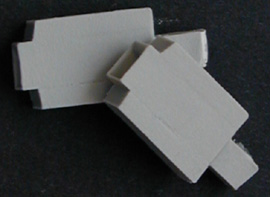 Model Design Construction, also known as MDC, addresses this oversight with their resin MG 131 Ejection Chutes in 1/32nd scale. Two chutes are supplied, and due to the simplicity of the installation no instructions are supplied.
The shell ejection slots for the Bf 109 are located on the fuselage underside between the main gear. Hasegawa supplies a cover for this area as a separate piece, as other versions than the Bf 109 G-6 or Bf 109 G-14 are being released. Consequently, the slots will need to be opened up on the separate panel and the underside of the fuselage to except the resin pieces. It is then easy to attach the new box like structures to the open slots.
This is a very unique and simple means to add further details to your Bf 109. MDC makes a number of resin aftermarket accessory sets for this aircraft and I can recommend any of their products without hesitation.
© Mark Proulx 2003
This review was published on Saturday, July 02 2011; Last modified on Wednesday, May 18 2016