MDC | CV32014: 1/32 Bf 109G/K Corrected Spinner
Reviewed by Mark Proulx
Model Design Construction, or MDC, is a supplier of a large number of resin products for the Hasegawa Bf 109G in 1/32nd scale. Among the items that MDC chose to release was a resin spinner. While the spinner supplied in the model is OK, some questioned its shape.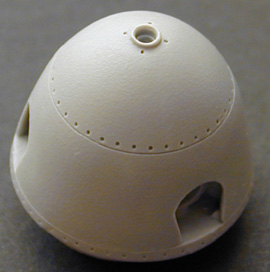 The spinner was mailed in a small sturdy cardboard box, with a number of other MDC items. The replacement part and the instructions were enclosed within a very small plastic bag. No damage was evident in shipping.
This spinner as cast by MDC is a vast improvement over the Hasegawa item. The single piece is cast in a dark grey resin with a large casting block on the rear. It should be easily removed with a razor saw and a final clean up with sand paper. The detail scribed into the surface is very fine. It consists of an evenly spaced rivet pattern, straight panel lines and a data plate at its base. The openings for the propeller are deeply undercut increasing the hollowed out look just inside the spinner. Some minor clean up work appears to be in order inside two of the prop openings.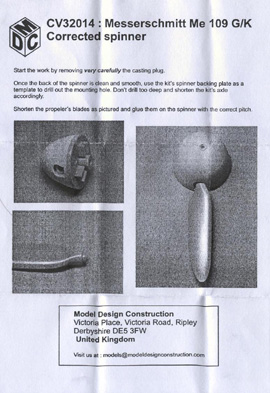 MDC uses a very simple instruction sheet. Photocopies of photographs are not very clear. Text is limited, but all of this should not pose a problem due to the simplistic nature of this installation. To accurately find the center of the spinner, MDC suggests using the backing plate from the Hasegawa kit as a template. I am confident that this will work quite well. The modeler will need to shorten the blades in the kit as detailed in the instructions as the final modification.
MDC does some of the best resin casting that is currently available. I am sure that any modeler will be satisfied with the results achieved when adding MDC products to their Hasegawa Bf 109G. I recommend this item without hesitation. Note: MDC use the Me prefix instead of the more common Bf designation. I have chosen to use the later designation in the title of this review.
© Mark Proulx 2002
This product is available from the following LSP sponsors

This review was published on Saturday, July 02 2011; Last modified on Wednesday, May 18 2016