Cammett | Scale Caliber Metal Tubing
Reviewed by Jay Laverty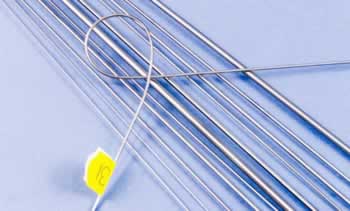 It was recently that I was looking around for something (don't ask me what as I got distracted by these and forgot what I was looking for) and stumbled across the Cammett website and these useful little items.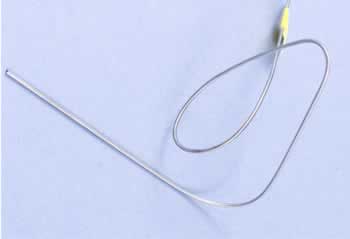 With an infinite number of uses for the hard stainless steel tubing imagine my astonishment when I noticed the bendable stainless steel stuff.
Soft Tubing Internal & External Diameter
Number Internal Diameter ~ External Diameter
1. 0.51mm ~0.82mm
2. 0.6mm ~0.88mm
3. 0.7mm ~1.07mm
4. 0.84mm ~1.26mm
5. 1.0mm ~1.49mm
6. 1.2mm ~1.59mm
7. 1.37mm ~1.83mm
8. 1.5mm ~2.02mm
9. 1.78mm ~2.38mm
10. 2.00mm ~2.64mm
11. 2.4mm ~2.98mm
12. 2.5mm ~3.25mm
Hard Tubing Internal & External Diameter
Number Internal Diameter ~ External Diameter
1. 0.1mm~ 0.3mm
2. 0.15mm ~0.33mm
3. 0.18mm~ 0.35mm
4. 0.2mm ~0.41mm
5. 0.25mm ~0.45mm
6. 0.25mm ~0.51mm
7. 0.3mm ~0.56mm
8. 0.33mm 0.64mm
9. 0.41mm ~0.71mm
10. 0.5mm ~0.86mm
11. 0.6mm ~0.9mm
12. 0.7mm ~1.06mm
13. 0.8mm ~1.25mm
14. 0.9mm ~1.25mm
15. 1.0mm ~1.49mm
16. 1.13mm ~1.49mm
17. 1.25mm ~1.61mm
18. 1.5mm ~2.03mm
19. 1.8mm ~2.39mm
20. 2.00mm ~2.67mm
21. 2.5mm ~3.25mm
As I began to investigate the stuff available my interest grew rapidly. Just about every diameter you could think of is available which means the possibility of telescoping just about anything is easy. Add to that the convenience of several packs being available in both "hard" stainless steel and "soft" stainless steel, and I was duly impressed.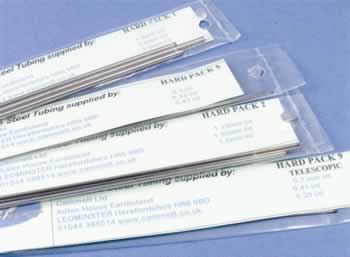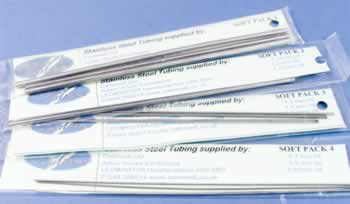 Obviously the uses for the plumbing and wiring of gear bays, gun bays and cockpits are limitless, and as illustrated by Marcus Nicholls when he used Scale Caliber tubing for the barrels of his 48th Fw 190 in the last issue of TMMI the stainless steel ones can be easily burnished to represent burnt metal, by...er...well...burning it. I simply held a lighter under it for this photograph.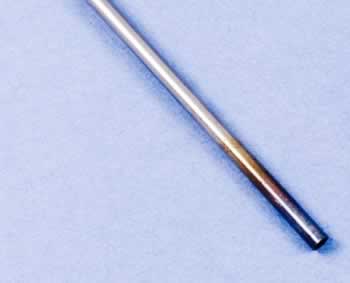 I ended up speaking to Robin Carpenter who runs Cammett and I found out about some very interesting things he is planning and developing for the 24th scale Vintage P-40 so keep an eye out over the coming weeks for announcements and reviews here.
Prices of the tubing range from £2.90 to £3.60 for the hard stainless steel tubing, and between £3.75 to £4.50 for the bendable stainless steel tubing, both types in 12 inch lengths.
The "packs" of both hard and soft stainless steel range between £4.50 and £7.00 which include three various sizes.
I personally highly recommend a collection of all of this stuff as it will be a vitally important part of the scratchbuilder's toolbox, and will make life much easier when it is there to hand.
© Jay Laverty 2006
This review was published on Saturday, July 02 2011; Last modified on Wednesday, May 18 2016