Airwaves | Heinkel 162A-2 Detail Set in 1/32nd Scale AES 32008
Reviewed by Mark Proulx
Hannants has just release in their Airwaves range a 1/32nd scale multi-media detail set for the new Revell/Germany He 162. The set consists of a new rear cockpit bulkhead, seat with complete photo etch harness, wheels and instructions.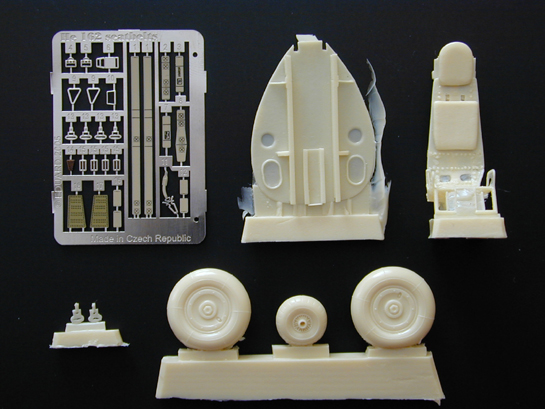 The first item that catches your attention is the extremely sturdy packaging used by Airwaves. It is a large clear plastic package, which ensures that the contents are free from the ravages of shipping. Each of the parts are individually sealed and none of the contents in my sample were damaged.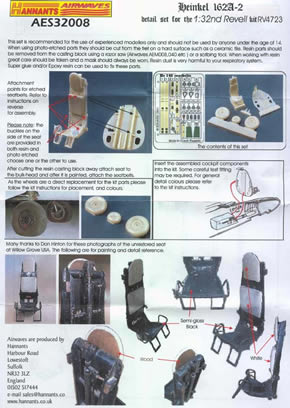 The instructions are printed over both sides of a single page. Large color photos and text should make for a relatively problem free installation. Photos are included of an unrestored seat stored at Willow Grove. These photos provide some painting instructions. The images themselves, particularly of the seat, suffer from poor scanning resolution. The opposite side of the instructions provides clear sketches of the construction sequence for the harnesses assembly.
The ejection seat looks very good. All details are crisply cast and handles appear to be to scale. However, the seat is cast without a seat cushion. A large casting block needs to be removed from the bottom of the seat. Some flash can also be found around some of the handles. Many of the handles and supports that protrude from the seat appear very fragile. Modelers need to be very cautious when cleaning up some of these areas. I would suggest that modelers visit http://www.ejectionsite.com/he162seat.htm for a detailed comparison.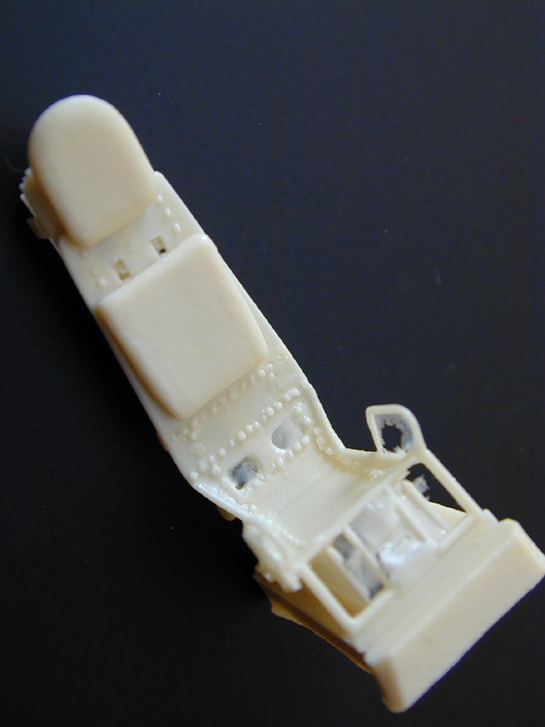 The rear bulkhead also has some areas of flash that requires removal. Matching the seat, the casting appears crisp. I have not tried to place the part into the fuselage and can't comment on the fit. The seat appears to slide perfectly onto the rails.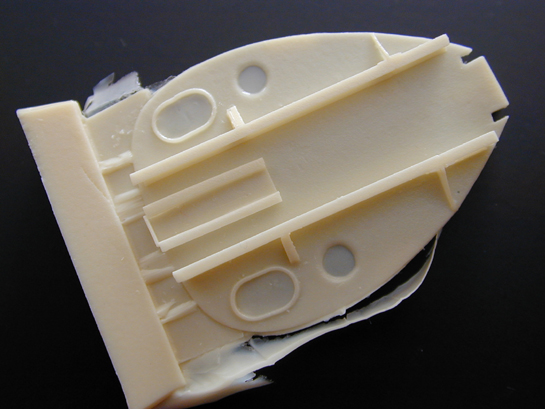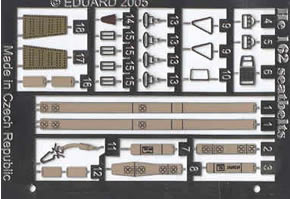 Eduard supplies the color photo-etched harness. The buckles are supplied separately from the harness and this is welcome for those modelers that prefer to make their own harness. The modeler has the option of using resin or photo etch buckles for the sides of the seat.
The wheels are weighted and designed as direct replacements for the kit parts. Hub detail looks very good and the bulged effect does not appear to be overstated. The He 162 wheels did have raised mold lines on them and Airwaves accurately captures this subtle detail.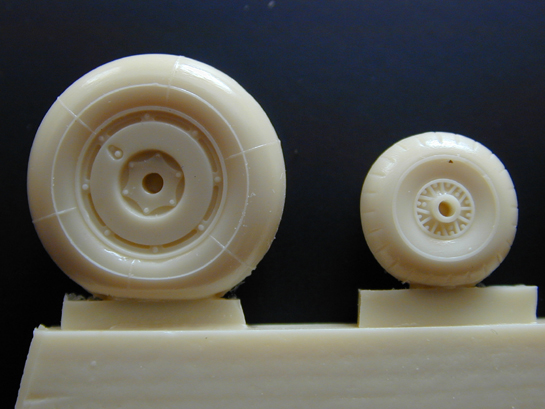 The Revell/Germany He 162 is a welcome release to the 1/32nd scale community. One of the kits weaknesses is the soft detail within the cockpit. This Airwaves set should improve this area of your kit and I recommend it without hesitation.
Review Sample Compliments of Hannants
© Mark Proulx 2005
This review was published on Saturday, July 02 2011; Last modified on Wednesday, May 18 2016