RB Productions | Mini Saw Set with Holder
Reviewed by Randy Bumgardner
RB Productions
RB-SAW - Saw Holder

RB-T014 - Rapid Cut Saw Blade (12 teeth per cm / 30 teeth per inch)
RB-T015 - Medium Saw Blade (16 teeth per cm / 40 teeth per inch)
RB-T016 - Fine Saw Blade (24 teeth per cm / 58 teeth per inch)
RB-T017 - Ultra-Fine Saw Blade (48 teeth per cm / 120 teeth per inch)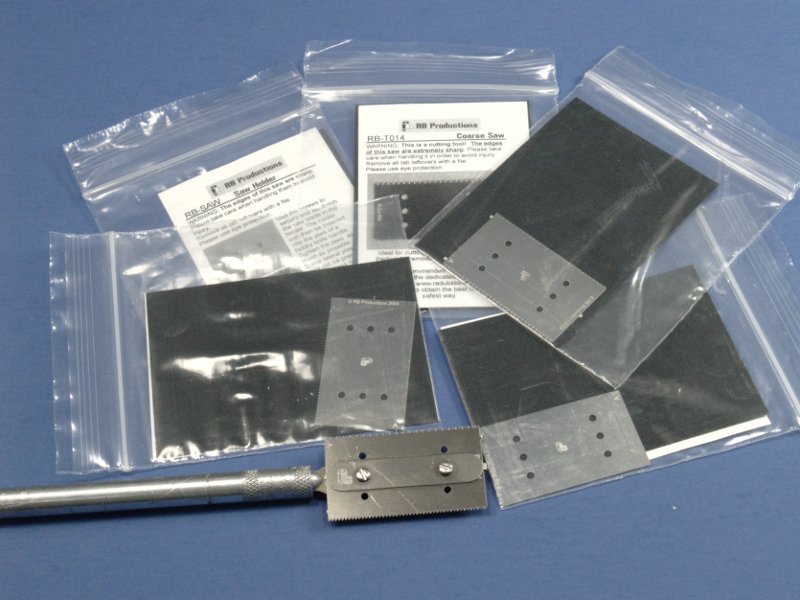 RB Productions latest addition to their tool line up is a unique little item. Actually, it's a set of little items. Have you ever wanted to get the thinnest cut possible and, at the same time, remove the minimal amount of material? Or, having used the Hasegawa photoetch saws, have you ever wanted something with a slightly better handle? Well, master craftsman Radu Brinzan has produced a set of photoetch saws and a saw holder that will neatly fit the bill.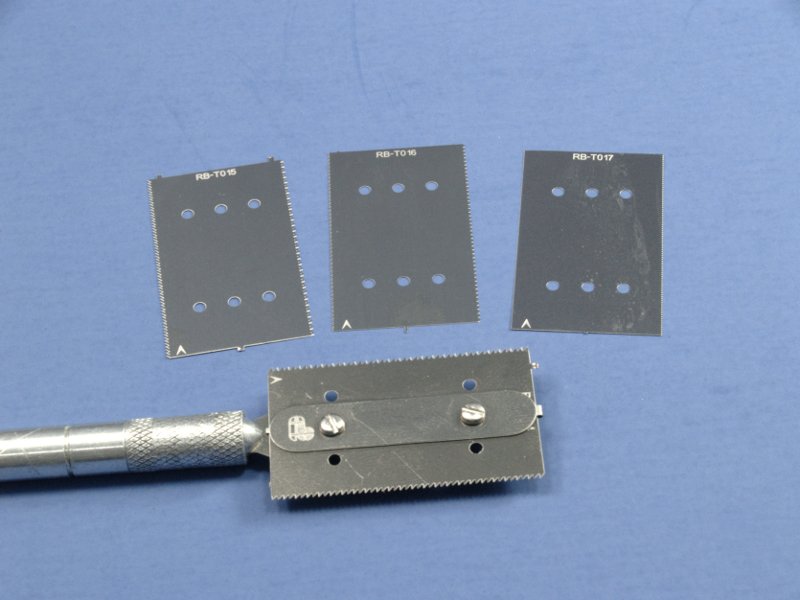 The saw holder is designed to fit into an X-Acto style handle and, using the provided screws and nuts, securely fastens the blades. The blade holder clamps the blade in place and provides great support for the blade while cutting. Each blade can be secured in three separate positions, a center mount or an offset mount to either side of the blade.
Radu offers four different saw blades: coarse, medium, fine, and ultra-fine. Each has it's particular use, and the modeler can choose the blade that best suits the task at hand. The unique aspect of these blades is the opposing teeth on each side of the blade. Depending on the side of the blade used, the modeler can choose between a push or a pull action for cutting. The blades and holder are produced from stainless steel and will stand up to all of your modeling needs.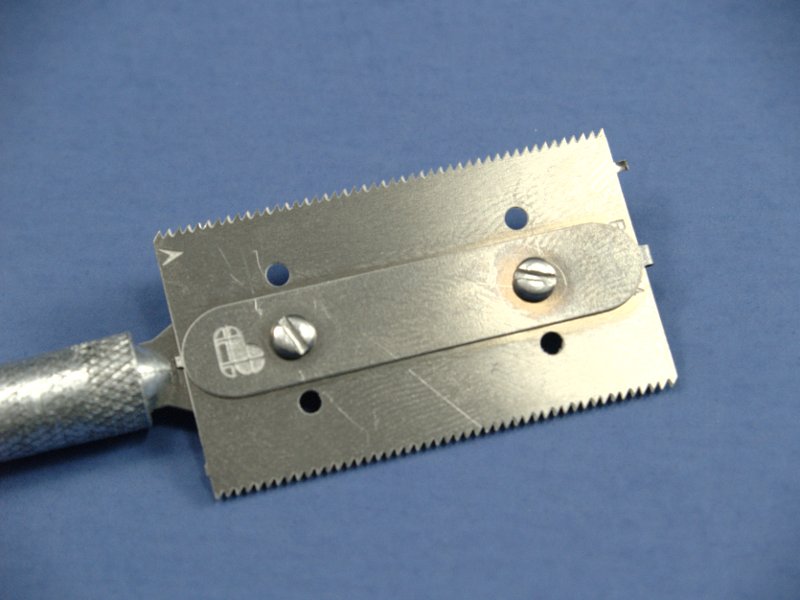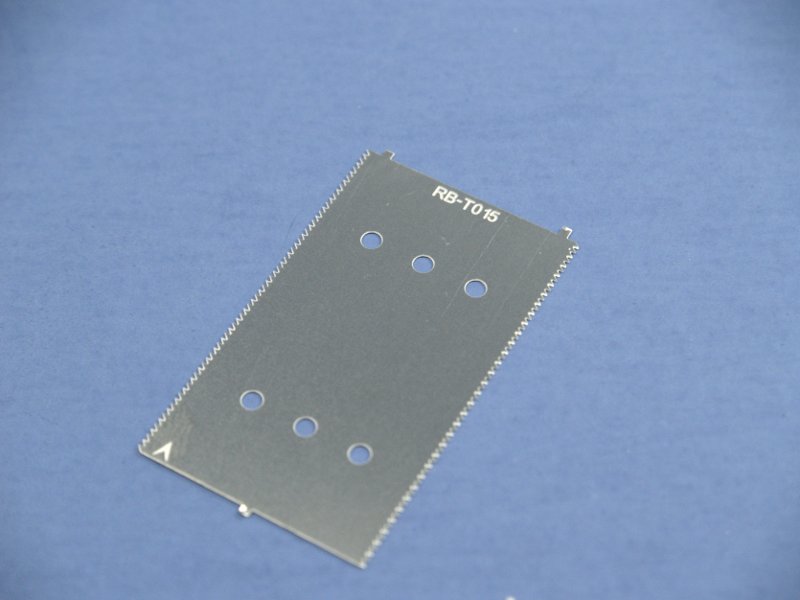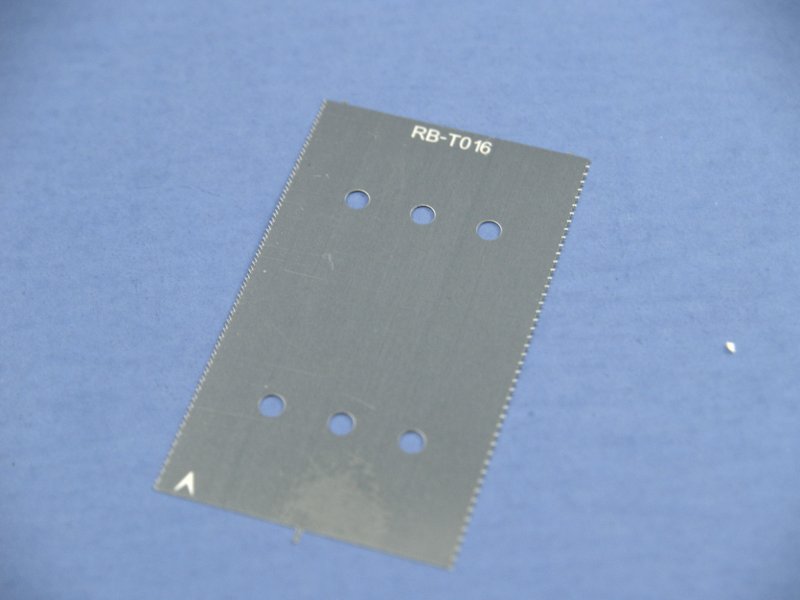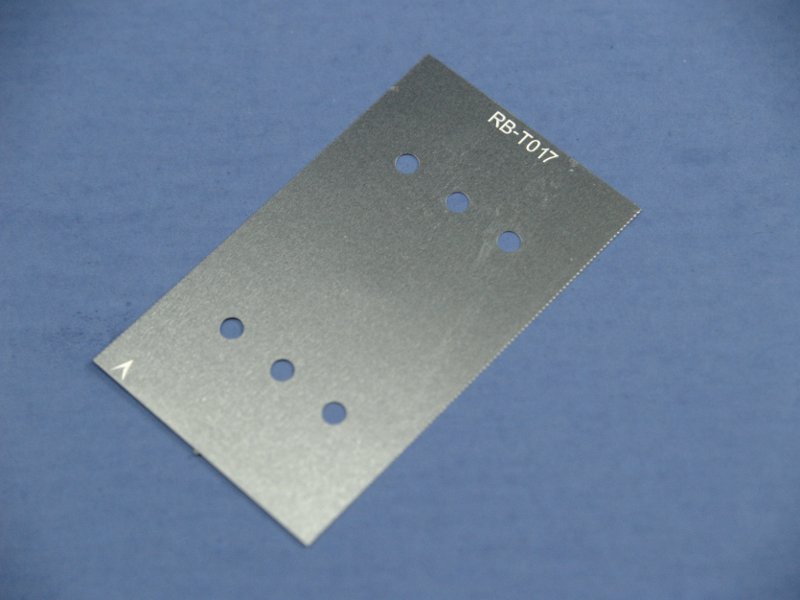 These items are offered for sale directly through the RB Productions webstore.
Review samples courtesy of RB Productions, "Thanks Radu!"
© Randy Bumgardner 2009
This review was published on Saturday, July 02 2011; Last modified on Wednesday, May 18 2016