Plastic World Modeling Products | NBR 3209 F-104 Pylon Tanks + Pylons in 1/32nd Scale
Reviewed by Mark Proulx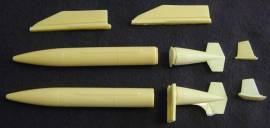 This is a review of the new 1/32nd scale F-104 Pylon Tanks + Pylon set released from Plastic World Modeling Products, also known as PWMP. Product 3209 supplies the modeller with two inboard resin drop tanks and their associated pylons for the F-104 Starfighter.
The tank and pylon set is packed in a clear plastic container. There are no instructions included with the set, which may pose problems placing the pylons to the wings. The leading edges of the F-104 droop so the pylons shouldn't be placed too far forward. As well, the pylons sit perpendicular to the ground, not to the characteristic anhedral of the F-104 wing. Additional
references will be required for exact placement of the pylons.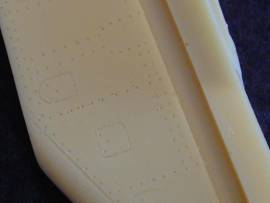 The components are cast in a tan resin. The molding is very crisp. Large casting blocks and areas of flash need to be removed and the items cleaned up. This won't be much of a problem for those with previous experience using resin aftermarket detail sets.
The pylons are exquisitely detailed with scribed panel lines and rivet detail. There are no sway
braces included with this set, as they are not used with the drop tank installation. A quick dry fit of the pylon to the wing shows that a good fit is possible here, as PWMP has included the camber of the underside of the wing into the casting.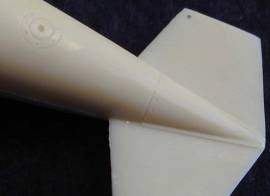 The forward and aft tank, with its associated upright fin, makes up the three components of the tanks. As found with the pylon, the tanks have very finely scribed surface detail. In my sample copy a small air bubble can be found in two of the fins for the aft set. This should be easily fixed if due care is given to filling and sanding.
This resin set is a welcome addition for the 1/32nd scale modeller, as the similar KMC set has been long out of production. A quick comparison between these two sets reveals that the PWMP tanks are not copies of the original items cast by KMC.
Overall, I recommend this set to any 1/32nd scale model builder wishing to make their Starfighter a little bit different from the rest. A quick glance through my references shows a number of NATO F-104's so equipped. Placement instructions would have proved helpful, but I think that this can be overcome with the use of additional reference material.
Plastic World Modeling Products offers a growing selection of 1/32nd scale aftermarket items for modern day jet aircraft. While most topics are currently of a European flavour, some resin sets for North American and Russian jets are in the works.
Email: plasticworld
Review sample compliments of Plastic World Modeling Products.
© Mark Proulx
This review was published on Saturday, July 02 2011; Last modified on Wednesday, May 18 2016