Plastic World Modeling Products | NBR 3211 F-104 Bomb Dispenser in 1/32nd Scale
Reviewed by Mark Proulx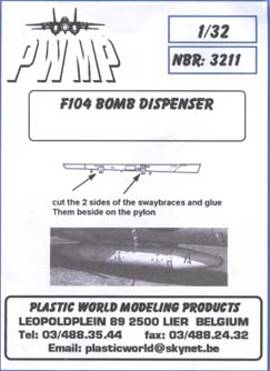 Plastic World Modeling Products, also known as PWMP, is a new resin manufacturer supplying items of interest to the 1/32nd scale model builder. Owned and operated by Jean-Pierre van Regenmortel, PWMP is currently listing a number of resin aftermarket sets for many modern jets. This is a review of one of the aftermarket sets currently available, item 3209, an MN-1A (SUU-21 in USAF service) bomb dispenser for the F-104.
The kit consists of three 1/32nd scale items: the pylon, a complete set of sway braces and finally, the bomb dispenser. The components for the bomb dispenser are cast in a tan coloured resin. A limited set of instructions with attached photo are included, however this should not pose any difficulty due to the ease of construction of this resin set.
The quality of the casting is excellent. The attachment points found on the underside of the pylon are all recessed and easily discernible should you choose to add the pylon only. Raised and scribed details are clearly visible on the sides of the pylons, which should really stand out with some simple dry brushing. The sway braces are cast individually on a separate casting block, which should greatly reduce the potential for damage during shipping. However, they will require some careful attention when the items are removed from the casting block, as they appear to be fragile. Please note that the instructions state that the sway braces are to be cut in half and attached to the side of the pylons, not the underside. Photos verify this arrangement.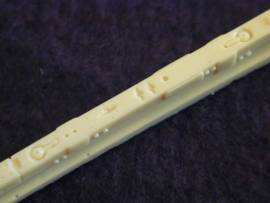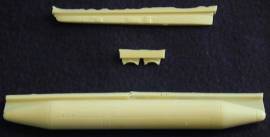 The bomb dispenser is also extremely well detailed with scribed panel lanes that compare favourably to the plans found in the Verlinden Lock On book on the F-104. This item is cast in one large piece, requiring only a light sanding after removal from the casting block.
While searching through my reference library, I did find a number of photos of NATO Starfighters equipped with a bomb dispenser. Due to the large number of F-104 operators, I am sure that this item will appeal to a broad base of 1/32nd scale builders. The quality of this new product is excellent and I can recommend its use without reservation.
Email: plasticworld.
Review sample compliments of Plastic World Modelling Products.
© Mark Proulx
This review was published on Saturday, July 02 2011; Last modified on Wednesday, May 18 2016