Reheat | RH020 F-86 Sabre Pilot Figure
Reviewed by Saso Knez
It was quite a struggle to get to Reheat, but here we are! LSP discovered a hobby shop in Europe that holds a substantial amount of Reheat models and were willing to sell them...
So in the next few weeks you will know everything you ever wanted to know about their models and more (of course if you stay tuned). Today we take a look at their figures line.
Reheat offers quite a wide line of pilot figures to display with your 1/32 scale models. They concentrate mostly on modern subjects. And the choice of subject is very interesting. For example they stock a Starfighter pilot with the pressure suit, then a Harrier pilot with his survival kit and a Korean period Sabre pilot in full flight gear. But a pair of WW 2 RAF pilots and Luftwaffe officer are available also.
I personally acquired two figures-the Starfighter and the Sabre pilots. The later is cast in a darker resin and is more apt for taking photographs, so I include only these pictures till I paint and finish the Starfighter pilot figure.
Reheat figures come in plastic bags clipped on top with card carrying their logo, address and catalogue number. A rather small photograph of the painted figures is glued to the paper backing.
Both my figures came cast in one piece, although it is not unusual for Reheat to include various other items like helmets and flight bags.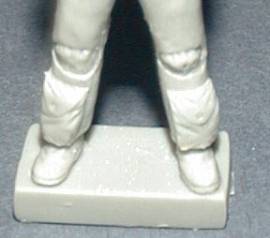 The moulding is clean and the details are crisp. There are some minute mould lines. I especially like the wrinkles in the clothing. In my Starfighter figures there was some flash in the armpits, but this was quickly nullified with a sharp scalpel tip. I believe that after a very short hour you will have the figure totally ready for painting.
The last thing that I have to mention is the low price of these figures. They go for about 10 EUROS (hey do you your own maths...) here. For a figure that can be easily pared up against some very expensive ones Reheat figures represent a great deal.
I have searched long and hard to find a on-line image gallery of Reheat, and indeed who seeks he shall find. Click here. [Editor's note: this link seems to no longer be valid for this purpose as of 2013.]
The images are a tad small, but large enough to see if the figure is to your liking before placing an order.
For a footnote I must add that Reheat has obviously followed 1/32 scale very closely, since the issued the Chuck Yeager figure to go with the Revell X-1, the Harrier pilot to go with the Revell Harrier and the Starfighter pilot to go with the Hasegawa F-104C. The way I see it Reheat is at least three figures down:
Hawker Hunter pilot
Russian MiG-15 pilot Korea
Soviet MiG-21 pilot<
Since we know Reheat is reading this, please be advised we are waiting for these. Otherwise everything by Reheat is heartily recommended.
© Saso Knez 2002
This review was published on Saturday, July 02 2011; Last modified on Wednesday, May 18 2016