Jerry Rutman | Me 262 Wheels and Tires Set
Reviewed by Saso Knez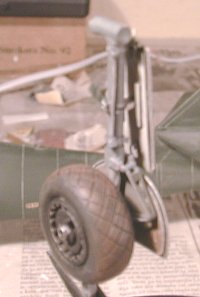 This set was most kindly provided by Jerry Rutman on his own initiative for the building of my Me 262. And I would like to thank him again for the nice gesture.
The set includes 9 resin parts. They are very well molded and one can't find any casting imperfections as bubbles or sinkholes. The set is broken down into these parts:
The main wheel is cast as one part. It is well detailed and it looks correct. the casting block removal is minimal and it can be done with a hobby knife. some very gentle sanding is necessary for the removal of the very delicate but visible mold line that is present at the top third of the wheel, the process will take maybe 5 minutes at the most. Also you must not forget to drill a hole where for the axle of the strut. On the minus side the tire is not bulged.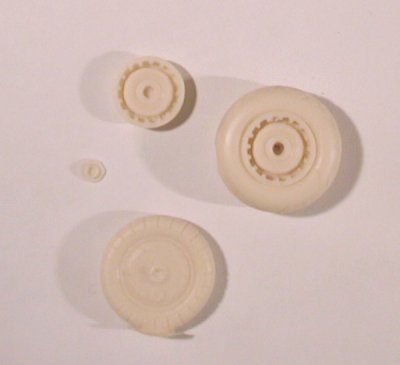 The main wheels are cast in four pieces each. This is the tire, two hubs and a small part that is glued to the hub. Again the tire requires minimal clean-up and is well cast. The wheel is not bulged. The thread looks nice, but it is not the same as the one at Me 262 in Munich that I have pictures of.
Some further explanation is needed here I think. Me 262 had several types of tires. The research conducted by Brian Cauchi indicated that very few Me 262s (of Kommando Novotny and EJG 2) were fitted with threaded tires. The research by me (for JV 44 Me 262s) indicated otherwise. So it is safe to say that whatever you choose it will be a reasonably correct decision. If you would like to make the same thread as it is seen on the example at the Deuthches Museum at Munich scribe one thread line in between the two already cast.
The hubs are excellent and absolutely correct. Again don't forget to drill the holes for the axle.
When ordering please note that there are two sets for the Me 262. The threaded and slicks.
The set retails for $6.50 and is worth the money.
© Saso Knez
This review was published on Saturday, July 02 2011; Last modified on Wednesday, May 18 2016