Trumpeter | 1/32 Grumman F4F-4 Wildcat
Reviewed by Chris Sherland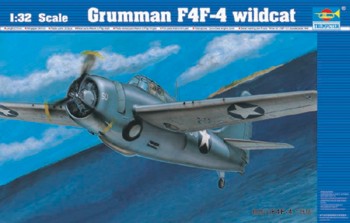 A Brief History of the Wildcat
In 1936 the US Navy's competition for an advanced carrier-based fighter was won by Grumman's XF4F-2, and in 1937 the first prototype made it's maiden flight. Oddly, the Navy wouldn't see it's first operational Wildcat (F4F-3) until August of 1940. During the interim, the Wildcat had undergone some redesign, was delivered to operational squadrons in both Canada and Britain, and saw some actual combat in Europe! In fact the Grumman "Martlet" (the British's FFA designation of the F4F) was the first American-built aircraft to shoot down a German aircraft in WWII in December of 1940. Over a full year before Navy and Marine Wildcats would fire their guns in anger, and forge their true combat legend oceans away over the wide Pacific.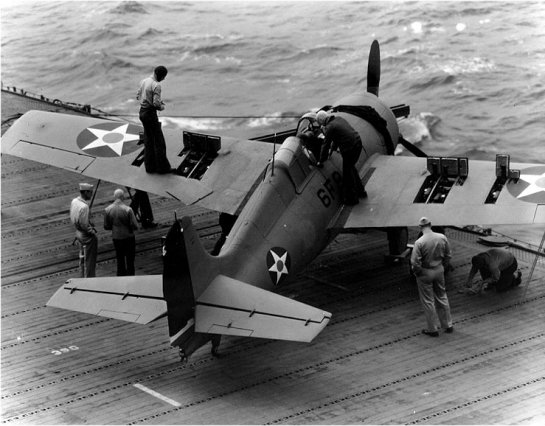 Courtesy of
http://www.history.navy.mil
The F4F-4 was introduced in November of 1941 and had folding wings, increased armament (6 browning .50 cal guns in the wings), and self-sealing fuel tanks. This version saw a huge amount of action in the Pacific, and Mediterranean theaters. Aces like Joe Foss helped show the Wildcat could hold it's own against it's adversaries, like the venerable "Zero" buy playing the F4F's strengths against the opponents weaknesses. It is this version that Trumpeter has modeled in it's retooled release (more on this in a moment). By 1942 Grumman had to switch all production focus to building the evolutionary "Hellcat," and licensed all Wildcat production to GM. It was a GM design team that delivered the improved "FM-2 version of the Wildcat, and finished production of the series totaling 7,855 ships.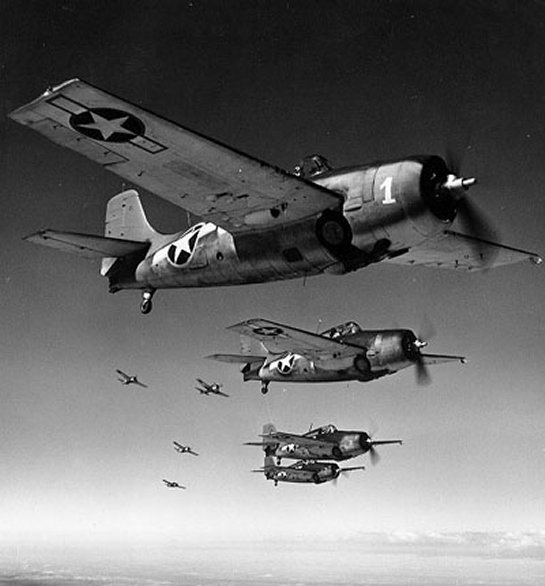 Courtesy of
http://www.history.navy.mil
The Kit
Trumpeter has been producing large scale aircraft models for some time, with a focus on Chinese and Russian Jet aircraft in 1/32. But with their early 2001 release of their now-famous award-winning A-10 Thunderbolt in 1/32 they began to get a lot of attention in the US and other markets. They followed the success of the A-10 release with a schedule of WWII subjects that has been nothing less than a joy to behold. Both 1/24 and 1/32 scales are seeing releases almost every quarter. But all is not glory and light...
By now many are sure to be familiar with the Trumpeter Wildcat debacle of early-2003. The kit was released with serious shape problems in the fuselage. When reviewers got a hold of advanced copies they did not hold back, and in a display of equal parts consumer watchdog, and rivet-counting witch-hunt they slammed the kit openly. Trumpeter then made the right move, pulled the kits off the shelves, stopped production, redesigned and retooled the errors, and sent out replacement sprues for all of the stock shipped by September! It goes without saying that for a company in this market to take those steps to make their product right is impressive. Many folks gained a lot of respect for Trumpeter as an outcome.
The kit comes in Trumpeter's legendary box (these will be long time survivors, and are practically crush-proof) and contains 7 sprues of 223 pieces, as well as an "extra" clear cowling, PE and steel rod set for flying surface articulation, rubber tires, and a film-printed instrument panel. The decals cover a single ship flown by Joe Foss of VFM-121 in the fight for Guadal Canal in 1942.The molding is high quality with recessed rivet and panel detail, and no flash present at all on the review sample.
Full views of all the sprues as well as a Trumpeter build of the piece can be seen on the Trumpeter website:
http://www.trumpeter-china.com/en/menu/plan/1-32/02223.htm
Here are views of the decal sheet, film instrument panel, and the PE sheet for articulating the flying surfaces.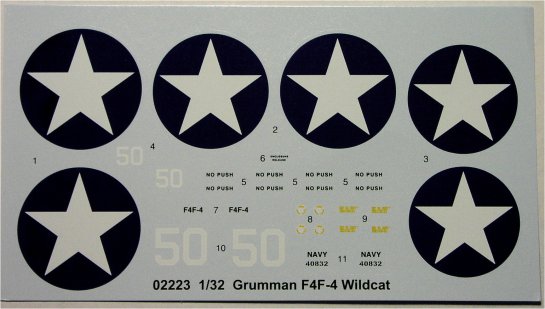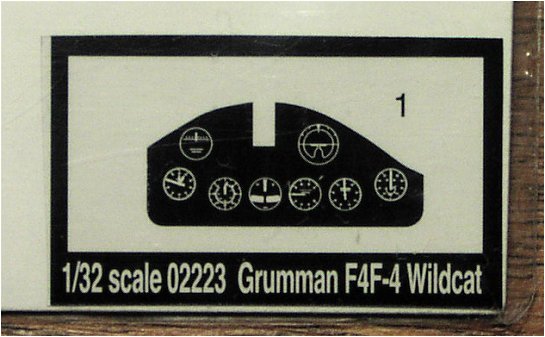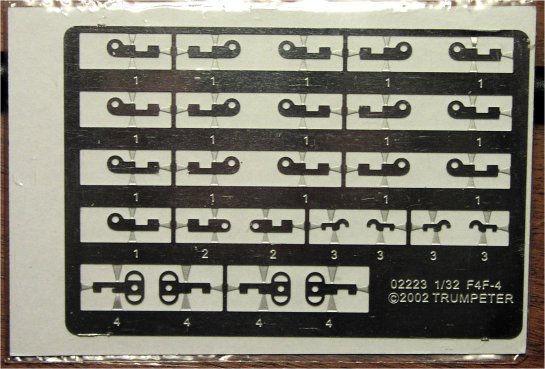 The PW R-1830 engine has over 30 parts alone and looks like it would rival almost any after-market effort. This reviewer has built a few Teknics offerings, and this engine is a beauty!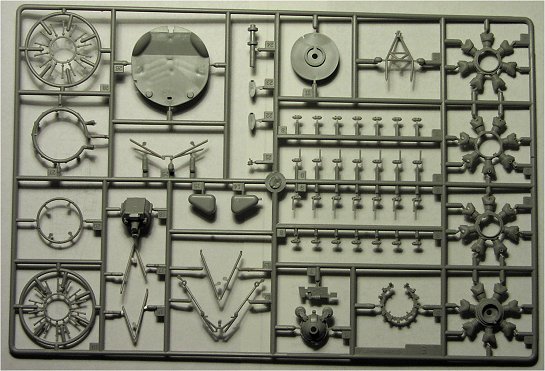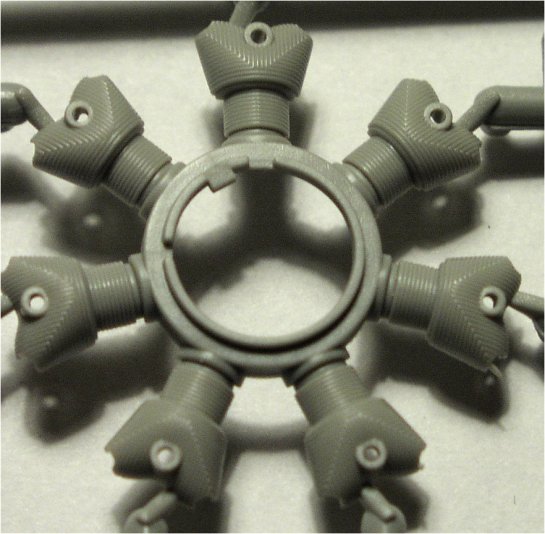 Shape and Accuracy
There have been a few reviews of this kit, including shape comparisons. But at the risk of beating the horse to death and beyond, I have included a simple set of fuselage shape studies against profiles. These are not included to prove anything, nor are they checked for extreme accuracy, they are simply included here to give the reader a feel for the shape.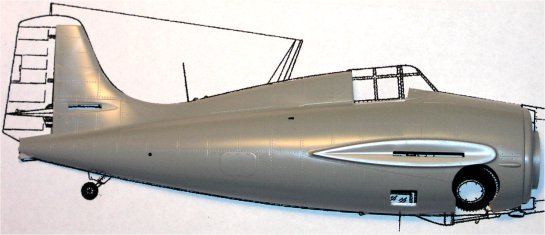 Sometimes taking a picture of a 2 dimensional layout, against a 3 dimensional object can be deceiving. I have tried to minimize this in the above picture as much as possible, and have included separate photos of each "end" of the fuselage to give some more proper perspective.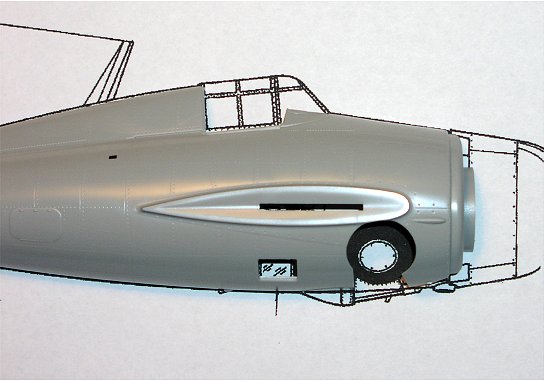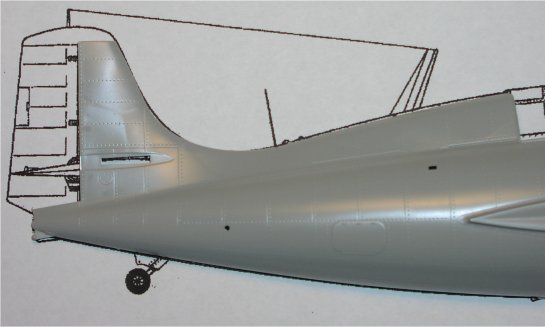 If it smells like a Wildcat...
In Conclusion
I was on the fence about purchasing this kit at first. But now that I have I am very glad I did. The Wildcat has not been issued in 1/32 since Revell's offering from the '70s, and Trumpeter's effort "Trumps" Revell by a long shot. Having used Trumpeter's "PE and rod" system for moving control surfaces I can say that looks to be the most challenging aspect to this kit. In fact my review sample was void of the classic injector pin marks in very inconvenient places, as well as no sign of sink marking at all.
Thanks to reviewer's negotiating skills with wife for review sample.
Rick Cotton's excellent build of the 'cat can be seen here on LSP.
© Chris Sherland 2004
This review was published on Saturday, July 02 2011; Last modified on Wednesday, May 18 2016