Twobobs Aviation Graphics | 32-002: A-10
Reviewed by Mark Proulx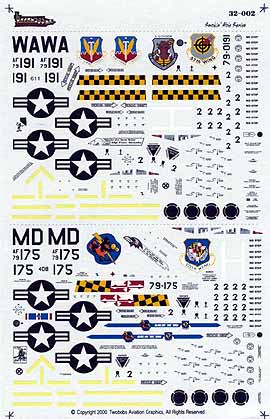 Twobobs Aviation Graphics is a relatively new supplier to the market of well-researched decals. The owners, Bob Sanchez and Bob Guere, have released a mission statement that states:
"Accuracy, as well as dynamic, colorful markings are our primary goals."
Their second 1/32nd scale release is for the Trumpeter A-10 and the mission statement has definitely been met! The modeler is supplied with markings and stencils for two complete aircraft in the Compass Ghost scheme. The first markings are for an A-10A from the Maryland ANG, S/N 79-175. The second markings come from an A-10A based at Nellis AFB FW School, S/N 79-191.
The decals are very thin, printed in perfect register and have a minimal amount of carrier film. I have not used them yet so I can't comment on the ease of application. I expect no problems will be encountered. All Twobobs decals are color matched to Federal Standard FS595B, which is the US Government standard for color matching. Reference material is used for colors that do not adhere to that standard.
The instructions that come with the decal sheet are superb and make a great one-stop reference source. They are printed on both sides of a single, thick, glossy piece of paper. The first page supplies the modeler with left and right color side profiles of both aircraft. Seven color photographs help illustrate some of the smaller details to be found on the A-10. It is complete with stencil location details. Page two depicts top and bottom views of the Compass Ghost scheme to assist the modeler in painting. Paint details for Testors, Humbrol and Gunze Sangyo are supplied and matched to applicable FS595B colors. Stenciling data and False Canopy information complete the package.
I highly recommend this decal sheet to any modeler building the Trumpeter A-10. The reference material is an added bonus. I rate this decal sheet five out of five stars without hesitation, and look forward to future releases from Twobobs.
© Mark Proulx
This review was published on Saturday, July 02 2011; Last modified on Wednesday, May 18 2016