Twobobs Aviation Graphics | 32-009 F-15E Mountain Home Avengers in 1/32nd scale
Reviewed by Mark Proulx
Twobobs Aviation Graphics have just released a new 1/32nd scale decal sheet for F-15E Strike Eagles engaged in Operation Enduring Freedom. The decal sheet supplies the markings necessary to complete any one of six F-15E Strike Eagles from Mountain Home AFB. These aircraft operated from a secret location in Southwest Asia on some of the longest strike missions so far.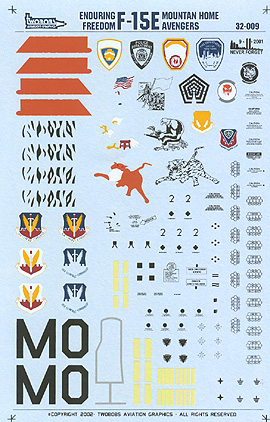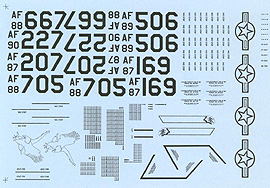 The six aircraft are from the 361st Fighter Squadron and their serial numbers are:
F-15E 87-207
F-15E 88-667
F-15E 89-506
F-15E 87-169
F-15E 88-705
F-15E 90-227
Other than the nose art and minor stencil details each aircraft is identical in its overall gunship grey scheme.
The instruction sheet supplied by Twobobs is printed in colour on top quality glossy paper. The front page of the instructions supplies you with left and right side profiles of two of the six F-15E's, including details on the inner surface of the horizontal stabilizers. The other four aircraft depict the nose art only. This shouldn't pose any difficulty, as Strike Eagles are uniformly finished. Thumbnail photographs of the nose art are included for five of the aircraft as well as various pictures of F-15 operations. The instruction sheet is completed with a listing of some of the available aftermarket products available.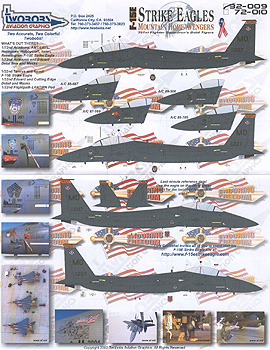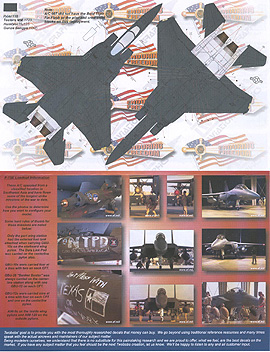 The opposite side of the instruction sheet supplies top and bottom colour profiles for the F-15E and a paint chip for FS 36118. Paint availability for Testors MM, Humbrol and Gunze Sanyo with manufacturers numbers is also supplied. Thumbnail photos are also enclosed of various weapons loadouts and additional aspects of F-15E operations. Twobobs further details the usual aircraft configurations for these missions. Few additional references should be required.
The decals are printed on two sheets. They appear to be very thin and I would anticipate little difficulty with them. They are also printed in perfect register. Where necessary, multiple decals are to be used to complete a single marking to ensure proper alignment. Unfortunately, there are only enough stencils and national insignias supplied to complete one aircraft. Upon further examination, I did note a couple of discrepancies. Photos found at the F-15E Strike Eagle website show the tiger paw for A/C 87-169 is partially white not the overall orange as found on this sheet and the crest for A/C 87-207 is blue but it is printed in black.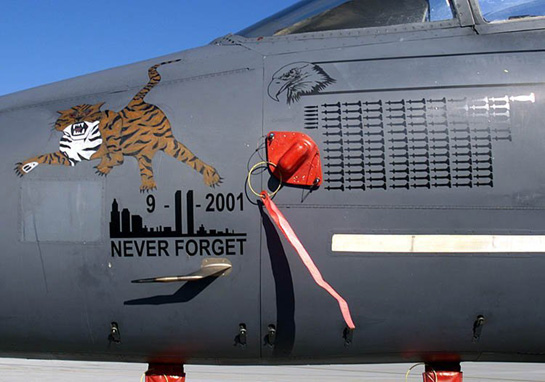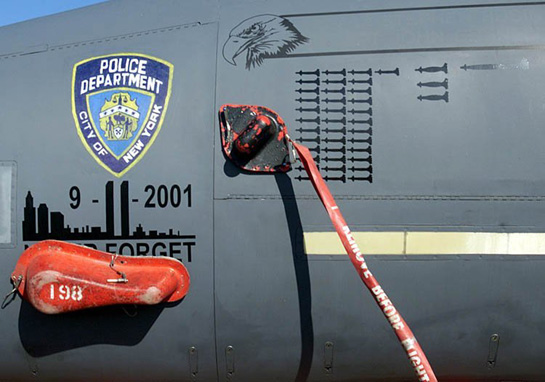 I continue to be impressed by the complete package of details as supplied by Twobobs Aviation Graphics. I highly recommend this decal sheet to anyone wanting to dress up their Strike Eagle and pay tribute to the men involved in Operation Enduring Freedom. I believe that Bob Sanchez and Bob Guere supply some of the best modern fighter decals on the market today. I would also like to thank Lutz Gretschel for the use of these photographs. Photos of these and other F-15E Strike Eagles can be found at www.f-15estrikeeagle.com.
Review sample compliments of Twobobs Aviation Graphics.
© Mark Proulx
This review was published on Saturday, July 02 2011; Last modified on Wednesday, May 18 2016