Twobobs Aviation Graphics | 32-006: F-5E Tiger II VFC-13 Desert Cats
Reviewed by Mark Proulx
This is third of four new limited edition releases from Twobobs Aviation Graphics. In my opinion, this sheet offers the best value for your money, of the four new issues. There are enough markings supplied to complete any two aircraft of the six profiled F-5E's from VFC-13, the Fighting Saints!
VFC-13 is one of the only true aggressor squadrons that remain in the US Navy. Adversary training is given by VFC-13 in the Nevada desert for regular Navy and replacement squadrons and air wings, reserve fighter and attack squadrons, USAF and USMC units and Canadian forces. They are comprised of active duty and part time reserve pilots.
Now, lets have a closer look at what Bob Sanchez and Bob Guere include with this new adversary decal sheet, number 32-006. Due to the fact that options are available for six aircraft, there are now two sheets of profiles printed in sharp colour registration on gloss white paper. This should prove to be invaluable when trying to determine how to paint the complex aggressor schemes that are applied to the aircraft.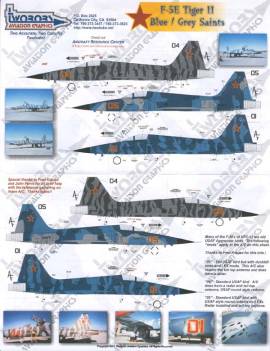 The first three F-5Es are painted in a blue/grey wraparound scheme. On the front page of the instructions there are eight colour thumbnail photos of the subject aircraft. This is in addition to the now familiar left and right colour side views. A detailed description is included for the mod status for each aircraft, which is extremely helpful. The specific aircraft are:
F-5E "01". Older ex USAF with duckbill nose and LEX mods. Retains the tail top antenna and is equipped with radar.
F-5E "04". Standard ex USAF with radar and tail top antenna and USAF round style radome.
F-5E "05". Standard ex USAF with no LEX's. Radar and tail top antenna installed. USAF round style radome.
As with all previous Twobobs Aviation Graphics instruction sheets, the overleaf has top and bottom views of each aircraft. All colours are matched to FS 595b standard. Colour availability is supplied for Testors Model Master, Humbrol and Gunze Sanyo paints. For these three aircraft, the colours are readily available and no paint mixing is required.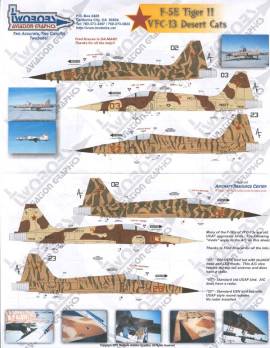 The next three F-5E's are Desert Cats painted in multiple shades of brown. As usual, you will find the left and right side views of each of the three colourful aircraft with associated thumbnail photos. As previously mentioned, the instructions supply a description of the mod status for each aircraft. The specific aircraft are:
1. F-5E "02". Older ex USAF with duckbill nose and LEX mods. This aircraft has retained the top tail antenna and is still radar equipped.
2. F-5E "03". Standard ex USAF equipped with radar.
3. F-5E "23". Standard Navy aircraft with USAF round radome. No radar is installed.
The overleaf contains the necessary top and bottom views and painting information as previously discussed. However, some paint mixing is required to complete these schemes, as there is no paint available for some of the required colours. Paint chips are included to assist the modeller with that task.
As an added bonus, a half page insert shows the side profiles for all six aircraft. A listing of some of the available aftermarket items is also included on this page. The flip side gives the modeller a complete history of VFC-13, The Fighting Saints.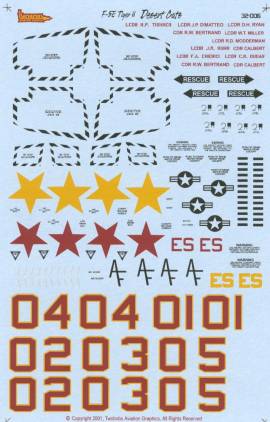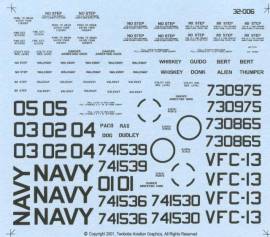 The decals are printed on two sheets of paper with a minimum of carrier film and each is in perfect register. There are enough national insignias and stencils supplied to complete two entire aircraft. They appear to be very thin and should respond favourably to all decal setting solutions.
The instruction sheet states that these markings are intended for use with the 1/32nd scale, Hasegawa F-5E. However, pay careful attention to which scheme you wish to portray, as the kit has been released in a couple of different variations. For instance, the duckbill nose is not included with the original F-5E released by Hasegawa. For those of you wishing to superdetail the model, look to CAM for a nice resin seat and Verlinden for their cockpit interior.
Twobobs Aviation Graphics continues to impress me with this new release. They offer a variety of well researched and accurate aggressor schemes for the 1/32nd scale model builder. I highly recommend this decal sheet to anyone with an interest in adversary aircraft. This release is limited to 500 copies so don't hesitate to pick yours up soon, as I am sure that they will sell out fast!
Review sample compliments of Twobobs Aviation Graphics.
© Mark Proulx
This review was published on Saturday, July 02 2011; Last modified on Thursday, June 14 2018