Twobobs Aviation Graphics | 32-004: F/A-18A/B Hornets VFC-12 Fighting Omars
Reviewed by Mark Proulx
This is a review of the first of four exciting new 1/32nd scale decal sheets just released by Twobobs Aviation Graphics. Complete markings are supplied for two colourful F/A-18 A/B Hornets of VFC-12, known as The Fighting Omars.
The Fighting Omars are currently based at NAS Oceana, Virginia, and they are one of two Naval Reserve Adversary squadrons in the U.S. Navy. They provide adversary support for east coast squadrons and routinely deploy to NAS Key West and NAS Fallon for Dissimilar Air Combat Tactics, familiar to many now after the release of the movie, Top Gun.
The decal sheets supplied by Twobobs Aviation Graphics, owned by Bob Guere and Bob Sanchez, are arguably among the finest decal sheets available on the market today. Their attention to detail and extensive research is readily apparent upon opening the plastic envelope.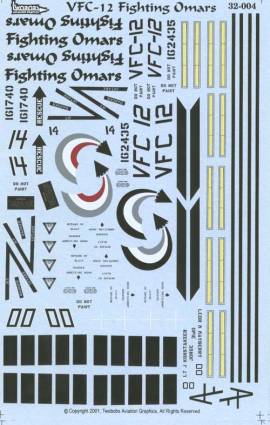 I will now take a closer look at what is supplied with decal sheet 32-004. One of the items that I particularly appreciate about the decals from Twobobs Aviation Graphics is that they include colour profiles of all views of the subject aircraft. That trend continues with this new release. Left and right colour side views are included for both F/A-18s. These profiles are printed on high quality, glossy white paper. Also included are nine thumbnail photos of both subject aircraft. They are F/A-18B BuNo 161740, a wraparound brown camouflaged aircraft and F/A-18A BuNo 162435 in a wraparound blue scheme.
You will find the top and bottom views of both aircraft, also printed in colour, when you flip over the instruction sheet. Twobobs Aviation Graphics also supply additional painting information with the instructions. This includes all applicable colour references matched to FS 595b specifications and a listing of all paint matches that are presently available. According to the instructions, no manufacturer currently makes FS 30279 for the F/A-18B. You are required to mix this colour and exact instructions are included. Similarly for FS 35190, which is required for the F/A-18A, however no paint mix instructions are included. Paint chips for each colour are also supplied, if needed.
The decals are printed on two sheets of paper and appear to be very thin. Carrier film is kept to an absolute minimum and the markings are printed in perfect register. I anticipate that there will be few problems encountered with the decals, though I have not tried them.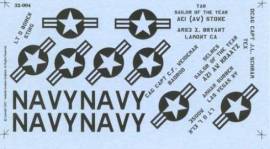 As stated on the instruction sheet, these markings are to be used in conjunction with the Academy F/A-18, which is still listed as a future 1/32nd scale release at the time of this review.
Bob Sanchez and Bob Guere state that their goal is to supply you with the most thoroughly researched decals that money can by. With this new release, they have lived up to that goal. I highly recommend this and other decal sheets available from Twobobs Aviation Graphics. As only 500 copies of these new releases are available, don't delay in getting yours today!
Review sample compliments of Twobobs Aviation Graphics.
© Mark Proulx
This review was published on Saturday, July 02 2011; Last modified on Saturday, February 04 2017