Waldron | 1/32 P-47 Placards
Reviewed by Chris Sherland
This review covers Waldron's "P-47 Placards set". The set represents non-flight-instrument cockpit details that are fashioned in high detail on a light aluminum sheet. Assembly is covered in 2 instruction sheets that are well diagrammed and detailed.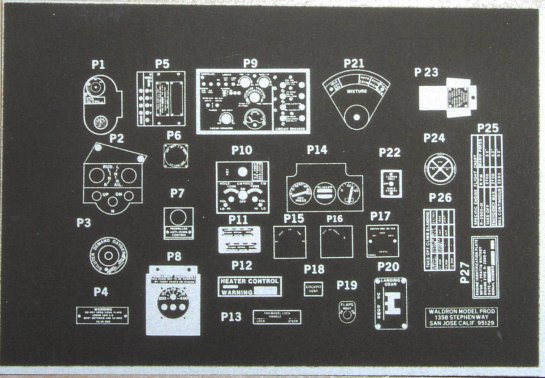 The placards themselves are highly detailed and well-researched, all references checked show that this set is spot-on.
The set covers both late and early model T-Bolts by offering a full late-war compliment of placards. Some of them may be omitted if an older "Jug" is being built. Although the instructions are very complete, good reference material would be highly recommended to aid in getting the set constructed and installed.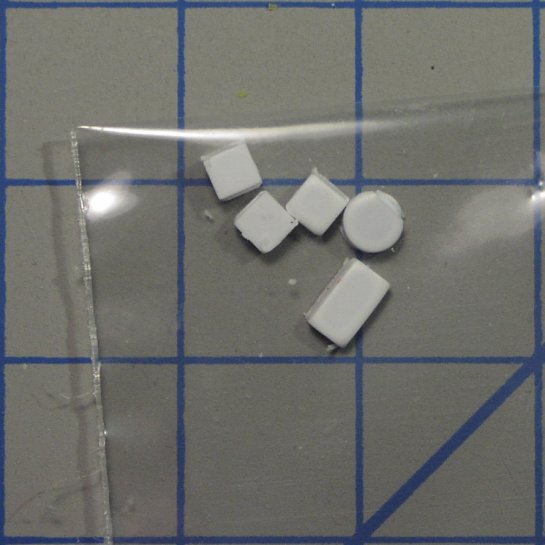 Beyond the placards there are instructions for additional construction that must take place. Careful bending with a straight edge is required to form some of the placards into their "boxes", and a few small plastic "blanks" are thoughtfully included for construction support. Using some of the blank aluminum to practice bending and shaping would be a wise move to warm up to the basic construction techniques needed to assemble and mount the set successfully.
Only a couple of the placards would benefit from using Waldron's "Punch and die" set as most of the set are odd-shaped and can be cut away with a sharp hobby knife. Therefore the set can be constructed with no special tools.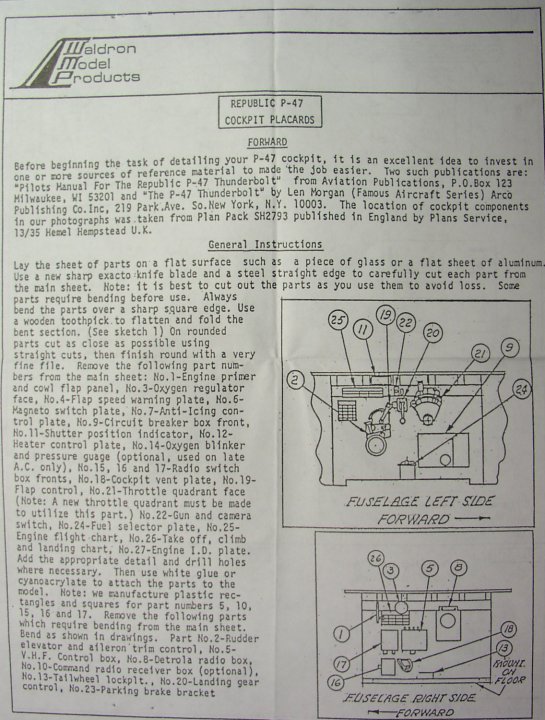 The instructions are clear and comprehensive. The diagrams show techniques and tools required to get the set completed, this is handy for preparation.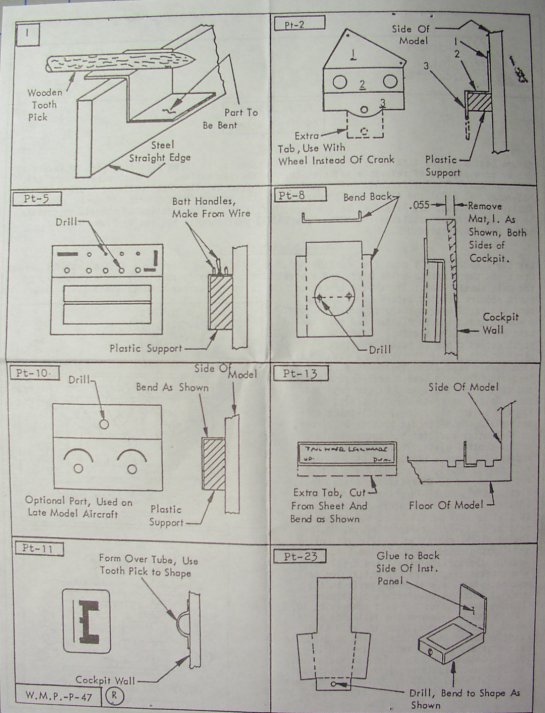 All in all this looks like a great product. With the aluminum construction this set should deliver great looking and strong results. The set is more detailed and of a finer quality than standard photo etched sets, and seems to be all told a step up from a PE solution to getting high detail into a custom-built cockpit.
Ordering Waldron products is through mail or phone only, and no credit cards are accepted at the time of this review. While that may lack convenience for the Internet buyer the quality of the set is worth the extra effort.
I highly recommend this set for anyone planning a 1/32 Thunderbolt build, there are details in this set that simply cannot be found in any other products out there.
© Chris Sherland
This review was published on Saturday, July 02 2011; Last modified on Wednesday, May 18 2016